"STONEY BURKE", "LAREDO",
"HIGH CHAPARRAL",
"CIMARRON STRIP", "CUSTER"
This time we feature a mixed bag of five '60s comic books based on TV westerns. All were short-lived. Was the appetite for western comics dying out by the mid '60s? Could be part of the reason for these comics' quick demise, but the fact that two of the comics came out after its TV series was off the air was certainly a factor, as well as the slapdash art in three of them.
Jack Lord as rodeo champion "Stoney Burke" debuted on ABC 10/1/62 and ran for one season, 32 episodes, ending 5/20/63. Dell's two issues of STONEY BURKE didn't hit newsstands til June/Aug. '63 (#1) and Sept./Nov. '63 (#2), after the series left the air. Only three of Stoney's four TV pals made it into the comics—Ves Painter (Warren Oates), Cody Bristol (Robert Dowdell) and Red (Bill Hart). E. J. Stocker (Bruce Dern) is not represented in either issue.
Art was by Jack Sparling (1916-1997) best known for his "Hap Hopper" comic strip ('40-'43). In later years he worked on other lesser known strips and at virtually every comic book company, but very few westerns and his rough, sparse, little-detail art style shows why. However, Sparling somehow managed to capture the likeness of both Lord and Oates. Both issues have photo covers of Lord and sell reasonably in Fine for $9.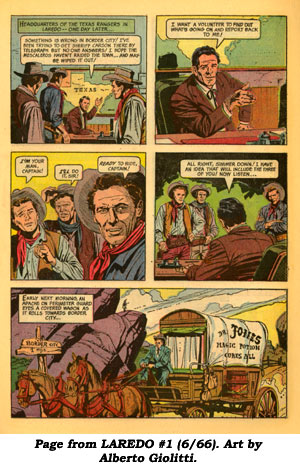 NBC's "Laredo" ran for two seasons, 57 episodes, from 9/16/65 to 4/7/67. The comedy-tinged series perfectly cast Neville Brand as rough-hewn Reese Bennett, handsome Peter Brown as Chad Cooper, brawny William Smith as Joe Riley and Phil Carey as their Texas Ranger Captain Parmalee. The comedy/action mixture of the TV series transferred nicely to Gold Key's single issue of LAREDO dated June '66 with excellent, detailed art by Alberto Giolitti ('23-'93) who captured nicely the look of Brown/Brand/ Smith. Giolitti also worked on several other Dell westerns. The issue featured a photo cover with b/w inside front and back cover photos. A good book, priced about $12 in Fine, it's odd no more were published.
The excellent "High Chaparral" ran for four seasons, 96 episodes, on NBC from 9/10/67 to 3/12/71 but for whatever reason spawned only one issue from Gold Key in August '68. Excellent western artist Warren Tufts ('25-'82), the comic strip creator of CASEY RUGGLES ('49-'54) and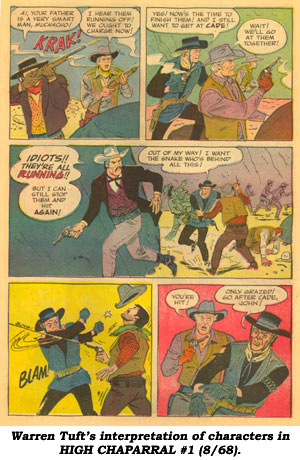 LANCE ('55-'58) was assigned art chores and handled the book beautifully, easily capturing the look of Leif Erickson (John Cannon), Cameron Mitchell (Buck Cannon), Linda Cristal (Victoria), Mark Slade (Blue) and Henry Darrow (Manolito). Tufts other western comic work included RIFLEMAN, DALE EVANS, ZORRO, WAGON TRAIN and SWAMP FOX. With a good story complimenting a great photo cover, the single HIGH CHAPARRAL comic brings $15 in Fine. Wish there'd been more.
"Cimarron Strip" on CBS—23 episodes from 9/7/67 to 3/7/68—was almost off the air before its one very poorly illustrated comic was published in January '68. Although a good series, the 90 minute Stuart Whitman series never caught on with the public. Dell's CIMARRON STRIP #1 was drawn in a sloppy, scratchy style by Frank Springer (1929- ) who certainly could do better. All the TV series regulars were present: Stuart

Whitman (Marshal Jim Crown), Percy Herbert (MacGregor), Randy Boone (Francis Wilde) and Jill Townsend (Dulcey Coopersmith). But in our estimation, due to the slapdash art and b/w on yellow photo cover, CIMARRON STRIP #1 is over priced at even $12 Fine.
ABC's "Custer" starring Wayne Maunder ran for only 16 weeks from 9/6/67 to 12/27/67. (Maunder had more success with "Lancer" a year later.) By the time Dell published CUSTER #1 in January '68, the series was off the air. As on STONEY BURKE, Jack Sparling offered up sketchy, non-too-detailed artwork that looks very rushed. Sparling's rendition of Maunder as Custer was acceptable, but Slim Pickens as scout California Joe, Peter Palmer as Sgt. Bustard and Michael Dante as Crazy Horse were unrecognizable. Excellent photo cover of Maunder. $9 in Fine. (Thanks to Mike Richards of England for Giolitti artist identification.)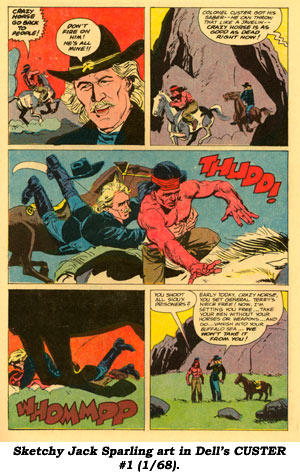 COVER GALLERY