TEX GRANGER
Tex Granger was one of a seeming army of straight shooting cowboy heroes found in the comic books of the '40s and '50s, many of whom were based on movie or TV stars, but plenty who originated strictly for comic books.
Tex Granger and his horse Bullet first appeared in CALLING ALL BOYS #11 in mid 1947, published by Parents Magazine Institute who also published CALLING ALL GIRLS ('41-'49), CALLING ALL KIDS ('46-'49) and TRUE COMICS ('41-'50). Good reader acceptance of Tex saw the fighting frontier sheriff elevated to the cover feature as of #15 (Jan. '48). Art was by noted Western painter Lorence Bjorklund (1912- ??).
Tex became so popular in CALLING ALL BOYS that Parents cancelled that title with #17 and converted to TEX GRANGER in September '48, continuing the number with #18. TEX GRANGER continued in his own comic, still with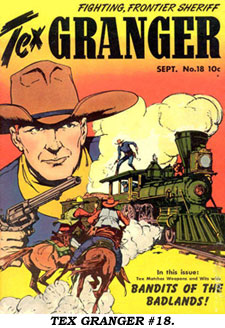 art by Bjorklund (and fillers by Ed Smalle) through #24 (September '49).
Even though Parents Magazine cancelled TEX GRANGER, CALLING ALL GIRLS and CALLING ALL KIDS in '49, they combined the best of all three, including Tex Granger, into their TRUE COMICS as of #80-84 in 1950.
Columbia serial producer Sam Katzman, always on the lookout for popular comic material to adapt to the screen ("Brenda Starr, Reporter" ['45], "Hop Harrigan" ['46], "Chick Carter, Detective" ['46], "Jack Armstrong" ['47]—another Parents Magazine Institute feature—, "The Vigilante" ['47], "Sea Hound" ['47], "Brick Bradford" ['47], and many others later) brought "Tex Granger" to the serial screen in '48.
Unfortunately, under Katzman, the screenplay by Arthur Hoerl, Lewis Clay, Harry Fraser and Royal Cole, tossed out the "fighting frontier sheriff" premise and turned Tex into a newspaper editor/publisher who becomes the Midnight Rider of the Plains to battle the town's outlawry.
Star Robert Kellard looked nothing like the Tex Granger of the comics, as a matter of fact renegade sheriff Blaze Talbot—played by Smith Ballew— looked more like the comic book character than Kellard. (Our review of the serial from our B-WESTERN MOVIE REVIEWS Vol. 3 is reprinted below.


TEX GRANGER ('48 15 Ch. Columbia Serial) This could have been an excellent serial—it has all the right ingredients: a mysterious black clad hero, two outlaw gangs, a strong middleman playing the two gangs off against one another and a solid supporting cast. The problem is Derwin Abrahams' often slapdash direction with some very sloppy continuity midway and several weak chapter endings. Robert Kellard was not a strong enough hero, having partaken of a few too many pies and cookies since his lead in "Drums of Fu Manchu" eight years earlier. All the real interest actually lies with Smith Ballew as Blaze Talbot, the renegade who is appointed sheriff by town boss I. Stanford Jolley and eventually begins to take over by pitting Jolley's gang against an outlaw band run by Jack Ingram. Coming to town at the same time is Tex Granger (Kellard) who purchases the local newspaper to combat Jolley's outlawry with the pen but, secretly, becomes the Midnight Rider of the Plains battling both Jolley and Ingram's bandit gangs. Tex is aided by the ever lovely Peggy Stewart, youngster Buzz Henry, old-timer Britt Wood and a dog, Duke, who often steals the show. Even under Abraham's less-than-stellar direction, a strong cast, constant movement and plot intrigue (scripted by serial vets Arthur Hoerl, Lewis Clay, Harry Fraser and Royal Cole) keep "Tex Granger" interesting for 15 chapters. The character was purportedly based on Tex's adventures in CALLING ALL BOYS and TEX GRANGER but bears no resemblance to the comic book hero.