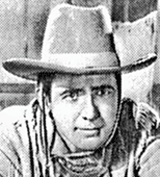 ROBERT SHAYNE
Ratings: Zero to 4 Stars.


OKLAHOMA OUTLAWS ('43 Warner Bros.) Warner Bros. released seven short Westerns with Robert Shayne, deeming them the "Santa Fe Trail" series. This one is a full throttle, stock footage-filled remake of James Cagney's "Oklahoma Kid". It's the opening of the Cherokee Strip amid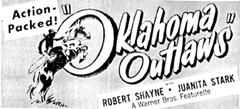 the taming of Tulsa when gambler Warner Anderson kills Shayne's Mayoral father (Erville Alderson). These 20 minute B-Westerns from WB are pure enjoyment. For Presidential watchers—the back of Grover Cleveland's head is shown.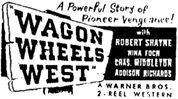 WAGON WHEELS WEST ('43 WB) In this compact 20 minute Western a youngster grows to manhood as Shayne seeks the robber and killer (Charles Middleton) of his father. Nina Foch is the girl.


TRIAL BY TRIGGER ('44 WB) Unscrupulous timber-hog Warner Anderson tries to strip the forest of Shayne's magnificent redwoods. Cheryl Walker is the girl matching stock footage of Claire Trevor from Wayne Morris' "Valley of the Giants" ('38).



GUN TO GUN ('44 WB) Shayne vexes the crooked plans of Harry Woods to discredit titles of old Spanish land grants. Tom Tyler is briefly seen as the Sheriff. One of the least interesting of Shayne's vest pocket Westerns.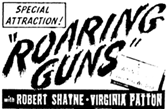 ROARING GUNS ('44 WB) Ranchers and farmers fight hydraulic mining in 1877 California. Another Shayne justice-in-20-minutes mini-movie based on stock footage from "Gold is Where You Find It" ('38). Watch for a very young Mark Stevens—still billed as Stephen Richards.



FRONTIER DAYS ('45 WB) Best of the two reel Warner Bros. featurettes under the banner of their "Santa Fe Trail" Westerns uses lots of Technicolor stock footage from "Dodge City", including the spectacular saloon brawl, and other Warner Westerns. Shayne romances lady sheriff Dorothy Malone as she seeks the killer of her father…the same gang, led by Rory Mallison, Shayne is after.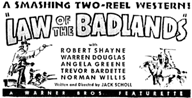 LAW OF THE BADLANDS ('45 WB) Only 20 minutes long but as well made as Warner Bros. features with more story and action than most B-Westerns. Framed and found guilty of the murder of a brother officer, Shayne is commandeered out of the Cavalry. Eight years later, still searching for the renegade (Trevor Bardette) who framed him, Shayne saves a young girl (Angela Greene) from death after the stage they are in is attacked by renegades (Bardette and Norman Willis) posing as Indians. They're found wandering in the desert by Cavalry officer Warren Douglas who, over a two year period, falls in love with Greene as she grows to womanhood. Eventually, Shayne finds Bardette on the day of Custer's massacre at the Little Big Horn and, after turning Bardette over to Douglas, joins Custer in "victorious defeat". Hang on, it moves rapid fire and includes stock footage from "They Died with Their Boots On".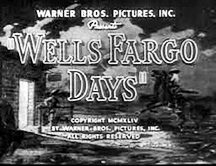 WELLS FARGO DAYS ('44 Warner Bros.) This Warner 20 minute color short starring Dennis Moore was released as a segment of their 'Santa Fe Trail' two-reeler series, but is actually an outside product produced circa 1940 by W. T. Crespinel for his Cinecolor, Inc. as "Man from Tascosa" and only picked up by WB to tie in with the Robert Shayne historical group and make it an even eight. Non theatrical distributors carried this short in their rental catalogs under its original title before the WB pickup. Therefore, unlike the Shaynes, this Mack V. Wright directed short is all original Cinecolor footage.
Louise Stanley makes lawless Dennis Moore promise to stay on the right side of the law, which he finds difficult when he loses his money to crooked gambler Karl Hackett. Narrated by Art Baker of TV's "You Asked For It" fame. Story and dialog by Stuart N. Lake, the noted Wyatt Earp authoritarian.