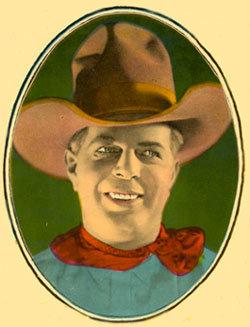 HOOT GIBSON
Ratings: Zero to 4 Stars.
Hoot was not handsome, didn't wear fancy duds like Maynard and Mix…he was possibly the most common (therefore realistic) cowboy in westerns. Therein lay much of his popularity—the audience could relate to him, especially women who took to his boyish charm more than any other cowboy star. He also appealed more to an older crowd than he did kids. His films contained as much comedy as they did action. Gibson usually played variations on the happy-go-lucky cowpoke who'd land in trouble by sheer accident. Then, when pressed, would overcome the trouble as much with his brains as with his fists or gun—which he seldom carried, and if he did, it was stuck in his belt, pocket or boot rather than strapped to his side. Hoot's heyday was in the silents, but unlike many silent cowboys, Hoot's voice worked well in sound films, seemed to match his physical persona, and he was able to deliver bantering dialogue quite naturally. Overall, Hoot's transition to sound was smooth, allowing his pictures to change little from the light comedic, leisurely fashion his fans had grown accustomed to. He reigned at Universal for 13 years, but in late 1930 the studio saw fit not to renew his contract. No other major studio offers came along, so the Hooter signed with independent producer M. H. Hoffman who launched his newly formed Allied Pictures in '31 based on Hoot's popularity keeping the format of his films the same.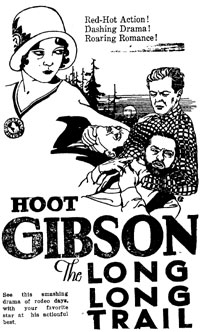 LONG, LONG TRAIL ('29 Universal)
An engaging lighthearted western that relies strictly on the boyish charm of Hoot and the cuteness of his soon-to-be real-life wife Sally Eilers for its watchability. A remake of Hooter's own 1923 "Ramblin' Kid". Fun-loving Hoot captures the wild horse, Lightnin', then ends up riding in a big-stakes horse race for Sally and her father against saloon owner James Mason (not the English actor) who drugs Hoot so he'll lose the race. Watch for some early product placement as Hoot's pal, Walter Brennan (in one of his earliest character roles), mentions Coca-Cola—twice!

COURTIN' WILDCATS ('29 Universal)
A new twist on "The Taming of the Shrew" as tenderfoot Gibson joins a wild west show to avoid working in Dad Joe Girard's foundry. He meets up with pistol-packin' wildcat showgirl Eugenia Gilbert and, eventually, has her eating out of his hand—literally. Women's libbers stay away from this one! You'll be throwing brickbats at the screen! Gibson saw to it his ol' silent screen pals got work—Pete Morrison has an enjoyable role as a Wild West Show cowboy (but it proves why he didn't transfer to starring sound roles), Fred Gilman has a barely noticeable bit, Benny Corbett stands in the background, strongman Joe Bonomo has one neat scene, and even Iron Eyes Cody is one of the show Indians.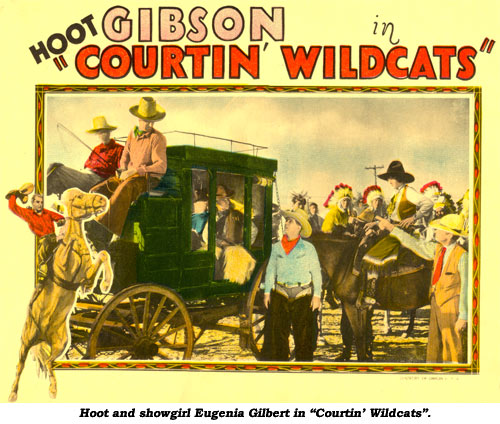 MOUNTED STRANGER ('30 Universal)
The Ridin' Kid, Hoot Gibson, seeks revenge on the cowman (lanky Fred Burns) who gunned down his homesteader Dad when Hoot was a mere lad. The first of Gibson's all-talking Universal series is a sleepy version of his own 1924 silent, "Ridin' Kid from Powder River". As in his silents, Hoot remains the unglamorous cowpoke, in marked contrast to Ken Maynard and Tom Mix, but by this time his melodramas were beginning to look outdated in comparison. At one point, Gibson and his pals (Pee Wee Holmes, Francis Ford) join in a bit of rowdy campfire harmonizing—more than likely aiming a few barbs at Maynard who was injecting music into his films at this time.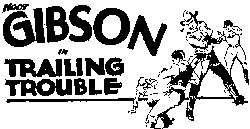 TRAILING TROUBLE ('30 Universal) For his boss, Hoot and pal Pete Morrison head for the big city to pick up the money for the sale of some horses. Jealous of Hoot and in love with Hoot's girl, Morrison arranges for a gang of thugs to rob Hoot who also manages to get involved during his one night in the big town with a Chinese girl. Watch for major silent western star Art Acord as one of the crooks. Hoot's old pal, in his only sound film, has three lines.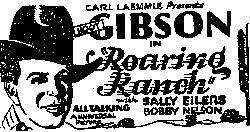 ZERO ROARING RANCH ('30 Universal)
Cutesy Gibson oater finds him caring for an infant baby for half the film and the local schoolmarm (Sally Eilers) for the other half. Meanwhile, sneaky Wheeler Oakman plots to snatch off Hooter's oil-soaked ranch. Gibson and Eilers were later married and divorced.

TRIGGER TRICKS ('30 Universal)
Texas Ranger Gibson helps sheep rancher Sally Eilers outwit a murdering cattleman. Former silent star Neal Hart is the Sheriff.

SPURS ('30 Universal)
Hoot and young Buddy Hunter track down a band of rustlers in their secluded Lone Pine mountain hideout replete with gatling gun. A friend of Hoot's Dad has been murdered by the rustlers led by undercover boss Philo McCullough. This early sound effort features Hoot's pal Pee Wee Holmes singing in the bunkhouse. After hearing him it's a wonder any further "singing cowboys" were ever allowed in westerns!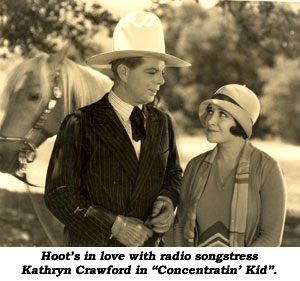 CONCENTRATIN' KID ('30 Universal)
Cute Gibson romantic comedy as Hooter falls in love with the voice of radio songstress Kathryn Crawford and bets his fellow cowhands an expensive $300 radio he can woo and marry the gal. While doing so, Hoot (and his steed Goldie) manage to round-up barbershop romeo Duke Lee's rustlers. Crawford sings the plaintive "I Want My Man of the Golden West"—three times! This was the last of Gibson's Universal westerns. Plagued by diminishing returns brought on by the Depression, Universal made the decision that galloping hoof beats were not for them and did not renew the contracts of either Gibson or Ken Maynard.

CLEARING THE RANGE ('31 Allied)
Hooper Atchley kills his banker partner Edward Hearn when Hearn discovers Atchley is an embezzler. When Hearn's brother, Hoot Gibson, returns to town, most everyone, including his old girl Sally Eilers see him as a real wimp, but by night he rides as the black clad El Capitan to bring the killer to justice and help neighboring ranchers who are being driven off their land by the swindling Atchley. Good location work at Vasquez Rocks. After Hoot's departure from Universal, this was the first of eleven he made for M. H. Hoffman's Allied Pictures. Hoffman had known Hoot during his starring days at Universal where Max was general manager. He formed Allied in '31 on the basis of having signed Hoot. Hoffman produced 22 films for Allied through '34, half of them starring Hoot.

WILD HORSE ('31 Allied)
Hoot often mentioned this as his favorite sound film, but one wonders why. Perhaps because much of it is devoted to capturing a wild palomino played by Hoot's horse Mutt. Otherwise, its pretty pedestrian as Hoot is framed for a murder he didn't commit. Hoot's rodeo nemesis, Ed Cobb, breaks the wild horse loose after Hoot and pal Skeeter Bill Robbins have captured him, then kills Skeeter in a struggle for which Hoot is blamed by Sheriff Ed Peil. Fortunately, the real murder was witnessed by bank robber Neal Hart (the former silent star) who straightens things out by the end. Embarrassing to watch is black comic Stepin Fetchit's intolerable and painful attempts at comedy in his usual (but seemingly worse here) incomprehensible mumbling slur.

HARD HOMBRE ('31 Allied)
Gibson's films were…well…different. You don't watch Hooter expecting rough riding action. It's his light comedy approach to the genre that enchants. Hoot's best talkie casts him as Peaceful Patton, a non-fighter who eschews gunplay and is dedicated to his Mama. The fun begins when Peaceful is mistaken for the famous owlhoot known as the Hard Hombre. Knowing cattle thief G. Raymond Nye and the Valley ranchers believe him to be the Hard Hombre, Hoot has them buffaloed into sharing grazing rights for his gal-pal boss, Lina Basquette (a very bad actress!). Everything's going A-OK until the real hard hombre shows up. The surprise ending is a pure Hoot Gibson charmer all the way and truly shows why he was one of the most popular screen cowboys of all time. Florence Lawrence, the Vitagraph Girl of early silents, has a minor role as a blonde floozy. Rosa Gore, who plays an old rancher lady, was half of the Crimmons and Gore vaudeville team famous around the turn of the century. Clara Hunt, who plays an Indian girl at Basquette's ranch, was a full blooded Chippewa Indian. "Hard Hombre" was remade by producer M. H. Hoffman in '37 with Ken Maynard as "Trailin' Trouble"…to much less effect.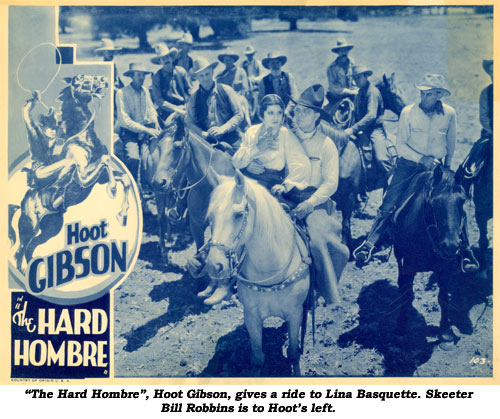 LOCAL BAD MAN ('32 Allied)
Crooked businessmen plot to rob their own bank of $25,000 then collect $25,000 insurance from the railroad who transported the funds and lay the blame on charming "local badman" Gibson and his buddies "Skeeter" Bill Robbins and Milt Brown. There's a very exciting wrap up all-over several speeding railroad cars—bit different for Hooter—and some cute scenes between station agent Sally Blane and Hoot. Blane is one of Loretta Young's sisters.

GAY BUCKAROO ('32 Allied)
Hoot straightens out inveterate gambler Lafe McKee as well as his spoiled daughter and still finds time to bluff out crooked oily gambler Roy D'Arcy…more by brains than action. Watch for Skeeter Bill Robbins as a ranch manager. In real life he was Hoot's ranch manager for years. His only films are with his boss. As a matter of fact, this western may possibly have been filmed on Hoot's own ranch.

SPIRIT OF THE WEST ('32 Allied)
Her father shot down by merciless crooks, her only friend helpless with a broken ankle (caused by the same two varmints), Doris Hill is herself a captive in the hands of her father's murderers when she falls in love with—their dishwasher, Hoot Gibson. Hoot's actually playing dumb to outwit and get the goods on the western gangsters. Clever enough, but way too slow to be one of Hoot's better efforts. According to production notes, a torrential rain storm and a freak snowstorm pelted the film's Saugus, CA, location, often holding up shooting. You'll notice how wet the ground appears in the film.

A MAN'S LAND ('32 Allied)
Marion Shilling, unaccustomed to the ways of the west, co-inherits a cattle ranch (the Jaureguri) with Hoot. Plagued by rustlers, she wants to turn it into a dude ranch but Hoot will have none of that silliness. Another of Hoot's buddies from the silent days, former star Fred Gilman, plays one of Hoot's ranch hands.

COWBOY COUNSELLOR ('32 Allied)
Fred Gilman, Shelia Mannors' brother, is framed for a stage holdup by rotten Jack Rutherford who is sweet on Mannors but is rejected by her. When traveling law book salesman Gibson is mistaken by Mannors' kid brother, Bobby Nelson, as a real lawyer, he brings Hooter to his sister in order to defend big brother Gilman. Although Hoot is not a real counselor, he agrees to help but almost finds himself blamed for another stage robbery when he speaks his favorite phrase, "But a gent never passes up the chance to say 'thank you.'" Clever, witty Gibson, lots of fun with Sheriff Al Bridge and deputy Skeeter Bill Robbins.

BOILING POINT ('32 Allied)
Uncle George Hayes puts nephew Hoot and his raucous temper on a 30 day probation at friend Lafe McKee's ranch, warning Hooter if he gets into a fight he won't inherit the family spread. It's an interesting idea, but slowly developed as Hoot finds it hard to restrain himself in the face of harassing bad guys especially since the cutie he's fond of believes him a coward.

DUDE BANDIT ('33 Allied)
Sloppy remake of Hoot Gibson's own "Clearing the Range" only two years earlier. Director George Melford's pacing is way too slow abetted by poor photography. Hooter, posing as an ineffectual cowhand, goes after Hooper Atchley, Neal Hart and Horace Carpenter, the men responsible for the murder of Hooter's old friend, the father of leading lady Gloria Shea. There's one totally unbelievable scene where Hoot as the Dude Bandit simply dressed in a dark shirt and different hat—no mask—enters Shea's house, admittedly under dim lighting, but she doesn't recognize him up close! I don't think so. Superman/Clark Kent is stretching it—this is ridiculous in a western. Silent star watchers will appreciate seeing Neal Hart, Fred Gilman and Pete Morrison.

FIGHTING PARSON ('33 Allied)
Innocently impersonating a real parson, slightly crooked Gibson (and his pal Skeeter Bill Robbins) are drawn deeper and deeper into a real preacher's problems (Christenings, marriages, revivals) until Hoot "vouches" for and is made responsible for an old pal, gambler Stanley Blystone, who then, with his pal Charlie King, holds up the express office. This droll affair misses the mark.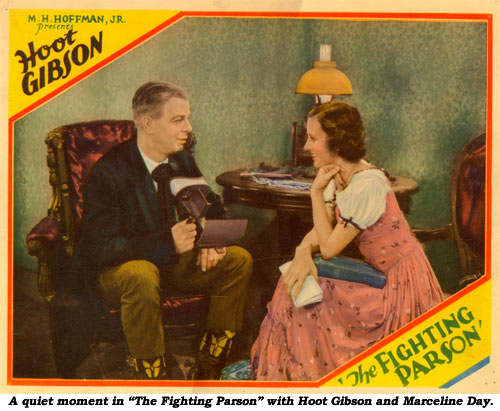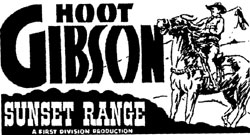 SUNSET RANGE ('35 First Division)
First Division was a distribution arm of Pathé for release of independent product on the states' rights market as the company had its own system of exchanges. In '35 they set up a production company for a proposed four film Gibson series, of which only two were made, this one and "Rainbow's End". The company had been distributing Gibson's Allied titles for producer M. H. Hoffman. First Division acquired Hooter's contract from Hoffman after he and Hoot argued over Hoot's wanting to return to Universal when Allied went belly-up. First Division released Hoot from the agreement and he signed with Walter Futter's Diversion Pictures. A witty, clever script makes this one of Hooter's better sound films. Mary Doran arrives from Chicago to assume ownership of Sunset Ranch in Arizona, unaware gangsters have hidden $100,000 in stolen bank money in her trunk. Also, Mary's brother is involved with the heisters. Mary arrives in Arizona to find foreman Reasonin' Bates (Hoot) and the other ranch hands (John Elliott and former silent stars Fred Gilman, Fred Humes) resent her as they'd hoped to purchase the ranch for themselves. Nicely done by director Ray McCarey who went on to direct many light B-comedies, but no more westerns.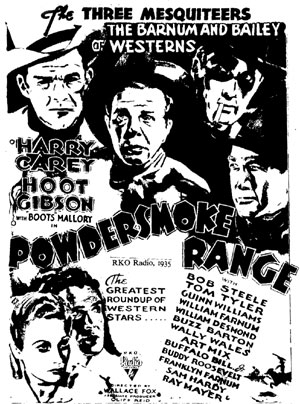 POWDERSMOKE RANGE ('35 RKO Radio)
RKO certainly was not about to launch a series of Three Mesquiteers westerns, but they packed every western star they could lay their contracts on for this sagebrush oddity, and therein lies its charm, fame and reputation today because, in reality, it is a rather dull, talky, lethargic western. And other than Tom Tyler's cold-eyed Sundown Saunders gunman, the performances are pretty routine. The film was wisely advertised for its all star cast, thereby receiving playdates in theatres not normally known to book standard B-westerns. Based on a novel by William Colt MacDonald, Harry Carey is Tucson Smith, Hoot Gibson is Stony Brooke and Big Boy Williams is Lullaby Joslin. A quite different casting approach than that taken by Republic a year later. Also in the star-studded cast are Bob Steele, the aforementioned Tom Tyler (both later to be Mesquiteers themselves at Republic), Wally Wales, Buzz Barton, Art Mix, Buddy Roosevelt, Buffalo Bill Jr., Franklyn Farnum, William Desmond, William Farnum—many in don't-blink-or-you'll-miss-'em cameos. Stale plot has Carey/Gibson/Williams opposing corrupt town sheriff Adrian Morris and Mayor Sam Hardy. (Both miscast! Why not some of the top heavies of the day as well in these roles?) Main interest in the film comes as the Mesquiteers try to convert gunslinger Tom Tyler to the right side of the law. At first refusing, in the final showdown Tyler takes a fatal shot meant for Carey.

RAINBOW'S END ('35 First Division)
Not seeing eye to eye with his father, Hoot and his pal wind up out west on John Elliott and daughter June Gale's ranch, Hoot soon becomes foreman, discovering the neighboring ranch belongs to his Dad and Warner Richmond who runs the place and is not only cheating his father but rustling Elliott and Gale's stock as well. Fast, witty script with elements of screwball comedy. This Hooter made me laugh out loud—several times. Much of the credit must go to screenwriter Rollo Lloyd, primarily a comedic character actor, with this the only western he ever wrote or appeared in. Leading lady June Gale (to whom Hoot was romantically linked for a spell) was one of four Gale sisters—June, Jane, Joan, Jean—who appeared in vaudeville, George White's Scandals and at the Palladium in London. They split up when they went to Hollywood with June forging ahead in westerns with Hoot and Ken Maynard. Sister Jean was Tom Mix's leading lady in "The Miracle Rider" serial and Joan was Buck Jones' attraction in "Outlawed Guns" and Harry Carey's "Last of the Mohicans" serial co-star. Jane was the odd lady out. Hoot's pal Charlie Hill was a former minstrel man. He died at 50, only three years after "Rainbow's End". He's also in Hoot's "Lucky Terror". Hoot's sister in this title is Ada Ince, a Miss Miami, Miss Florida and Miss United States beauty contest winner. Former silent stars Buddy Roosevelt and Fred Gilman have small roles.

SWIFTY ('35 Diversion)
Gibson (riding Jack Perrin's wonder horse Starlight so he can do some of his tricks) and Sheriff George (pre-Gabby) Hayes unravel a neat little murder mystery as Hoot is blamed for the murder of a rancher, the father of June Gale and Wally Wales. Some great Kernville photography by Art Reed under Alan James' direction.

LUCKY TERROR ('36 Diversion)
After a promising chase at the beginning, this minor affair bogs down badly with a time wasting extended medicine show scene followed by a drawn-out courtroom sequence before it comes alive with some neat goings-on and trick riding at the windup. Eventually, Hoot saves Lona Andre's gold mine from badmen. What a cast of characters—lazy medicine show doc Charles Hill and his Mexican helper Frank Yaconelli, pompous sheriff Bob McKenzie, bewhiskered judge Milburn Morante and the saving grace…drunken, slovenly lawyer Charles King who absolutely steals the show generating some genuine belly laffs.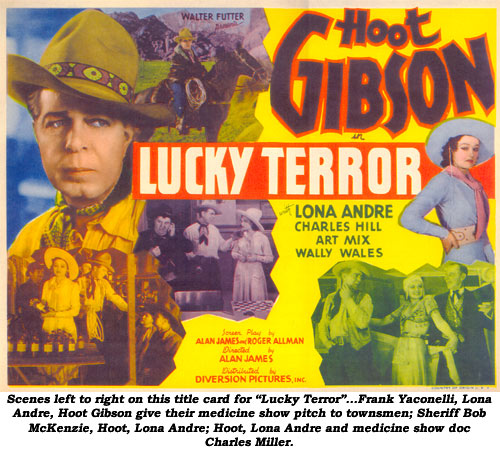 FEUD OF THE WEST ('36 Diversion)
Hoot looks a little out of his element as a two gun wearing hombre when he hooks up undercover with nasty Bob Kortman's outlaw bunch to obtain evidence they killed the son of Hoot's rancher employer. In a saloon brawl, Hoot is blamed for a stabbing and flees, getting help soon from pretty Joan Barclay and her grandfather Nelson McDowell. The overly complicated plot is based on Russell Bankson's story, "Feud of the Rocking U".

RIDING AVENGER ('36 Diversion)
Dressed all in black, uncommonly decked out with a two gun rig, Marshal Hoot goes undercover as the Morning Glory Kid to infiltrate Stanley Blystone's rustler band. Although Ruth Mix and Buzz Barton get co-star billing, their roles are quite insignificant compared with June Gale as Hoot's love interest and Blystone. Barton is simply one of the Sheriff's deputies and Ruth is Blystone's scorned and cast off wife. One unintentionally hilarious scene has Ruth performing what is supposed to be a seductive dance. It isn't! The story line constantly refers to Marfa and the Big Bend area of west Texas and, judging from the uncommon on-screen locations, may have been filmed in that area.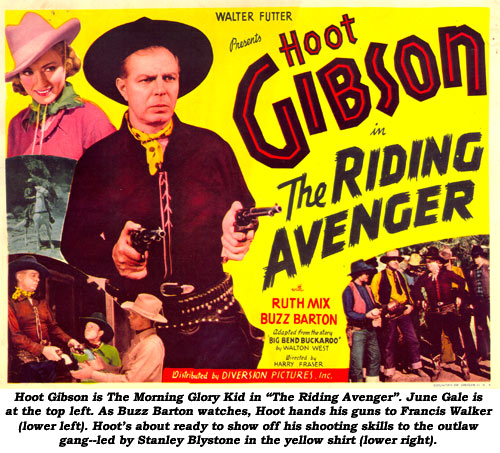 LAST OUTLAW ('36 RKO)
Harry Carey and Hoot Gibson reunited after their success with "Powdersmoke Range" for this whimsical, delightful modern-day western romp. Reformed old-time outlaw Carey has served 25 years in prison. Released into a modern day world, the leathery rascal finds he must adjust to the changes that have taken place. While he served his time, Dr. Frank Thomas has raised Carey's daughter, Margaret Callahan, unbeknownst to her who her real father is. Carey looks up old sheriff Henry B. Walthall who originally jailed him and has now graciously arranged for his pardon. Carey also meets Gibson who becomes sweet on Margaret. When bank robbers (Tom Tyler and his gang) kill Dr. Thomas after he treats one of the gang, Carey, Gibson and Walthall employ old west methods to catch the modern day crooks. Laced with good humor as Carey gets used to big city life and modern day goings-on. The most amusing (and most honest) scene comes when Carey goes to a talking movie to see singing cowboy Larry Dixon (Fred Scott) which, curiously, led to Scott's series later in '36 at Spectrum. Carey's old pal John Ford contributed the original story. A must-see western.
ZERO FRONTIER JUSTICE ('35 Diversion)
This Gibson/Walter Futter production is a long way down the budgetary and quality trail from Hoot's peak years at Universal. Futter turned former writer Robert McGowan loose on this entry as director and he really botches it. It was his only western. No wonder. Noticeably, both Hoot and leading lady Jane Barnes are far better than the material.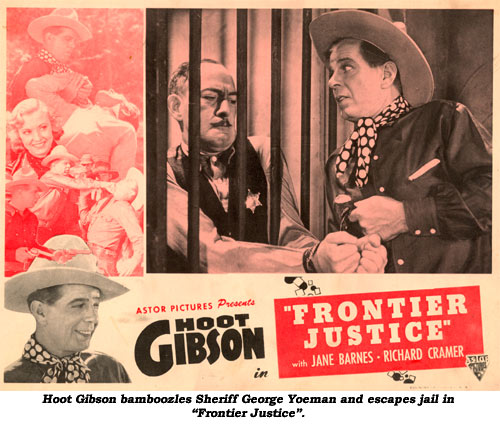 ZERO CAVALCADE OF THE WEST ('36 Diversion)
The old saw about two young brothers, separated after outlaws raid their parents wagon, who grow to manhood with one (Hoot Gibson) becoming a pony express rider and the other an outlaw (Rex Lease). Dreary, plodding B that aspires to lofty proportions far beyond the capability of its low budget allotments. Epic just wasn't in Harry Fraser's directorial reach. An Indian attack looks like two or three renegades. A major "town" is a few ramshackle buildings of the old Brandeis Ranch set. The "wagon train" dissolves into one lonely wagon. Hideous musical score is distracting and inappropriate for the scenes and often just plain annoying. Hoot's 1860 period costume makes him look foolish. The so-called "comic character" of Windy (Adam Goodman) makes one yearn for the comic "genius" of Guy Wilkerson or Slim Andrews. It's Goodman's only film—he probably became a dentist!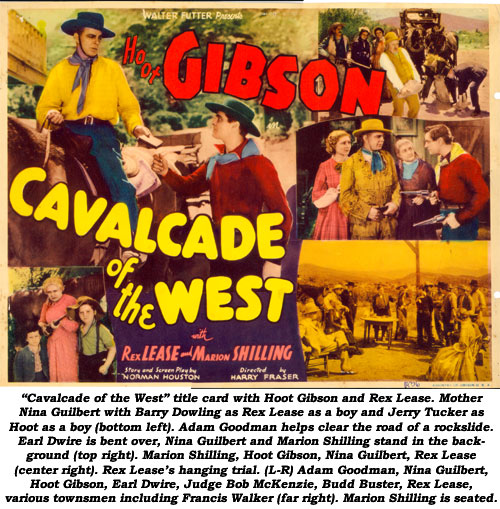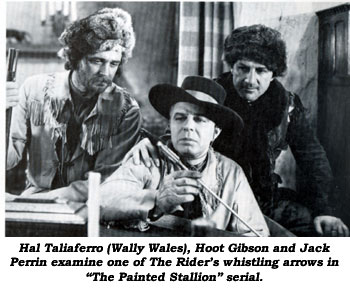 PAINTED STALLION ('37 Republic 12 chapter serial)
On the trail from Independence, MO, to Santa Fe, NM, settlers and wagon trains are plagued by Indians, renegades and outlaws. The Rider of the Painted Stallion (Julia Thayer—later Jean Carmen) is a mysterious Indian girl sworn to assist the settlers and defeat outlawry. She shoots whistling arrows that foretell danger and kills off attackers. The basic plot has a corrupt Spanish dictator of California determined to prevent a trade agreement treaty with Mexican officials that would depose his position. To do this, they must destroy Gibson's wagon train before it reaches Santa Fe. One member of that train is government scout Ray Corrigan who is bringing the treaty to be signed. Aiding Corrigan and Gibson are Hal Taliaferro as Jim Bowie, Jack Perrin as Davy Crockett and Sammy McKim as a very young Kit Carson. Also along—although we wish they weren't—are Z-grade dumb comics Ed Platt as Oscar and Lou Fulton as Elmer. "Painted Stallion" is a continual 12 chapter volley of action, thrills and excitement, co-directed by Alan James and William Witney in his first directorial job replacing a drunken Ray Taylor on location in St. George, Utah. The "Wagon Train" song a group of frontiersmen sing in Ch. 1 was composed by Gene Autry and Smiley Burnette. Yakima Canutt performs his famous drop under the stage and back up again in Ch. 8. Unfortunately, there are a couple of glaring Boo-Boos in the serial. Ray Corrigan's character name is spelled "Clark Stuart" in recap headings, but "Clark Stewart" on official papers in Ch. 5. Ch. 6 shows Corrigan jumping from a burning wagon before it goes over the cliff, footage that should have been saved for the outtake in Ch. 7.
(In '43-'44 Hoot co-starred with Ken Maynard and Bob Steele for 11 Trail Blazers B-westerns for Monogram. These will be reviewed separately.)

MARSHAL'S DAUGHTER ('53 United Artists)
Hollywood home movie guru and ex-vaudevillian Ken Murray produced (and had a featured role in) this confusing, often silly, episodic, lowbudget independent written by Bob Duncan (a third rate Eddie Dean PRC badman) as a showcase for Laurie Anders, who is so bad you never heard from her again. It's Gibson's absolute last hurrah as an old time Marshal who raises Laurie after her parents are killed by owlhoot Duncan. Laurie grows up and becomes El Coyote, a masked riding Zorro-like avenger (who lets out a ridiculous coyote yowl as she rides) to aid her father in bringing Duncan to justice. The movie stops at about the 50 min. mark for an extended, what's-this-got-to-do-with-the-plot 10 min. draw poker sequence lifted right from Ken's old Blackouts stage show. Sadly, this is the most entertaining segment of the movie with guest stars Johnny Mack Brown, Jimmy Wakely and Buddy Baer. And since Tex Ritter had so successfully sung "High Noon" over the credits a couple of years before, let's get him to do it for our movie also. Problem is, they forgot to compose an even halfway decent song for Tex to warble. This film also may hold the Guinness Record for the most flashbacks within flashbacks within flashbacks! Even features silent stock footage of Hooter when he was younger. Listen for the in-joke reference to Bob Hope's "Son of Paleface" ('52). Quite awful, but entertaining—like looking at a car wreck!