Ratings: Zero to 4 Stars.

"WAGON TRAIN" ('40 RKO) The film that established Tim Holt as a B-western star boasts a bigger budget than most B's of the period with dozens of extras, large wagon train scenes and location settings in Kanab, UT. It also boasts a story of A-western proportions as Holt, owner of a wagon train, fights off the unscrupulous schemes of Cliff Clark and his son Bud McTaggart to take over his business as well as all the trading posts in the area, creating a monopoly for father and son along the trade route. The story by Bernard McConville (who'd written dozens of good ones for the 3 Mesquiteers, Gene Autry and George O'Brien) is an imposing one, fleshed out by Morton Grant who was involved in many of the following Holt pre-war scripts.


"FARGO KID" ('40 RKO) One of Tim Holt's most ingratiating happy-go-lucky roles that shows how good an actor he really was. The light comic touches in the screwball comedy-vein incorporated by director Richard Killy make this a most appealing Holt, and one of the most enjoyable B-westerns ever made. The scenes where Tim's pals Ray Whitley and Emmett Lynn try to sing their way out of jail are laugh-out-loud funny. The story is a remake of RKO's "Cheyenne Kid" ('33) w/Tom Keene. Crooked assayer Cy Kendall and fidgety henchie Ernie Adams send for gunman Paul Fix to kill a miner so they can buy his goldmine claim cheap from his widow-to-be and daughter. In the desert, Fix runs across the Fargo Kid (Holt) who is on his way to join his pals. Through a set of circumstances, Tim winds up with Fix's horse, leading the crooks to believe Tim is the killer-for-hire they sent for. That is, until the real killer, with havoc in his holster, arrives. Ernie Adams, as a comic-badman, was never better, and even gets to do his patented "squealer" bit. Much of the outdoor action was filmed on location in Kanab, UT.


"ALONG THE RIO GRANDE" ('41 RKO) Tim and his pals Emmett Lynn and Ray Whitley are out to avenge the murder of their friend and boss by joining the outlaw gang of rustler Robert Fiske (cold-heartedly excellent) and his gun-hands. They get help (and hindrance) from Betty Jane Rhodes who, for want of a job, sings in Fiske's outlaw cantina. Watch for former stars Hal (Wally Wales) Taliaferro as the Sheriff, Bob Baker as his deputy, Buzz Barton, barely noticeable as a posse member, and perennial Gene Autry guitarist Frankie Marvin backing up Whitley during a musical number. A remake of Ken Maynard's "Whistlin' Dan" ('32).


"ROBBERS OF THE RANGE" ('41 RKO) At one point Tim Holt tells leading lady Virginia Vale, "It must be a little hard for you to understand all this." It is an involved plot as, lusting for land, crooked land agent LeRoy Mason and his range-rats, representing the railroad, frame Tim for the murder of a neighboring rancher when Tim refuses to sell his property.


"CYCLONE ON HORSEBACK" ('41 RKO) Dennis Moore and his sister Marjorie Reynolds need the horses Holt, Ray Whitley and Lee "Lasses" White are bringing in so they can complete the stringing of the telephone wire in the valley. But sneaky Harry Worth has his own plans to be awarded the telephone contract if Moore misses his deadline—and Worth does all he can to see that Moore does. Last 10 minutes is solid action. Couple of firsts here—Lee "Lasses" White, who had played a few parts in westerns prior to this, gets his first regular sidekick role as Whopper (replacing Emmett Lynn who was Whopper in the first four Holts. Even before that—Lynn inherited the Whopper moniker from Chill Wills who had used it in the George O'Brien RKOs). Lasses did eight with Holt before joining Jimmy Wakely in '44 for a series at Monogram. This is also Terry Frost's first western—as a badman, naturally. Leading lady Marjorie Reynolds made quite a few westerns and was later William Bendix's TV wife on "The Life of Riley". Watch for Eddie Dew, star of a few of his own at Republic and Universal, as one of Dennis Moore's linemen.


"SIX GUN GOLD" ('41 RKO) One of the best of the pre-war Holt westerns, due in large part to David Howard's direction. Howard, a frequent George O'Brien collaborator, took over this one from usual director Edward Killy. When Holt, with his pals Ray Whitley and Lee "Lasses" White, arrive in Placer City to visit his brother, they find a stranger (LeRoy Mason) posing as his brother (Lane Chandler) who is being held prisoner by gold shipment thieves. Tim reveals his identity to mine owner Eddy Waller and his daughter Jan Clayton and helps them get their gold through, expose the outlaws and save his brother.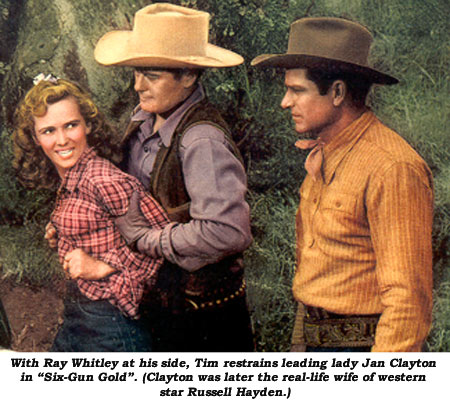 "BANDIT TRAIL" ('41 RKO) Good story. When Holt's father is accidentally killed during a bank foreclosure, Tim's outlaw uncle, Morris Ankrum, cons Tim into robbing the local banker in charge of the foreclosure. After Ankrum joins up with other outlaws led by Glenn Strange, they plan to rob another bank but Tim has now seen the error of his ways and makes plans (with his pal "Lasses" White) to set things right. Through a set of circumstances, Tim is made Sheriff and has not only his outlaw uncle to deal with but the town crook, Roy Barcroft. This is a reworking of "Two Gun Law" ('37) with Charles Starrett. Reused again for Sunset Carson's "El Paso Kid" ('46).


"DUDE COWBOY" ('41 RKO) When government engraver Byron Foulger disappears in Nevada, U.S. Treasury officer Tim Holt is sent to investigate. Counterfeit bills bearing Foulger's "signature" are circulating through a casino on the Silver Bar Guest Ranch. Counterfeiters Eddie Kane and Eddie Dew, forcing Foulger to work for them, are using the dude ranch to launder the queer stuff. Coincidentally, Tim's pals Ray Whitley and "Lasses" White are on the ranch with a medicine show as well as Foulger's daughter, Marjorie Reynolds, who is searching for her father by posing as a guest. Overlook the title, the word "dude" dissuades one into thinking this is tamer than it is. An exceptionally exciting pre-war Holt.


"RIDING THE WIND" ('42 RKO) Unscrupulous Eddie Dew has built a dam on his property depriving ranchers like Tim of water unless they make a deal with him. Failing a court order to prevent Dew from continuing to blockade the water, Tim and his pals, Ray Whitley and "Lasses" White, along with the other ranchers, hire a windmill man and his pretty daughter, Mary Douglas (Joan Barclay renamed by RKO for this film for whatever reason), to sink a well and have the water pumped by windmill. Dew does everything he can to stop the construction. Watch for fiddler Spade Cooley in the hayride scene.


"LAND OF THE OPEN RANGE" ('42 RKO) When a crooked real estate man dies, a small town is turned into a thieves' paradise as the realtor's will stipulates his 64,000 acres will be opened by a land rush to nothing but ex-convicts. Sheriff Holt and his pals Ray Whitley and "Lasses" White have their hands full dealing with the onslaught outlaw element while helping the honest ex-cons. Novel idea that utilizes land rush stock footage from "Cimarron" ('31).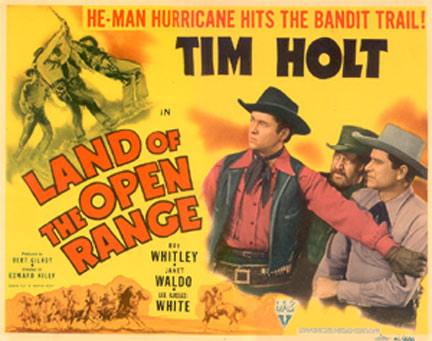 "COME ON DANGER" ('42 RKO) Remake of Tom Keene's "Come On Danger" ('32 RKO) is told with a lighter, tamer touch without the sense of urgency the Keene displayed. Story was remade one other time as "Renegade Ranger" with George O'Brien in '38, so the tale was wearing thin. Ranger Holt and his pals Ray Whitley and "Lasses" White are assigned to bring to justice rustler queen Frances Neal but discover the real crook to be tax collector Karl Hackett.


"THUNDERING HOOFS" ('42 RKO) Crooked lawyer Archie Twitchell tries to underhandedly buy Charles Phipps and daughter Luana Walters' struggling stageline cheaply so he can resell it at a profit. Tim and his pals Ray Whitley and "Lasses" White go to work for Walters, throwing Twitchell and his gunnies' plans awry. A few unusual plot twists but needed a dose more action. There's a trio of surprises in the supporting cast. Fred Scott (wearing a mustache), the singing cowboy star of a series of Spectrum B's from '36-'40, is the guitar-playing but non-singing leader of the Six Bar Cowboys. Spade Cooley joins them on fiddle and a pre-Chito Richard Martin has a non-speaking role as he takes a turn around the dance floor.


"BANDIT RANGER" ('42 RKO) Tim has a new saddlepal with Cliff "Ukulele Ike" Edwards in the first of six westerns hurriedly made before Tim entered WWII service. RKO released the sextet on through '43. Ike's voice was pure and he had a flair for slapstick. Rancher Holt is entrusted by murdered ranger Dennis Moore to deliver a moneybelt to Moore's sister, Joan Barclay. Rustler Kenneth Harlan has replaced Moore with phony ranger LeRoy Mason. The pair now know they must kill Barclay or she will upset their applecart, realizing Mason is not her brother. The crooks also turn the tables on Tim, making him appear as the rustler leader.


"PIRATES OF THE PRAIRIE" ('42 RKO) A Tim Holt remake of George O'Brien's superior "Legion of the Lawless" ('40). Two small towns, Spencerville and East Spencerville, are separated by a dry gulch and governed by a ruthless vigilante group headed up by second-in-command Roy Barcroft who has duped the titular head of the vigilantes into believing they stand for law and order while all Barcroft really craves, with the proposed railroad coming through Spencerville, is land and power. Undercover U.S. Marshal Holt poses as a gunsmith and combats Barcroft's tactics. Within a year, Eddie Dew, who has a small role here, would be starring, briefly, at Republic.


"FIGHTING FRONTIER" ('43 RKO) Tim is working undercover, commissioned by the governor, to break up a gang robbing gold shipments. Tim and his pal Cliff Edwards finagle their way into the gang but are captured by a vigilante group led by Eddie Dew and sentenced to be hanged. Script is a remake of George O'Brien's "Arizona Legion" ('39).


"SAGEBRUSH LAW" ('42 RKO) Looks like Tim's bank president father has committed suicide over loans he made to himself, but Holt ferrets out his Dad's partner Roy Barcroft as the real embezzler. Scripter Bennet Cohen gives us a slight variation on the "saloon confession" ending he first used so effectively in "South of Arizona" ('38) w/Charles Starrett, then reprised in "El Paso Kid" ('46) w/Sunset Carson and "Ridin' Down the Trail" ('47) w/Jimmy Wakely.


"AVENGING RIDER" ('43 RKO) Holt is the avenging rider when he and comic card-playing pal, Cliff Edwards, are framed by Norman Willis' gold bandits for the murder of the mine partner Tim and Ike have come to see. The bandits take the stolen gold bars to crooked banker Davison Clark, getting him to hide them in his safe. For reclaim and trust purposes, they tear a five of spades card into five pieces, each taking a piece, agreeing to return later when the law isn't on their heels. It's a neat twist of an idea and well played out as the law continues to pursue Tim and Ike while they pursue the real bandits, who, one by one, are all killed off leaving only crooked Clark and his saloon manager, Kenne Duncan, to try and escape and with the loot. Edwards was never better. One exchange between he and doubly-dumb deputy Earle Hodgins (always an asset to any film) is particularly hilarious.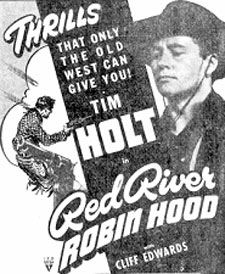 "RED RIVER ROBIN HOOD" ('43 RKO) Through a phony Spanish land grant and the help of a crooked judge, swindler Eddie Dew has proven ownership to all the land in the Red River territory with he and his henchmen evicting all the ranchers who pay rent for their ranches. After gaining the confidence of a crusading newspaper publisher and his daughter, Tim and his partner, Cliff Edwards, don black robes and masks to risk their lives helping the ranchers under the Robin Hoodish name of Mr. Justice. Lookout—Earle Hodgins steals every scene he's in as a slow-witted deputy. This was the last picture Tim made before he went into the service for WWII.


"THUNDER MOUNTAIN" ('47 RKO) In this third screen adaptation of Zane Grey's "To The Last Man", Tim Holt returns to his family ranch owing $6,000 back taxes. Unbeknownst to Tim and pal Chito (Richard Martin), the property will soon be worth a fortune when a dam is built by an irrigation company. Naturally, badmen Harry Woods, Richard Powers (formerly Tom Keene) and Harry Harvey want to grab the land, so they fuel the long standing feud between Holt's family and that of Martha Hyer and her brothers, Steve Brodie and Robert Clarke. While his pre-war westerns and later RKO's were strictly in the B-western mold, the early post-war Holts were far more elaborate productions with strong, adult oriented scripts, top flight casts, great cinematography, outstanding Lone Pine locations and original music scores written by Paul Sawtell and conducted by Mischa Bakaleinikoff. Surprisingly, Tim gets physical with leading lady Martha Hyer in an unusual spanking scene. The bigger budgets at RKO really show. When you look at a barroom or street scene there are scads of patrons or people milling about, compared to seldom anybody except the principals in a Monogram or PRC saloon or street scene.


"UNDER THE TONTO RIM" ('47 RKO) When the Tonto Rim gang led by Richard Powers (aka Tom Keene) kills one of Tim's best friends, he poses as an outlaw, befriends a gang member (Tony Barrett) and joins the killers in order to bring them to justice. Watch for pre-Tarzan Lex Barker in a small role as a deputy. Leading lady Nan Leslie and Holt were an off-screen item as well as making six westerns together. This film set the precedent for many Holts to follow wherein Tim is trapped in some way and Chito and the posse must facilitate a blazing six-gun rescue. With this film, and for the next two, Tim has his holsters rigged with his left pistol butt-forward for a cross draw while the right is set for a standard draw. This is even commented on in the film by Tim's sidekick, Richard Martin. Unusual for a B-western star, Tim takes a drink and smokes a cigarette. (He'd held a pipe in the previous "Thunder Mountain").

"WILD HORSE MESA" ('47 RKO) Good strong storytelling highlights the post-war Tim Holt films, especially the earlier ones, and this remake of father Jack Holt's 1925 Paramount is no exception. After capturing wild horses in the Alabama Hills of Lone Pine, Tim's employer (Jason Robards) is cheated then murdered by Harry Woods and disgruntled former Robards employee Richard Powers. When Woods turns up dead also, Tim is blamed. Nan Leslie is Robards' daughter and Dave Sharpe doubles Tim for the fight scenes in the last of the the Holt films to carry the Zane Grey name. Very noticeable is the fact Tim does not ride Lightning in this entry.


"WESTERN HERITAGE" ('48 RKO) Tim proves Harry Woods' Spanish land grants are forgeries. Great cast includes Nan Leslie, Harry Woods, Richard Powers, wonderful character player Walter Reed, Tony Barrett (who turned screenwriter and created TV's "Peter Gunn"), Robert Bray (later star of TV's "Stagecoach West" and "Lassie") and, of course, sidekick Richard (Chito Jose Gonzales Bustamonte Rafferty) Martin. Oddly, Tim rides a chestnut quarter horse in this film rather than his usual palomino, Lightning.



"ARIZONA RANGER" ('48 RKO) Father and son fighting back to back—Tim and Jack Holt co-starred together for the only time in their careers. Our loss. Tim and two pals (Bill Phipps, Richard Benedict) return to Tim's father's ranch after being mustered out of Teddy Roosevelt's Rough Riders with instructions to bring law to Arizona Territory so it may achieve full statehood. Tim and Papa Jack are at loggerheads as Dad wants Tim to help him run the ranch, not organize the Arizona Rangers. Tim then clashes with outlaw Steve Brodie when Tim interrupts a wife beating by Brodie of pretty Nan Leslie—who Tim promptly falls for. The film, like several early Holt post-war titles, plays like a big budget A-western with emotional strength and terrific action. The fact the at-odds father and son are played by real father and son only serves to deepen the emotional impact. First film to utilize the "Holt cabin" at Lone Pine which still exists today. It's used as Brodie and Leslie's ranch house. The oft-seen Andy Jauregui Ranch is Holt's spread.


"GUNS Of HATE" ('48 RKO) Gold, greed and gunplay as ruthless saloon owner Steve Brodie hears of prospector Jason Robards' find of the Lost Dutchman gold mine and murders him before Robards can file his claim. Tim and Chito are in the wrong place at the wrong time and are blamed for the murder by Sheriff Jim Nolan and Robards' daughter, Nan Leslie. Eventually, Tim and Chito, with help from saloon girl Myrna Dell, clear themselves and capture Brodie, his crooked assayer Tony Barrett and hardcase Robert Bray.


"INDIAN AGENT" ('48 RKO) Tim and Chito throttle the crooked dealings of badman Harry Woods and crooked Indian agent Richard Powers who are stealing government food supplies meant for the Indians so they can sell them to miners further west. This was the last of six films the late Nan Leslie made with Holt. She was never shy about the fact they were an off-screen item as well. Filmed entirely, as many Holt's were, at Lone Pine, CA. The Anchor Ranch house at Lone Pine serves as crooked Indian agent Powers' house. The 'Tim Holt cabin' is Tim's ranch house.


"GUN SMUGGLERS" ('48 RKO) Tim and Chito try to straighten out gun runner Douglas Fowley's wayward kid brother, Gary Gray, after the boy helps his brother hijack a Cavalry shipment of gatling guns. The Cavalry career of Tim's old friend Sgt. Paul Hurst has been destroyed after the ambush and the only way to save it is for Gray to see the error of his ways and help Tim recover the gatling guns. This is the first western in which Tim uses Tim Holt as his on-screen name. Of his 29 postwar films, he was only "Tim Holt" in 11 of them—including the last eight when RKO had obviously decided that was the best way to go. Dave was the other most used moniker for Tim.


"BROTHERS IN THE SADDLE" ('49 RKO) Far more adult in approach than the usual B-western, approaching an A-western in content, this is a strong contender for Holt's best western. It's brother against brother as Tim struggles to keep conniving, reckless Steve Brodie from falling into a life of gambling and crime—to no avail as Steve kills card dealer Francis McDonald in a gambling argument. Steve's surly, cantankerous attitude and desire for cash to get away sucks him deeper and deeper until, while nervously waiting for Tim's help, he holds up a stage and cold-bloodedly murders gambling hall owner Richard Powers. Attempting escape, he brutally even tries to kill both his brother and Tim's partner, Richard "Chito" Martin. Although the remainder of Tim's westerns were far above the product being turned out in this period by Monogram, PRC, even Republic and Columbia for the most part, they unfortunately never again approached the A status of "Brothers in the Saddle".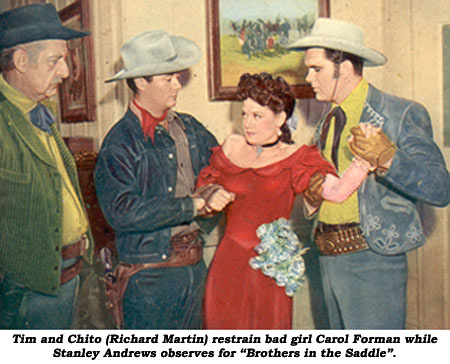 "RUSTLERS" ('49 RKO) When rustlers (led by Steve Brodie) holding cattle for ransom are paid off with Addison Richards' (and daughter Martha Hyer) marked money, which Chito then wins on a roulette wheel in a saloon owned by rustler boss Frank Fenton, it's naturally Tim and Chito who are arrested for being the Salt River Gang. Lois Andrews as a dance hall gal-pal of Chito's really has a better role than Hyer. (Lois even gets to ride Tim's horse, Lightning.) However, Hyer was on her way to better things, as she was nominated for an Academy Award for her role in SOME CAME RUNNING ('59). One of the favorite ploys of the Holt films was to have Tim cornered or trapped by outlaws with Chito and the posse (ranchers, whatever) racing to the rescue. That device is used quite well here with Tim trapped in a burning building! As in "Thunder Mountain", Tim once again spanks Martha Hyer.


"STAGECOACH KID" ('49 RKO) The chemistry between Tim Holt and pert Jeff Donnell is absolutely delightful. Both seem to be having wonderful fun with their roles. Tim was never more charming. Crooked ranch foreman Joe Sawyer is swindling absentee boss (Thurston Hall) out of cattle and money. When he learns Hall is coming west via stage, Sawyer dispatches two gunmen to drive back the millionaire landowner. Tim and Chito (Richard Martin), owners of the stageline, drive off the gunmen, causing Sawyer to become even more vicious in his plans. Jeff Donnell, Hall's daughter accompanying him on the stage, makes it quite clear she doesn't want to live out west. She flees her father disguised as a "boy", but gets mixed up with Tim and the killers. The "Hoppy Cabin" in Lone Pine is used as Tim's ranch house.


"MYSTERIOUS DESPERADO" ('49 RKO) Tim Holt and Chito Jose Gonzales Bustamonte Rafferty go to Santo Domingo to claim an inheritance due Chito from his deceased uncle, although the uncle left no will. The pair soon discovers the uncle was murdered and his son, Chito's cousin, Edward Norris, who should inherit the valuable rancho, is accused of the crime. The plotters, public administrator Frank Wilcox and some real estate wheeler-dealers (William Tannen, Robert Livingston, Robert B. Williams) have already illegally sold thousands of acres of Bustamonte land, pocketing the profits. Under the law, by blaming Norris for his father's murder, Norris sacrifices his inheritance, leaving the land-grabbers free and clear. There's a slam-bang bar brawl, one of the best of the series, as Tim and Chito square off against Livingston and Tannen.



"MASKED RAIDERS" ('49 RKO) Texas Rangers Tim and Chito are sent to stop the masked Diablo Kid's gang who have repeatedly robbed the Willcox, TX, bank. They discover Diablo (actually a lady—Marjorie Lord), her gang and Lord's kid brother, Gary Gray, are western Robin Hoods robbing from the bank and giving to the ranchers in the area who have bank foreclosures facing them. Clayton Moore made this film just before becoming TV's "Lone Ranger".


"RIDERS OF THE RANGE" ('50 RKO) Delightful opening with Richard "Chito" Martin casually riding along, with his out of work again pal Tim, cheerfully singing his own version of "The Girl I Left Behind Me". From there it segues into one of he best barroom brawls of the Holt series and a comedy of errors plot over $3,000 that nearly rivals "Winchester 73" in following the money trail. Ranch owner Jacqueline White is superb as the tomboy ranch owner protecting her kid brother, Robert Clarke, who is into gambler Reed Hadley for three large in gambling debts. Hadley forces Clarke to rustle his own cattle to pay off. Tom Tyler is calm, cool and collected as Hadley's rustler henchie. In his book on Tim Holt, author David Rothel notes Tim uses a bosal (a halter-like bridle that doesn't utilize a bit in the horse's mouth) on his horse Lightning in this film—and only this film. David can't recall ever seeing any other movie cowboy use a bosal in a film—nor can I.


"STORM OVER WYOMING" ('50 RKO) Two-gun Tim and his senorita-loving pal, Chito, stop the lynching of Richard Powers, foreman of the Flying X Cattle Ranch, by Bill Kennedy, foreman of the Big M Sheep Ranch. Hired by the cattlemen, Tim and Chito find themselves in the middle of a range war. Soon it becomes clear Kennedy is fanning the feud to cover up his rustling activities. Two girls, sheep ranch owner Noreen Nash, and quite good newcomer Betty Underwood as a saloon girl (she sings one song) with whom Chito flirts.


"RIDER FROM TUCSON" ('50 RKO) Rodeo rider Holt and his Mexican/Irish sidekick Chito go to the aid of old friend Bill Phipps whose hidden gold strike is the target of claim jumpers headed up by tough, heartless dance hall floozy Veda Ann Borg, her spineless husband Robert Shayne and hired gunmen Douglas Fowley and Stuart Randall. To complicate matters, Phipps' fiancée, Elaine Riley (Martin's real life wife in the only film they made together), is arriving by stage.


"DYNAMITE PASS" ('50 RKO) Tim and Chito help surveyor Regis Toomey when he's hired to lay a new road to a nearby town because unscrupulous John Dehner is charging outrageous toll road fees to use his road. Neither Dehner nor storekeeper Robert Shayne want the new road to go through as it will hurt both their businesses and do all they can to block Toomey's progress.


"BORDER TREASURE" ('50 RKO) Guns blaze when a Spanish Senorita attempts to help earthquake victims in Mexico by bringing a mule train to them in relief. Bandits plan to rob the mule train until Tim and Chito come along. Features one of Tim's best bar room brawls (w/John Doucette). Jane Nigh is allowed two songs as the saloon girl cohort of Doucette.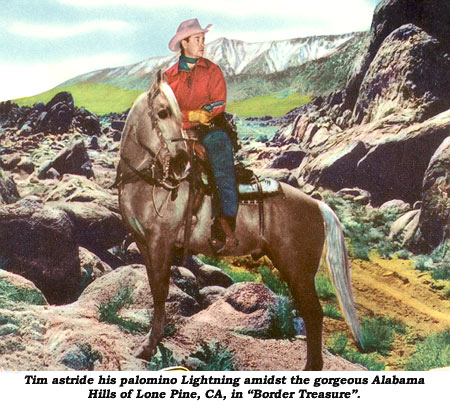 "RIO GRANDE PATROL" ('50 RKO) Smuggled machine guns and the shooting of Mexican Rurales Captain Rick Vallin set border patrolmen Tim and Chito on the trail of gun runners—saloon owner John Holland and outlaws Douglas Fowley and Tom Tyler. Pretty Jane Nigh gets to sing two songs.


"LAW OF THE BADLANDS" ('50 RKO) Posing as outlaws (Tioga Kid and Pancho Chompez) to nab some clever counterfeiters (Leonard Penn, Robert Livingston, Robert Bray, Larry Johns) flooding the country with the phony stuff, Tim and Chito are exposed when an old girlfriend of Chito's (Joan Dixon) suddenly upsets the apple cart. The showdown with Tim once again trapped in the badlands is well handled by director Les Selander except for a few time-lapse problems.


"SADDLE LEGION" ('51 RKO) Tim and Chito break up a clever rustling scheme by saloon owner Mauritz Hugo and his men. Dorothy Malone, who was at this time still mixing A and B features, plays a sexy "sawbones" who helps Tim and Chito. Continuous action and a well staged shootout finale.


"PISTOL HARVEST" ('51 RKO) This first film in the last group of eight Holt made for the '51-'52 season begins to exhibit RKO's budget tightening practices as the B-westerns began to fade in attendance due to that TV box in the living room. Cowhand Holt plans to marry Joan Dixon, the boss' daughter, until her father is robbed and killed by import/export magnate Mauritz Hugo when he needs money for a big deal. Hugo tries to lay blame off on itinerant cowhands Robert Clarke and Bob Wilke. Bit of a weak ending for a Holt western.


"GUNPLAY" ('51 RKO) Working for rancher Joan Dixon, Tim and Chito aid a young boy whose father has been brutally hung by outlaws under orders from crooked banker Mauritz Hugo. Several implausible events and a weak ending keep this from being one of Holt's better efforts.


"HOT LEAD" ('51 RKO) By '51 the Holts were becoming quite systematical—Chito and the girls, a joke or two about Chito's name or his mangling of the English language, a standard trio of badmen rather than a whole gang, more and more stock footage (here a whole cattle stampede segment from "Saddle Legion" is reused), tightening of the budget with less supporting players, less action and more dependence on plot. Crafty train robber John Dehner and his two henchmen have killed one of rancher Joan Dixon's men in a failed holdup. Dehner shrewdly has convict/telegrapher Ross Elliott released from prison, planning to set him up to work in the telegraph office and glean info on future gold shipments for the gang to rob. As Dixon's foreman, Tim (and his pal Chito—Richard Martin) get involved and give Elliott, who is actually trying to go straight, a job as a cowhand.


"OVERLAND TELEGRAPH" ('51 RKO) Tim and Chito sign on as gunslingers for telegraph installers Gail Davis and her father who are being plagued by ruthless saloon owner Hugh Beaumont trying to stop the progress of the telegraph so the Army won't vacate the post. Tim doesn't ride his palomino, Lightning, but rather a blaze faced sorrel.


"TRAIL GUIDE" ('52 RKO) Tim Holt's best westerns were behind him and RKO's tightening of budgets are beginning to show. With stock footage from John Ford's "Wagonmaster", Tim and Chito (Richard Martin) lead a wagon train to Silver Springs where homesteaders get a cool welcome from cattle ranchers Linda Douglas and her brother, Robert Sherwood. Sherwood knows there's oil on the land and aims to keep the nesters out by seeking the help of crooked saloon owner Frank Wilcox. Again, Tim is no longer riding Lightning, but rather a nondescript sorrel. Toothless old veteran Tom London has a cute running gag with his "trained" vaudeville mutt who won't jump through the hoop. Okay buildup but a very weak ending.


"ROAD AGENT" ('52 RKO) A non-violent Holt B-western (abbreviated saloon brawl, lame windup) as he and Chito pose as masked Robin Hoods to overcome a plot by area cheat, Mauritz Hugo, who hopes to bankrupt ranchers by charging extreme tolls to travel his roads. Tim and Chito just plain steal the money back from Hugo and return it to the ranchers. However, it is implied at the end Tim and Chito will have to do jail time for their indiscretions. An old looking Tom Tyler is Hugo's henchman in one of his last roles after nearly 30 years in the saddle. Surprise—Tim gives Noreen Nash a no-nonsense kiss at the end!


"TARGET" ('52 RKO) The budget tightening by RKO is quite noticeable in Tim's next to last film. Tim is even riding a non-descript black horse rather than his palomino, Lightning. Slick Walter Reed is buying up land for the railroad as cheap as he can while using the strongarm tactics of his henchies to move rancher John Hamilton off his land. Newspaperman Harry Harvey, Tim and Chito send for fighting Marshal Terry Moran to stop the lawlessness, but Moran's daughter—also named Terry—arrives instead. A very neat plot twist, but screenwriter Norman Houston didn't develop this facet like he should have, spoiling the eventual outcome.


"DESERT PASSAGE" ('52 RKO) When Tim and partner Chito tell leading lady Joan Dixon they're selling their stageline, Michael Mark asks Tim, "You ain't quittin' are you?" Prophetically, Tim sadly answers, "It's the end of our bankroll." After a post-war run of 29 westerns from '47 to '52, the increasing costs of producing B-westerns and the encroachment of TV spelled an end to the excellent RKO Holt series. This last film shows its budgetary restraints with more talk and less action as prison parolee Walter Reed returns to town to recover $100,000 he embezzled years before from Joan Dixon's father's bank. Many old pals of Reed's lay in wait for Reed and the hidden cache.