BOB LIVINGSTON
Ratings: Zero to 4 Stars.


VIGILANTES ARE COMING ('36 12 Ch. Republic serial) Fred Kohler is an ambition-mad dictator of California who would turn it into a Russian colony. Through his illegal gold mining activities, Kohler allies himself with Russian Count Robert Warwick and his Cossacks led by Bob Kortman. When Robert Livingston's father tries to stop Kohler he is murdered by Kohler's men. Forming a

vigilante band, Livingston becomes the mysterious, avenging Eagle to prevent Kohler's conquest of California. He's aided by two tough mountain-men, Raymond Hatton and Big Boy Williams, as well as by mining engineer Lloyd Ingraham and his daughter, Kay Hughes, both held prisoner by Kohler. Sadly, several cliffhangers are out and out cheats or near cheats. Also note the inexhaustible supply of whips The Eagle seems to possess. Constant action, but somehow "The Vigilantes Are Coming" never manages to raise the excitement to a fever pitch.
In 1936 Livingston became a member of The Three Mesquiteers.

BOLD CABALLERO ('38 Republic) Republic's first big budget color production should have been better. Not only was the $100,000 production plagued by color problems, the Zorro screenplay by first time director Wells Root is afflicted with stilted dialogue and a preponderance of unfunny comic scenes between Livingston and German actor Sig Rumann who plays his main heavy as a buffoon. Livingston "sings" two songs, but it's doubtful it's really his voice on the soundtrack. Karl Hajos wrote the original score for "Bold Caballero" which was heard over and over again in Republic's Three Mesquiteers and Gene Autry B-Westerns.


THE LONE RANGER RIDES AGAIN ('39, 15 Ch. Republic serial) Aware of the enormous success of the first Lone Ranger serial, Republic returned the masked rider of the plains for a second serial, although it suffers in comparison. Whereas The Lone Ranger remained anonymous in the first serial until the final chapter, the second Lone Ranger (Livingston) continually masked and unmasked throughout the serial, deviating vastly from the radio premise. Here, he's not even a Texas Ranger, but is drifter Bill Andrews who adopts the Lone Ranger persona to, at first, aid Duncan Renaldo track down the killer of his brother. Eventually learning Carleton Young, a member of the feared Black Raiders, is responsible for Renaldo's brother's murder, The Lone Ranger, Tonto and Renaldo face off against the entire gang, secretly led by Ralph Dunn, the nephew of cattle-baron J. Farrell MacDonald. Dunn and his Black Raiders throw suspicion on Dunn's uncle while Dunn formulates grand plans to wipe out the incoming "nesters" and steal the land for his own.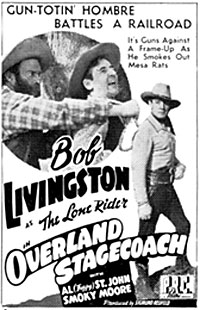 OVERLAND STAGECOACH ('42 PRC) When George Houston returned to New York, Livingston took over the Lone Rider series from Houston with this film, causing the series to undergo a complete metamorphosis. Houston sang, Livingston didn't. Houston did not wear a mask, Livingston did, as he'd done in some Three Mesquiteers films—making a loose "Lone Ranger" connection. Fuzzy St. John continued as Livingston's sidekick as he had with Houston. In this first of six Livingston/St. John Lone Riders, Fuzzy narrates the story, an unusual angle for a B-Western. The late John Elliott leaves his half-interest in a stagecoach line to his daughter, Julie Duncan. Her partner, Glenn Strange, wants to take over the stageline totally and prevent the railroad from coming in. Fuzzy, as a driver for Julie, sends for help in the form of pal Tom Cameron, the Lone Rider. The implausible gimmick in the film has Strange hiding a man inside the trick seat of the stagecoach who then dynamites the railroad, throwing blame on stage driver Fuzzy.
All six of the Livingston Lone Riders are salvaged by the obvious camaraderie of Livingston and St. John who appear to be having fun making these films. Also noteworthy, in this initial film, Livingston wears a wide-brimmed Stetson with the brim oddly turned down on one side. In the next five, his hat reverted to his Republic style. In this first feature, Livingston is Tom Cameron, as was his predecessor George Houston, but by the second film he was called both Tom and Rocky Cameron, and Rocky for the other four.


WILD HORSE RUSTLERS ('43 PRC) The Lone Rider (Livingston) and Fuzzy St. John are framed for murder by Nazi saboteurs led by Lane Chandler who just happens to be the twin brother of Smoky—Livingston's pal and leading lady Linda Johnson's ranch foreman. The horse poisoning goose-steppers are tripped up by their own "Heil Hitler".


DEATH RIDES THE PLAINS ('43 PRC) When crooks Ray Bennett, I. Stanford Jolley, George Chesebro and Kermit Maynard sell the same ranch over and over again then kill and rob the buyers of the $25,000 price before the papers are signed, the Lone Rider (Livingston, wearing a black Lone Ranger-like mask) and Fuzzy St. John take a hand. Livingston seems to move nonchalantly through the whole thing while wondering, "Is this a step up from Republic or did I make a bad career move?"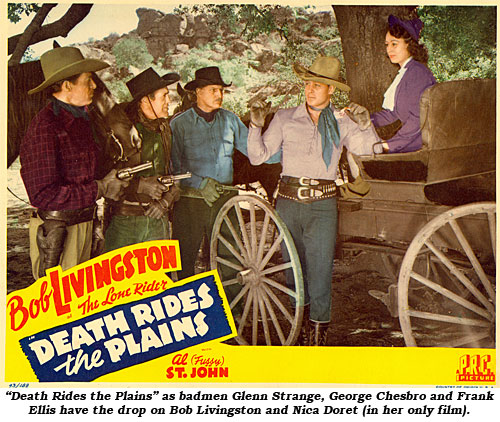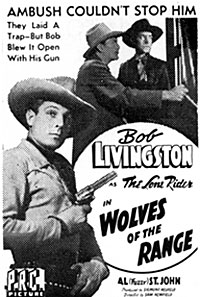 WOLVES OF THE RANGE ('43 PRC) Why do they call Livingston the Lone Rider when he rides into the film with sidekick Fuzzy St. John? At any rate, it's Fuzzy's picture all the way, stealing every scene he's in. It's delightful to watch him match wits with a mystic fortune teller, the unlikely Slim Whitaker. Crooked I. Stanford Jolley of the Cattlemen's Association has a deal with an eastern syndicate and craves the whole valley for an irrigation project. Jolley must see the local cattlemen don't recover from the current drought so he imports Kenne Duncan and his gunslingers. At one point, following an ambush, a crack on the noggin induces amnesia in Livingston.
When scripter Joseph O'Donnell recycled his own story for "Return of the Lash" ('47) with Lash LaRue and Fuzzy, he let Fuzzy receive the whack on the cranium and be stricken with amnesia.


LAW OF THE SADDLE ('43 PRC) Notable as the first use of Corriganville after the popular townsite was constructed on the 1,740 acre spread purchased by Ray "Crash" Corrigan in 1937 for $11,354. Livingston as the Lone Rider is after slick polecats who get their boss (Lane Chandler) elected Sheriff in a town, then strip the place of all its money and move on to pull the same stunt elsewhere. Livingston first arrives at a ranchers' meeting wearing his Lone Rangerish mask, then it's never referred to again. What's the point? Also, is it some sort of inside joke…as Livingston and Fuzzy St. John talk, Jimmy Aubrey walks by and they comment on him looking familiar. But nothing more is made of it. Some sort of reference to the fact Aubrey was in nearly all of producer Sig Neufeld's westerns? Fabulous horsewoman Betty Miles is the leading lady as rancher John Elliott's daughter.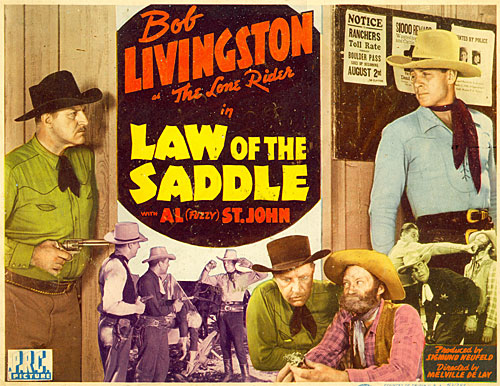 RAIDERS OF RED GAP ('43 PRC) Charles King's Cattle Co. is attempting to grab up all the grazing rights in Arizona to build packing plants. When Charlie and his galoots encounter stiff opposition from rancher Ed Cassidy and his daughter Myrna Dell, they send for tough gunman Roy Brent, a man whose rep Charlie knows altho he's never seen him. Brent, who always wears flashy clothes, is being chased by the law but manages to escape by switching his garish duds with Fuzzy St. John. From there on, the script provides Fuzzy with a lot of comedy material as he and Brent play a game of merry mix-up with King's gang. But, with Livingston as the Lone Rider, it all gets sorted out. At one point, to "fool" the badmen, Livingston dons his Lone Rangerish black mask—as if that would disguise his distinct voice and tailored clothes. And what difference? Five minutes later they know Livingston is the Lone Rider anyway, mask or not.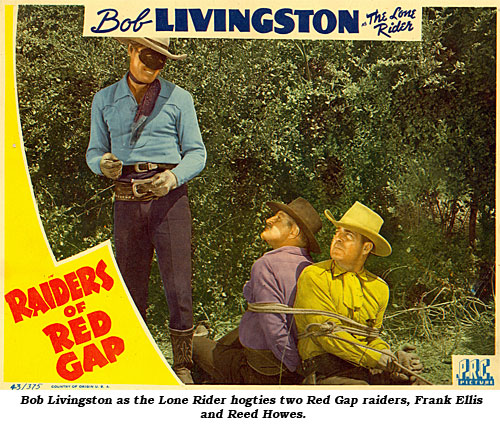 PRIDE OF THE PLAINS ('44 Republic) Livingston's return to Republic after leaving the Three Mesquiteers in '41 is a remake of a '37 Mesquiteers film, "Hit the Saddle", requiring Livingston to don his old Stoney Brooke outfit for part of the film to match stock footage director Wallace Fox planned to use. With his return to Republic, Livingston took over the aborted Eddie Dew as John Paul Revere series with Livingston now called simply Johnny Revere. Respected citizen Kenneth MacDonald heads a gang illegally capturing and slaughtering wild horses. To arouse public opinion against the state law protecting wild horses, MacDonald's henchman, Yakima Canutt, paints a trained vicious black stallion to look like the pinto leader of the wild herd. Controlling the black with a whistle, Yak has the stallion kill the foreman of Charles Miller's ranch. Certain the wild horses are not truly vicious, Livingston and veterinary pal Smiley Burnette (sort of a buffonish early horse whisperer) refuse to sign a petition to repeal the law, which puts Bob and his brother, Sheriff Stephen Barclay as Inspector for the Game Commission, at loggerheads. To force the issue, MacDonald and Canutt's gang cause a stampede, this time trampling Miller to death. Miller's daughter, Nancy Gay, and Barclay turn against Livingston when he still refuses to believe the wild horses are guilty. In the end, the pinto Livingston believed innocent and saved, in turn saves Livingston's life.


BENEATH WESTERN SKIES ('44 Republic) School teacher Effie Laird is infuriated by the way toughs LeRoy Mason, Kenne Duncan, Bud Geary and Frank Jaquet are terrorizing the town. When one of Effie's old pupils, Livingston, arrives, she and Bob's old schoolmate Smiley Burnette appeal to him for help in cleaning up the outlaw element. He's doing fine until a whack on the head gives Bob a severe case of amnesia and the outlaws convince him he's one of their gang!
My God! As if Smiley Burnette as Frog Millhouse weren't enuf, here we have Joe Strauch Jr. as Tadpole (as he was in the Gene Autry features) and—enough already—a dummy called Toad dressed just like Frog and Tadpole! But with a very mean look.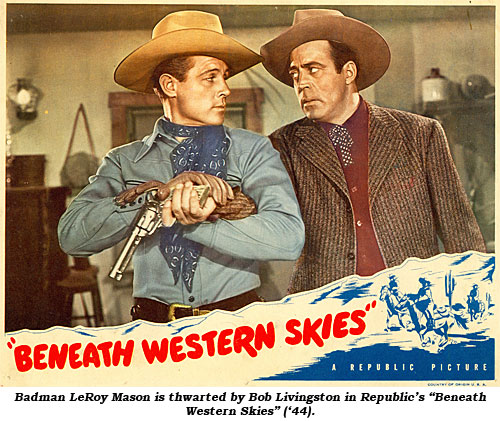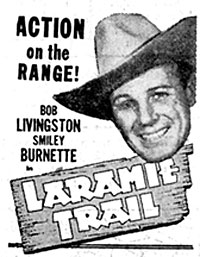 LARAMIE TRAIL ('44 Republic) Convoluted, confusing and unusual Livingston western murder mystery based on the 1929 novel, MYSTERY AT SPANISH HACIENDA. Mistaken identity, blackmail, impersonation, murder, robbery and lost brothers all tie together neatly, I reckon, if you can follow it all. Republic certainly wasn't aiming at 7-10 year old Saturday matinee kids with this one—they could never follow it. I've seen it three times and I still can't explain all of it! Needs Charlie Chan to come in at the end and lay it all out! Some Livingston fans think it's his best—I don't.