THE THREE MESQUITEERS
(Part 4)
Ratings: Zero to 4 Stars.





OUTLAWS OF CHEROKEE TRAIL ('41 Republic) Roy Barcroft and his murdering band begin killing all the jurors that valiantly convicted his young brother (John James) and two others. The renegades' hideout is in the Cherokee Strip where Texas Rangers aren't allowed to trespass and arrest them, but the Mesquiteers devise a way…disguised as Indians. From start to finish, you want action; this one has it two-fold. Watch for the quick scene where a wild horse is kicking over the traces inside a building. It looks unscripted with cowboys ducking for cover from flying hooves.



WEST OF CIMARRON ('41 Republic) Following the Civil War, the Mesquiteers find carpetbaggers in reconstruction Texas. The Mesquiteers aid a group of Southerners who are resisting the stringent over-taxation. Not exactly "politically correct," Rufe dons blackface to disguise himself as a Negro—sings a song about "Watermelon" and is called Sambo! A young black kid is named Rastus (and chomps away furiously on a watermelon during the action). Also a joke is made about "stealing chickens"! Watch for a young Eddie Dean in a small role as one of the Southerners. This is a remake of John Wayne's "Lonely Trail" ('35).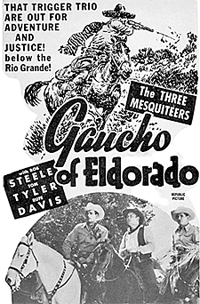 GAUCHOS OF EL DORADO ('41 Republic) The fifth and final time around for this plot! When a bandido known as The Gaucho (Duncan Renaldo—a former Mesquiteer himself) is killed by his outlaw gang while trying to take $5,000 to the mother he hasn't seen for many years in order to pay off her upcoming mortgage, the Mesquiteers intervene. The mother mistakenly believes Bob to be her long lost son. From there it's a merry mix-up of action and adventure as the Mesquiteers unravel all the problems caused by the gang (one of which is soon to be B-Western star Eddie Dean). This is an uncredited remake of Jack Hoxie's "Gun Law" ('33) written by Oliver Drake. Also remade as "Cyclone Ranger" with Bill Cody ('35), "Melody of the Plains" with Fred Scott ('37) and "Bullet Code" with George O'Brien ('40).


CODE OF THE OUTLAW ('42 Republic) The Mesquiteers adopt and straighten out the son (Bennie Bartlett) of an outlaw they've gunned down. This was Bartlett's shining hour—he has more to do here (and does it well) than in all the dozens of Bowery Boys films he later appeared in…often getting only a line or two with Leo Gorcey and Huntz Hall.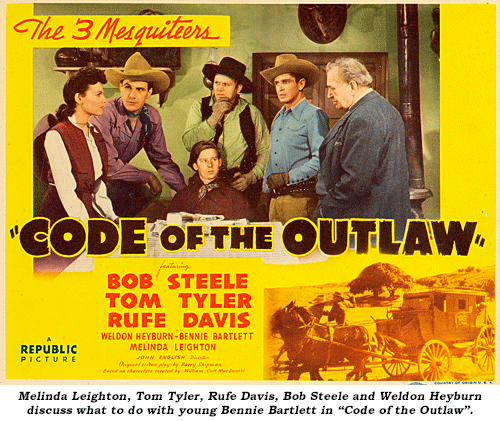 RAIDERS OF THE RANGE ('42 Republic) Serial-like in construction as the Mesquiteers fight oil well sabotage by a local saloon owner who holds a second option lease on "Doc" Tom Chatterton's oil property. To remove him, oil driller Dennis Moore frames Doc for the inadvertent poisoning of another driller. Eventually, Moore's cowardice gives him away when he believes he's been poisoned in order to shut him up. Plenty of thrills make this one of the best latter-day Mesquiteer adventures.



WESTWARD, HO! ('42 Republic) Lady banker Evelyn Brent is the suave secret leader of a gang of bandits who are terrorizing Spring Valley. Fed up, the banker's association, of which Brent is president, offers a $5,000 reward for any member of the gang—dead or alive. With pressure on the outlaws, Brent orders a henchie to frame a passing stranger as a bandit, kill him and collect the reward money to divert attention from their own activities. Returning from the East, unwary Tom Seidel is their victim. When Tom is killed, his brother, John James, vows vengeance. The gang's next target is the unsuspecting Rufe Davis as he and his Mesquiteer pals arrive in town. When Davis is captured in a phony bank holdup (instead of being killed as the outlaws planned), Tyler and Steele rescue him from hanging. A neat series of crosses and double crosses ensues as the Mesquiteers get in with the gang and eventually aid James, his sister, and the Sheriff in exposing Brent and her boys. Action packed with a very original plot. Due to the John Wayne film of the same title in '35, Republic released this Western to TV as "Riders for Justice".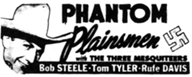 PHANTOM PLAINSMEN ('42 Republic) On the home front in '37, the Mesquiteers battle Nazis who hold horse rancher Charles Miller's son (Richard Crane) prisoner in Germany forcing Miller to sell the Nazis horses for their Army rather than to local farmers. At this period in the Mesquiteers film canon, settings would bounce from contemporary (as witnessed here) back to the Civil War era. Although Bob Steele didn't usually require a stunt double, Dave Sharpe is obviously doubling for Bob here as Steele had turned his ankle and was "hobbling about," he said.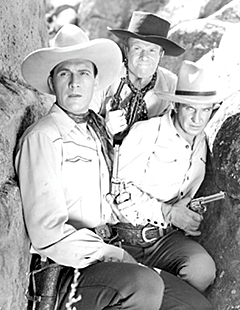 SHADOWS ON THE SAGE ('42 Republic) A montage of action always kicks a B-Western off to an exciting start and director Les Orlebeck provides it here as the Curly gang terrorize the citizens of Holbrook in a reign of fear. A nasty banker is behind the desperadoes holding the mortgage on Griff Barnett's rich mine. He is determined to foreclose and sends his men out to raid each shipment. An old friend of Bob Steele's Dad is appointed Sheriff when no one else will take the job and sends for help in the form of the Three Mesquiteers. Problems arise when it's discovered the leader of the Curly gang is a dead ringer for Steele. From there on, it's full bore action. This was the first Mesquiteers adventure for Jimmie Dodd (replacing Rufe Davis) and Republic let him loose with his sing-song ditties. Dodd was the biggest Mesquiteers misfit in the history of the long running series—which ended after six with Steele, Tyler and Dodd who was better suited as a Mouseketeer than a Mesquiteer.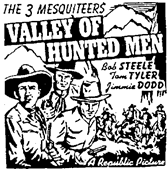 VALLEY OF HUNTED MEN ('42 Republic) Made just before Pearl Harbor, this Mesquiteers adventure finds a murderous trio of Nazis breaking out of a Canadian POW camp and immediately crossing into Wyoming for safe refuge. Patriotic ranchers reckon Americanized Germans may be helping the Goose-steppers with suspicion falling on refugee scientist Dr. Edward Van Sloan and his daughter who are in reality trying to aid the Allied cause with their research. Two of the Sig-Heilers are killed but one hides out at Van Sloan's ranch by impersonating his nephew. Further complications set in when Gestapo agents go after Van Sloan's experimental formulas. Naturally, the Mesquiteers win the war in Wyoming.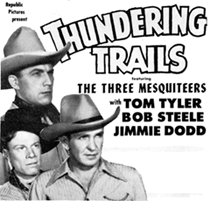 THUNDERING TRAILS ('43 Republic) The Texas Rangers are disbanded in 1871. Overnight, the state becomes a haven for the lawless. If ranchers don't subscribe to the protection the corrupt new county police offer, they find their cattle stolen and ranches burned. The Three Mesquiteers are three ex-Texas Rangers who fight back on their own when Tyler's father, also a Ranger, is killed in a stage robbery and Tyler's hot-headed younger brother (John James) unwittingly becomes the head of the county police. The crook really running the "police" is Judge Sam Flint. The Texas Rangers are re-established after a wild windup in the Republic cave set. Politically incorrect now, but standard fare in '43, Dodd sings a song in blackface.




BLOCKED TRAIL ('43 Republic) When an eccentric, mysterious old prospector who lives alone with a dwarf horse, Brilliant, is murdered by a mystery killer and a phony old Indian (strangely played by Earle Hodgins) gives Jimmy Dodd a map to a lost gold mine, it adds up to mystery, thrills and comedy for the Mesquiteers. Only Brilliant knows the identity of the killer as the Mesquiteers help find the mysterious murderer.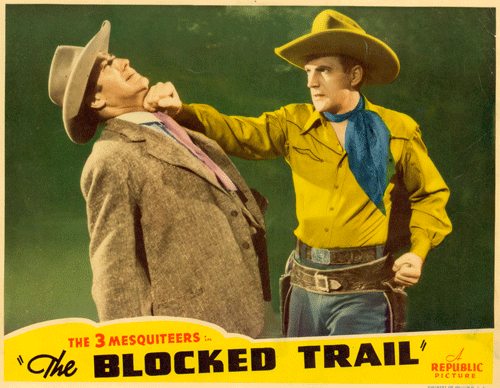 SANTA FE SCOUTS ('43 Republic) The title of the couple-months previous Mesquiteers , "Blocked Trail", more appropriately fits this film and it's always been my suspicion, somehow, the two titles became reversed in production. Here, the Mesquiteers run into plenty of trouble attempting to keep carefree young John James, son of their ranch owner employer, and mother of James, Elizabeth Valentine, out of trouble. They think their worries are over when James announces his intentions to marry Lois Collier and run his mother's spread. But Valentine's sneaky lawyer is plotting to grab the ranch through a squatters rights legal loophole and also by framing Lois for murder and blackmailing James into helping another henchman.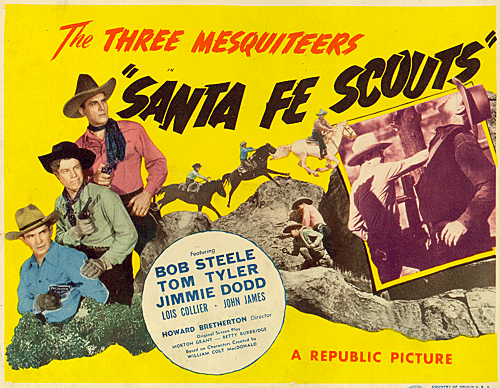 RIDERS OF THE RIO GRANDE ('43 Republic) One of the smartest, brightest, funniest, most exciting Mesquiteers is their last one. Not a dull second, it pulls out all the stops in Western adventure. The plot differs in more than one respect, not the least of which is when benign elderly town leader, banker Edward Van Sloan, decides to make the supreme sacrifice in arranging to have himself bumped off in order to make up for the mistakes of his wastrel son (Rick Vallin). Through a humorous switch in circumstances, Van Sloan believes the Three Mesquiteers are the notorious Cherokee Boys that he hired, whereas it's really outlaws who were retained to do the dirty deed. Unbelievable, sure, but the identity mix-up provides the director with a complicated but delightful plot full of action, thrills and laughs. A wonderful exit to a terrific seven year series of B-Westerns.