THE THREE MESQUITEERS
(Part 2)
Ratings: Zero to 4 Stars.






PALS OF THE SADDLE ('38 Republic) Modern west Three Mesquiteers (John Wayne, Corrigan, Terhune) adventure as deadly Monium gas threatens the nation. In Wayne's first outing as a Mesquiteer (replacing Livingston as Stony), he and his pals stumble onto a plan by evil judge Josef Forte to export the deadly chemical to Mexico to sell to foreign interests, using a salt refinery, run by Ted Adams, as their smuggling cover. When Wayne is framed for the murder of one of Forte's men his only escape route is to fake his own death. Leading lady Doreen McKay is a Secret Service agent after Forte who helps the Mesquiteers in capturing the mastermind. The thrill and stunt packed windup in Red Rock Canyon is a stunner. Remade as "Song of the Range" ('44) with Jimmy Wakely.




OVERLAND STAGE RAIDERS ('38 Republic) Director Georgie Sherman cranks up the action content full throttle for this modern day Mesquiteers adventure that involves trains, planes, parachutes, buses, cattle thieves and plenty of gun-blazing thrills. "Overland Stage Raiders" makes full use of a horse/train chase/shootout action sequence—and it's a rouser! As part owners of an airport, the Mesquiteers convince the owner of the Oro Grande Gold Mine to make his shipments by air rather than stagecoach, as the coaches have been surreptitiously robbed over and over by stageline owner Gordon Hart's gang. But when even the airplane is hijacked (the bandits are tipped off by a disgruntled, duplicitous airport employee), the Mesquiteers and airline co-owners are given 24 hours to recover the stolen gold.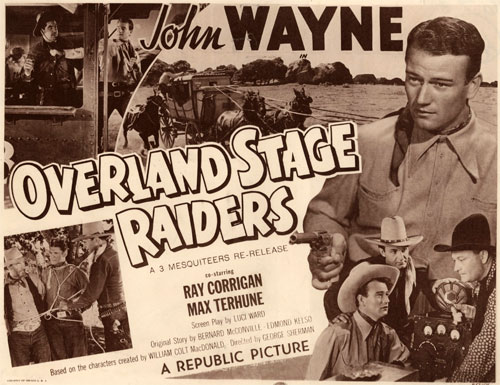 SANTA FE STAMPEDE ('38 Republic) Director George Sherman never lets up on the action pace as William Farnum and his daughter June Martel strike gold and send for their friends the Three Mesquiteers to help out. Crooked mayor Le Roy Mason and his cohorts attempt to get the mine, eventually ambushing and killing Farnum and his younger daughter, Genee Hall, in a vicious wagon wreck. The crooks accuse Wayne of the murder, but with Corrigan and Terhune he fights to clear his name. Note the Oro Grande Hotel sign left over from the previous Mesquiteers, "Overland Stage Raiders".



RED RIVER RANGE ('38 Republic) Director George Sherman got continuous action out of this one as modern day truck rustlers use a dude ranch to disguise their thieving activities until the Mesquiteers intervene on behalf of Lorna Gray (later Adrian Booth), her father and the Cattleman's Association. Kirby Grant made his debut in this Western, even getting to warble a few notes.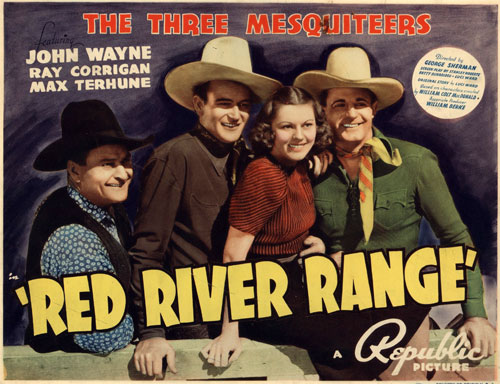 NIGHT RIDERS ('39 Republic) To oppose the forged Spanish land grants of phony Don Luis de Serrano (George Douglas), the Mesquiteers become the white hooded, night riding Los Capaqueros. Tom Tyler (later a Mesquiteer himself) is one of Douglas' army and Kermit Maynard is the Sheriff. This may be the only screen appearance of an actor as President Garfield (Francis Sayles). Slick, fast hour you'd come to expect from Republic. Remade as "Arizona Terrors" ('42) with Don Barry.



THREE TEXAS STEERS ('39 Republic) The Three Mesquiteers ride to the aid of Carole Landis whose circus is being sabotaged by her business manager in order to force her to sell her ranch cheaply as he knows the ranch is valuable because the state wants to build a dam on the property. Then, he alone will be able to control water rights. Crash Corrigan plays a dual role—he also appears as a circus gorilla! Throw a comical trotting horse race into the mix and you have one of the more offbeat and entertaining Mesquiteers adventures. Eddie Dean's later to be sidekick, Roscoe Ates, is the Sheriff. This was Terhune's last as a Mesquiteer and Corrigan was only two more in his contract away from departing the series as well. Corrigan, Terhune (w/John King), of course, formed the long running Range Busters a year later at Monogram.





WYOMING OUTLAW ('39 Republic) The most socially relevant film the Mesquiteers made. Opening with an orchestral version of "Dust", a song written by Gene Autry and Johnny Marvin and sung by Roy Rogers in his first, "Under Western Stars", Jack Natteford's contemporary western story (fleshed out by Betty Burbridge's screenplay) of a jobs-for-sale relief racket and the siege of a mountain man trapped by a posse in northwest Wyoming was loosely based on true reports. The Mesquiteers (now Wayne, Ray Corrigan, Raymond Hatton) take a back seat in this excellent little film dominated by Don Barry's meaty performance of put-upon-dust-bowl rancher Will Parker who only poaches cattle or deer (from a game preserve) to feed his father, mother and sister (Adele Pearce—later Pamela Blake) but lands in trouble when he runs afoul of crooked politician LeRoy Mason. Expertly directed by George Sherman and, basically, a star-maker film for Don Barry. Raymond Hatton took over third spot in the Mesquiteers films from Max Terhune who was moving over to Monogram for the Range Busters.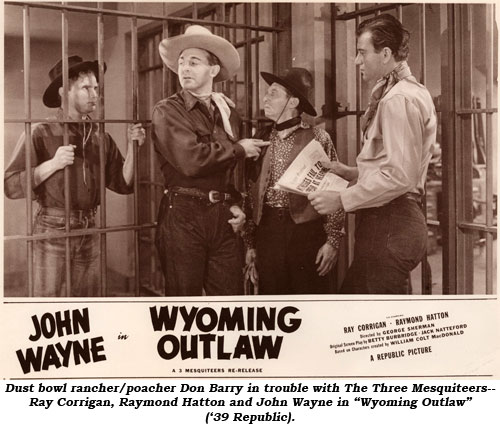 NEW FRONTIER ('39 Republic) Following the Civil War, as many people headed west to find a new life, Major Eddy Waller founds the community of New Hope. On the 50th anniversary of New Hope, the Valley is condemned by the state to build a dam to supply water to the neighboring area. With the aid of the Three Mesquiteers, Waller, his children—Phyllis Isley (later Jennifer Jones) and Sammy McKim—and the settlers fight back against ruthless dam builder LeRoy Mason and swindler Harrison Greene. Moves quickly. This was both Wayne and Corrigan's exit from the popular Three Mesquiteers series. Corrigan started up the Range Busters at Monogram in the mold of the Mesquiteers, but without taking a back seat to Livingston or Wayne—now he was the lead. Wayne, of course, quickly became one of the biggest movie stars in history. Hatton stuck around in the Mesquiteers with the returning Bob Livingston and all new Duncan Renaldo.