ROY ROGERS
(Pt. 3)
Roy Rogers was the steadying influence in Dell's WESTERN ROUNDUP which ran for 25 Giant size 100 page issues beginning with #1 in June '52 and running through #25 (Jan./Feb. '59). Although the contents changed five times over the course of the comic's six and a half year run, Roy was the only cowboy star to survive al 25 issues!
Let's take a look at the ever changing contents of the 25 issues. #1-10 featured Roy, Gene Autry, Johnny Mack Brown, Bill Elliott, Rex Allen with additional stories of Trigger and Bullet and Gene's horse Champion. #11-17 shortened the story lengths and added Dale Evans and Range Rider to the mix. #11, 13, 15, 17, 19, 21 also had Gene's Champion tales while #12, 14,

16, 18, 20 featured Trigger and Bullet stories. With #18 Bill Elliott was no longer included. As of #19 Gene Autry was gone replaced by Buffalo Bill Jr. This lineup continued through #21. The final change came with #22 (April/June '58). The TV Western influence was taking over—gone were Rex Allen, Johnny Mack Brown, and Champion and/or Trigger and Bullet. The eight story lineup now was" Roy, "Wagon Train", "Rin Tin Tin", "Tales of the Texas Rangers", "Tales of Wells Fargo", "Range Rider", "Buffalo Bill Jr." and Dale Evans.
Roy's stories were drawn primarily by Mike Arens who

gave Roy's fans the best overall likeness, paying attention to Roy's height, weight and facial expressions. Arens also drew Roy in the Sunday comic pages (ghosting at first for Al McKimson; he later was able to sign his work with a tiny 'MA') which began in December 1949 and ran for 12 years in as many as 186 newspapers. Arens' Rogers was the most consistent realistic likeness of Roy produced.
For WESTERN ROUNDUP Arens work is in #2, 4, 5, 6, 7, 9, 13, 14, 16, 20, 21, 24. Hy Mankin, who throughout his career did syndicated comic strip work on "Smilin' Jack", "Superman", "Bringing Up Father", "Dotty Dripple", "Bugs Bunny", drew a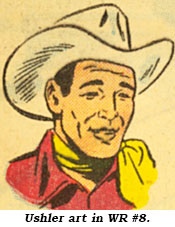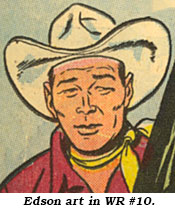 reasonably good Roy in WESTERN ROUNDUP #1 and 12. He also drew many of the "Trigger and Bullet" features. John Ushler offered up a fair rendition of Roy in #3, 8, 22. He also drew a couple of the "Trigger" stories. Nat Edson tried to mimic Arens' work and contributed Roy stories to WESTERN ROUNDUP #10, 11, 15, 17, 23, 25. Tony Sgroi (primarily an inker) drew Roy's story in #18. (His work is better appreciated in Fawcett's LASH LARUE). Irwin Myers drew an older looking Roy for WR #19. Incidentally, nearly all of Dale Evans' stories in WR were drawn by the excellent Russ Manning.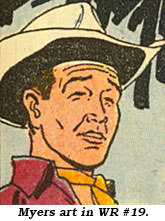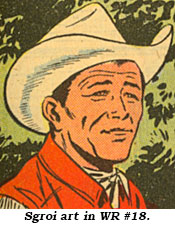 Issues #1-18 highlighted photo covers, but with #19, generic Western artwork prevailed. The only full color pin-up back covers were on #16 (Dale) and 18 (Roy). Many issues did feature inside cover b/w photos of Roy and Gene.
When purchasing copies of WESTERN ROUNDUP, you'll want to judge by the star-lineup contents. #1 commands $75 in Fine; #2, $42; #3-10, $33 each. #11-25 bring $27 in Fine.