"THE REBEL"
One of TV's outstanding 30 minute westerns was "The Rebel" starring Nick Adams. The ABC series ran for 76 episodes between October 4, 1959, and June 18, 1961. Dell quickly adapted the series to comic book form with Four Color 1076 (#1) in February/March 1960. Evidently the well written comic—usually by prolific Gaylord DuBois—didn't sell well, because #2 (FC 1138) didn't arrive on newsstands until six months later in October/December '60. It got worse. FC #1207 (#3) took eight months to come out in September/November '61 (after the series ended, but was in re-runs), then it was 12 months before we saw the final issue, FC #1262 (#4) in December '61/February '62.
Artist Mike Sekowsky, with inks from Mike Peppe (#1,2,3) and perhaps George Roussos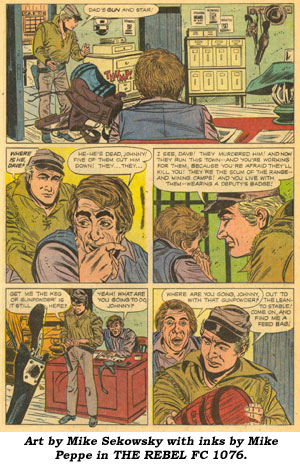 or Frank Giacoia on #4, offered an excellent rendition of Nick Adams as Johnny Yuma. Sekowsky (1928-1989) is mostly associated with his work in the '60s-'70s at DC but he also drew issues of BUFFALO BILL JR. and GUNSMOKE for Dell. Peppe (1921-1982) was both a penciller and an inker and adapted (with Sekowsky) several A-westerns to comic form for Dell… "Horse Soldiers", "Left Handed Gun". DuBois scripted hundreds of comic stores for Dell, including westerns like BAT MASTERSON, BONANZA, GENE AUTRY, HOTEL DE PAREE, JOHNNY MACK BROWN, RED RYDER, TRIGGER, CHAMPION, TALES OF WELLS FARGO, WANTED DEAD OR ALIVE.
Issues of THE REBEL in Fine are $24-$27 from most comic dealers.
THE REBEL Cover Gallery