Oklahoma singing cowboy Jimmy Wakely had been knocking around in the westerns of Roy Rogers, Don Barry, Hopalong Cassidy, Johnny Mack Brown and Charles Starrett for over five years before Monogram signed him to star in his own series with "Song of the Range" in '44. Jimmy starred in 28 at Monogram through 1949—which, incidentally, is the year DC Comics signed Wakely on as "Hollywood's Cowboy Cavalier" for a run of 18 bi-monthly issues through July-August '52, three years after his films ceased being made.
Slightly different in approach from other cowboy comics based on western film stars, Jimmy was picturized as being a western movie actor who, off camera, gets involved with adventures in both the modern and real West; the editors didn't seem to care which as long as it was a good story. The opening page in issue #1 (Sept./Oct. '49) even mentions Monogram, and many stories feature directors, cameramen and leading ladies (all of them fictional).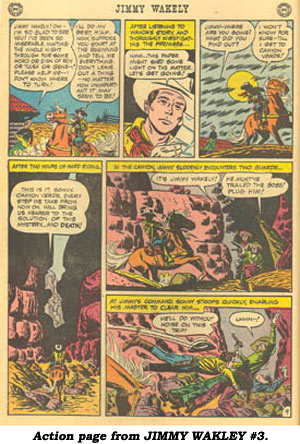 Jimmy's horse is named Sonny and the adventures often are set in Pioneer Town. In a few early stories, Jimmy has a son, Johnny, but this idea was not carried through. Towards the end of Wakely's run, stories tended to drop the movie angle and were straight western adventures.
Issues were at first (#1-13) all 52 pages, but decreased to 34 with #14. Beginning art is by Alex Toth, capturing a good likeness of Wakely. By #9, Carmine Infantino was doing a couple of art chores. Unable to capture Wakely's likeness, he was dropped and Gil Kane rode in with a cover to #10 and within a few issues was drawing two stories to Toth's one. Kane took over all the art as of #16.
Writer Alvin Schwartz wrote some of the Wakely stories.
Photo covers adorned #1-7 (with Monogram stuntmen Bob Woodward and Boyd Stockman on the cover of #5 with Jimmy). The rest of the series sported drawn covers by Gil Kane.
Due to the excellent art and solid stories, Wakely comics tend to be a bit pricey with #1 rounding up $270 in Fine, #2-7 around $120, and the rest of the run coming in at $75-$90 in Fine. Most collectors aim for #1-7 due to the photo covers, of which #1, 3, 4 are the best.