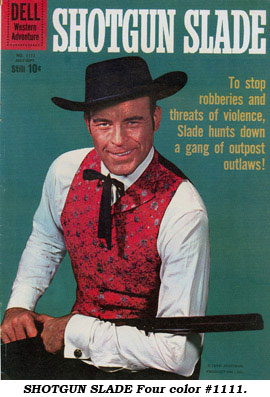 SHOTGUN SLADE
Although "Shotgun Slade" starring Scott Brady was a very popular syndicated half hour TV series for two seasons from '59-'61, it only spawned one comic book issue from Dell, Four Color #1111 in July/September 1960.
Dan Spiegle's art didn't quite capture Scott Brady's likeness as you can see by comparing the cover photo with Spiegle's art.
Prolific comic book and TV writers Eric Friewald and Robert Schafer scripted the two stories, "Outpost Outlaws" and "Cowtown".
The comic featured a full color original pose cover as well as inside front cover photo of Brady.
Copies are easily found for around $18 in Fine condition.