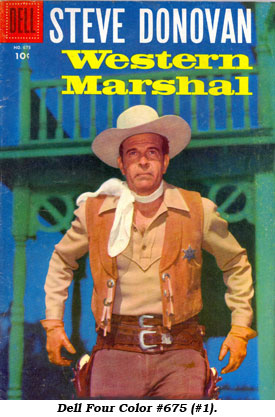 STEVE DONOVAN WESTERN MARSHAL
"Steve Donovan, Western Marshal" starring Douglas Kennedy as U. S. Marshal Steve Donovan and former Allan "Rocky" Lane sidekick Eddy Waller as Deputy Rusty Lee debuted on TV in the fall of '55. Syndicated, it was sold through NBC Films.
Quick to pick up comic book rights to any popular TV western series, Dell published the first issue of STEVE DONOVAN, WESTERN MARSHAL in early '56 as Four Color #675. The original book length script was by prolific comic writer Paul S. Newman. Great two-gun-draw photo cover of Douglas Kennedy on FC #675 with photos of both Kennedy and Waller on the inside front cover.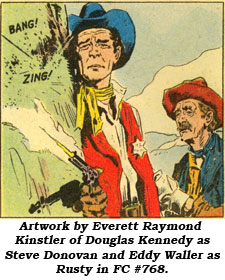 Art in FC #675 was by the excellent Everett Raymond Kinstler (1926- ) who started his career at 16 drawing paperback covers and magazine illustrations. His pulp magazine illustrations number in the hundreds. In comic books he worked extensively for Avon (BUTCH CASSIDY and JESSE JAMES feature classic western art). Besides STEVE DONOVAN at Dell the talented Kinstler worked on SWAMP FOX and ZORRO, but he's best known for his over 1,200 portraits of business, entertainment and government figures, including portraits of Presidents Gerald Ford and Ronald Reagan. Odd then that his likenesses of Kennedy and Waller don't quite ring true.
Kinstler also drew STEVE DONOVAN FC #768 (#2) which Dell issued a year later in '57. Another Kennedy photo cover with four stills from the series on the inside front cover. The stories there are adapted from the TV series: "White Cloud" (5/5/56) and "Two Men Out" (12/24/55).
FC #880 (#3) was the final issue with another photo cover of Kennedy and inside front cover photos of Kennedy and Waller. Art was by Brooklyn born Mort Drucker (1929- ) who did a most adequate job capturing Kennedy and Waller. Drucker became a comic artist in '47 working for a variety of publishers. In '56 he joined MAD magazine where he specialized in movie and TV satires and parodies. He holds the longest uninterrupted tenure of any MAD artist. The two stories in FC #880 are again TV series adaptations: "Shadow of Fear" (5/19/56) and "Green Star" (4/28/56).
In Fine, FC #675 (#1) is worth $21 with the other two issues priced at $15-$18.
Cover Gallery