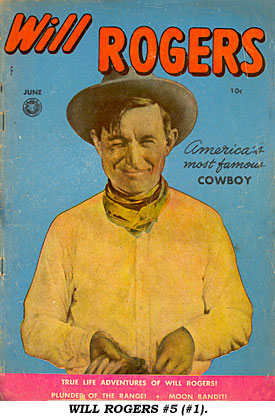 WILL ROGERS
Will Rogers, cowboy, vaudeville performer, comedic actor, newspaper social commentator, columnist and radio personality, was Oklahoma's Favorite Son. Born to a prominent Cherokee Nation family in Indian Territory in 1879, Rogers' vaudeville rope act lead to success with the Ziegfeld Follies, 71 movies (silents and sound) and more than 4,000 nationally syndicated newspaper columns. By the mid-'30s he was the leading political wit of his time. He died at 55 on August 15, 1935 along with aviator Wiley Post in an airplane crash at Point Barrow in northern Alaska.
By 1950 comic book publishers were rounding up every movie cowboy they could license for comic book adventures. Fawcett and Dell corralled all the big names leaving smaller publishers like Fox Features to sign up rights to old timers Hoot Gibson and Will Rogers.
In all honesty, Will didn't really belong in the action-filled comic exploits alongside Roy Rogers, Gene Autry, Hopalong Cassidy, Bob Steele and others. Obviously, Fox hoped Will's enduring name would sell a few comic books even 15 years after his demise.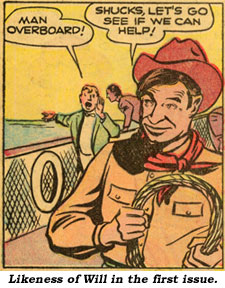 WILL ROGERS #5 (#1, June '50) continued the numbering from Fox's cancelled MY GREAT LOVE #1-4. With a front and back cover photo, the first story by an unknown and mediocre artist—but employing a decent resemblance to Will—basically relates some purported, somewhat embellished early events in Will's life. The other two tales are pure comic book heroics.
WILL ROGERS #2 (August '50) is again basic action stuff. The first story ("Cripple Creek Mystery") is by a different artist who draws a younger looking Will. The artist from the first issue returns for the second and third tales. Again, front and back cover photos.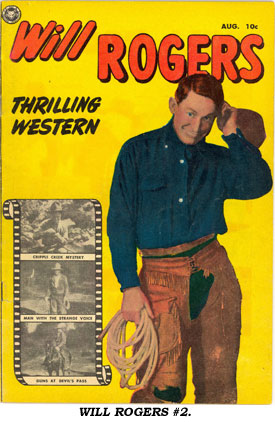 Apparently sales were indifferent as Fox abandoned Will after these two issues. Due to Will's famous name and the relative obscurity of these two issues, collectors will have to ante up $93 for the first issue in Fine and $78 for #2.