"ROCKY LANE WESTERN"
Allan "Rocky" Lane was one of Republic's brightest B-western stars from 1944 to 1953 (not to mention four earlier serials) so it's no wonder he was also one of Fawcett Comics' (and later Charlton's) biggest sellers and longest running western titles for 10 years, 1949-1959, lasting long after Rocky's movie series ended in '53.
ROCKY LANE WESTERN #1 was issued by Fawcett in May '49 and continued on a monthly basis through #55 (1/54) at which time Fawcett Comics folded (due to litigation by DC against Fawcett's Capt. Marvel feature copying Superman) and Charlton picked up Rocky with #56 on through #87 (11/59).
Fawcett's first three issues featured photo covers inside and out, then reverted to just posed front cover photos of Rocky. #2 is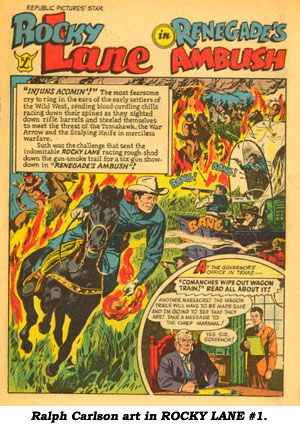 unique as it is the only one with Lane in Red Ryder garb. Every cover also gave billing to Rocky's stallion Black Jack, who was also pictured on many covers. With Lane wearing his signature blue/gray striped shirt, black scarf and blue jeans, Ralph Carlson was Rocky's primary artist supplemented in back-up stories by Tom Cooke (as of #42), Robert S. Pious and others. Prolific Otto Binder wrote a great deal of Rocky's adventures.
#2 begins the long running "Roping 'n' Riding with Allan 'Rocky' Lane and Black Jack" one page feature in which Rocky writes a personal letter to readers and (in early issues) plugs his latest western. Many issues also contained the unique one-page hoss-sense "Black Jack's Hitching Post" feature. Like many Fawcett comics, publication varied from 32 pages to 52 pages, eventually settling on 36 pages as of #25.
It is certainly the Fawcett issues that are more desirable to collectors as ROCKY LANE WESTERN under Charlton's regime took a significant downturn in quality. The sought-after photo covers ended with #56 (a repeat of Fawcett's #10 cover), 57 and 60, being replaced with drawn covers by Dick Giordano ('32-'10) inked by Vince Alascia ('14-'98) (#58-59, 61-66, 70-76). From there on the cover art was by lesser artists such as Rocke Mastroserio ('27-'68) which did very little to lure a reader to pick up a copy. Storywise, Charlton mixed Fawcett reprints with new material by Giordano and Alascia.
With the advent of the despised Comics Code in '54, action content in comics was greatly curtailed. Charlton reverted to total Fawcett reprints with #66-70, heavily and ludicrously edited by the Comics Code. Even gunshots were erased from prior printings! As a matter of fact, the only reason to purchase or collect these reprint issues is to compare the original with the absurdly edited versions. For the record, #66 reprints #30; #67 reprints #31, #68 reprints #32; #69 reprints sections of #21, 23; #70 reprints #25. #71, 72 were again a combination of Code approved bland new material and reprint stories. As of #73 to the end of the run, Charlton opted for all new, but definitely inferior insipid story and art by Giordano, Vince Alascia, Blue Beetle creator Charles Nicholas ('21-'85) and Giordano's brother-in-law Sal Trapani ('27-'99). It seems every issue was more boring than the previous until Rocky breathed his last under totally mediocre at best work by Tony Tallarico ('33- ) whose "art" bore no resemblance at all to Lane.
Rocky Lane stories were also in Fawcett's SIX GUN HEROES alongside Hoppy, Smiley Burnette, Lash LaRue and later Monte Hale, Tom Mix and Tex Ritter. SIX GUN HEROES began with #1 in March '50 and was published bi-monthly by Fawcett through #23 (11/53). Charlton took over with #24 (1/54) mixing reprints with new material to keep production costs down. Although SIX GUN HEROES continued on to Oct. '60 (#59), the B-western stars were replaced in #38 with Wild Bill Hickok, Kit Carson, Wyatt Earp etc. stories. Only Lash was retained for later issues. Rocky photo covers were on #4, 5, 7, 9, 11, 13, 15, 17, 20, 21, 23, 24, with Giordano/Alascia drawn Lane covers on #28, 32, 34, 37.
In November '57 Charlton created a comic book series based on ROCKY LANE'S BLACK JACK that ran for two years through Nov. '59. Although Rocky was often in the stories, the focus was on his horse. Confusingly, numbering started with #20, picking up numbering from the cancelled JIM BOWIE. Art was often by Maurice Whitman, as well as Medio Iorio and Sal Trapani, Pete Morisi, Charles Nicholas, even Steve Ditko. #22 was a Giant 68 page 15¢ issue. As with most Charlton comics, the art became more perfunctory as the series progressed.
Perhaps the most sought after "Rocky" Lane comics are the eight movie book length adaptations published by Fawcett: FAWCETT'S MOTION PICTURE COMCICS #102 adapted "Code of the Silver Sage" (1/51); #103—"Covered Wagon Raid" (3/51); #104 "Vigilante Hideout" (5/51) w/superior art by Bob Powell ('16-'67); #107—"Frisco Tornado" (11/51); #109—"Rough Riders of Durango" (3/52). FAWCETT MOVIE COMICS adapted "Powder River Rustlers" ('50); "Gunmen of Abilene" ('50) w/Bob Powell art; and "Rustlers on Horseback" ('51). All these had photo covers and movie scenes inside and out.
In 1989 and 1991 AC Comics issued a couple of one-shot b/w ROCKY LANE WESTERN reprints.
Pricewise, in Fine, Fawcett's ROCKY LANE WESTERN #1 brings $165 with #2 through #55 slowly decreasing from $66 to $27. The less desirable Charlton issues can be found for $25-$30. Fawcett's SIX GUN HEROES #1 books out at $93 in Fine with #2-23 decreasing from $48 to $30. The Charlton's (#24-37) can be found for around $20. BLACK JACK copies range from $18-$30. The Fawcett movie adaptations all bring $45-$60 in Fine.
"ROCKY LANE" COVER GALLERY