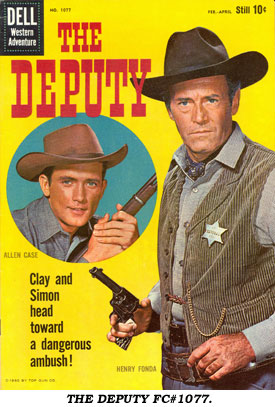 "THE DEPUTY"
"The Deputy" starring Henry Fonda as Marshal Simon Fry and his often reluctant deputy…and general store owner…Clay McCord (Allen Case) began on NBC-TV in September '59.
Dell's first tryout issue of THE DEPUTY bore a February/April '60 'date. Excellent art was by John Buscema with an accurate representation of Henry Fonda (complete with stubbly beard) and Allen Case. The stories in this issue were written by the prolific Paul S. Newman who wrote so much for Dell.
Buscema (1927-2002) drew for many comic companies (especially Marvel in later years) but his only other Western series at Dell was on ROY ROGERS from '54-'56.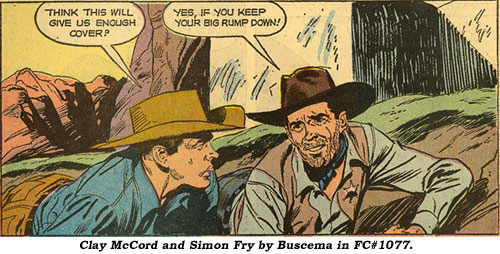 Dell waited half a year before releasing another issue of THE DEPUTY (Four Color 1130) in September/November '60, again with art by Buscema, apparently however with a different inker which lessened the artwork with scant background work.
Again, Dell stalled nearly a year before issuing a third issue of THE DEPUTY (FC #1225) until October/November '61, several months after the TV series ended in July '61. Artwork in this third issue was deteriorated by Jack Sparling (1916-1997), an artist whose rushed, often cartoonish work I've personally never cared for. His art here doesn't represent Fonda (now clean shaven) at all, let alone Case and Betty Lou Keim (who played Fran McCord, Clay McCord's sister in the series).
Marshal Herk Lamson as played by Wallace Ford on the series first year is only represented in FC #1130. Read Morgan was Sgt. Hapgood Tasker in the second season of the TV series but is not represented in any of the comics.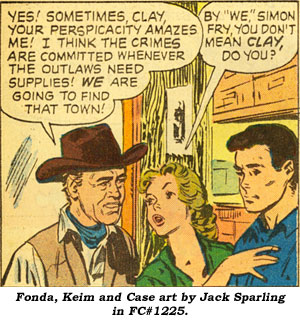 All three issues have specially posed photo covers of Fonda and Case. There are also small inside front cover photos of Fonda and Case in all three issues.
Possibly higher priced than they should be due to Fonda's photo covers, FC #1077 (#1) commands $30 in Fine with the other two at $24.
THE DEPUTY COVER GALLERY