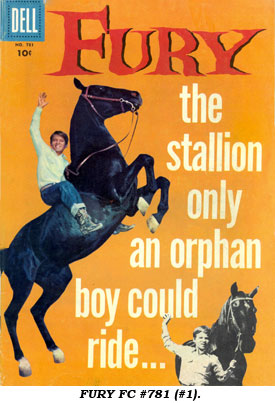 "FURY"
The extremely popular "Fury" TV series began in October '55 but, for whatever reason, it took Dell Comics nearly two years before adapting the series to comic book form with Four Color #781 (#1) in March '57. Oddly, although it sold well, Dell never gave FURY a regular issue numbering system; all issues remained in their Four Color series.
#2 (FC 885) came out about a year later in '58. From then on Dell released two issues per year in '59, '60, '61 and '62, winding up with #10 (labeled 01-292-208) in June/August '62. Gold Key issued a single #1 in November '62. The TV series had wrapped in March of '60 but was seen in syndication for years which helped sales of the comic books.
All the TV cast were featured in the comics— Bobby Diamond as Joey Newton, Peter Graves as Jim Newton, William Fawcett as Pete, Roger Mobley as Packy, Jimmy Baird as Pee Wee.
The first two issues adapted TV scripts to comic form. "Stolen Fury", episode #16 in '56, and "Timber", episode #23 in '56, were in FC#781 (#1) in March '57. "Junior Rodeo", episode #11 in '55 and "Joey and the Gypsies", episode #7 in '55 were seen in Four Color 885 (#2) in '58. From then on, all stories were originals for the comics, some scripted by prolific Paul S. Newman.
Artwork in all 10 issues was by the renowned Tom Gill (below), born in June 1913 in Brooklyn, NY. Gill began his career as a staff artist with the New York DAILY NEWS. He then went to work for the HERALD-TRIBUNE and the NY TIMES. Beginning in 1940 he began drawing for comic books, working for, at various times, Fox, Fiction House, Harvey, Atlas (APACHE KID, RED WARRIOR), Toby (JOHN WAYNE ADVENTURE COMICS, BILLY THE KID). He also drew the HOPALONG CASSIDY daily comic strip (circa '54).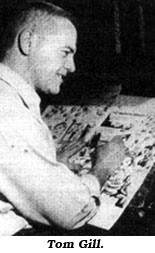 Beginning in '51 Gill began a longtime collaboration with Dell and eventually Gold Key. Gill began drawing Lone Ranger Adventures with #38 (8/51)—the first issue of that series with original stories rather than reprints of the Fran Striker/Charles Flanders newspaper comic strip. Gill drew every issue through #145, a 107 issue run. Gill's LR work was reprinted by Gold Key and he also contributed new artwork as well as drawing for TONTO and HI-YO SILVER. His other western work at Dell and GK includes CHEYENNE, BONANZA, the movie adaptation of "Last Train From Gun Hill" and, of course, every issue of FURY. At 92 Gill died of heart failure at his home in Croton-on-Hudson, NY, on October 17, 2005. (With appreciation for research from Alberto Becattini and Jim Amash.)
.
FURY WESTERN
COVER GALLERY