"HOPALONG CASSIDY"
One of the longest running and most popular western comic books was HOPALONG CASSIDY. The comic began as a Fawcett one-shot in 1943 with Hoppy and his horse Topper being introduced on the cover by Captain Marvel, Fawcett's best selling comic hero.
However, just prior to this one-shot, Hoppy replaced the Buck Jones stories in Fawcett's MASTER COMICS after Jones' death. Hoppy, as Sheriff of Twin River with his deputy Mesquite Jenkins (looking much like Andy Clyde), began in MASTER COMICS #33 (12/42) and ran through #49 in April '44. Art was generally by former newspaper and pulp magazine illustrator H.V.L. (Harry) Parkhurst (?-1950). He later did some work for Dell on ROY ROGERS and TRIGGER.
Oddly, it was two more years before Hoppy's regular Fawcett series started with #2 in the summer of '46, a large 68 pager. Issued quarterly at first, but due to outstanding sales reports, as of #5 (3/47) the comic went monthly and remained so for an amazing seven year run to #85 in November '53 when Fawcett ceased publishing their comic book line. At that time the license went to National Comics. (We'll cover those issues next month.) As in MASTER COMICS, Hopalong rode Topper, was Sheriff of Twin River and was helped by deputy Mesquite Jenkins. Quite often Mesquite got one story per issue to himself. The Mesquite character was dropped in the last few issues of HOPALONG CASSIDY.
As in MASTER, Parkhurst drew the earliest issues (#1, 2, 3, 5). During the 85 issue run many artists contributed stories, the very best came from Carl Pfeufer (1910-1980), a Mexican born artist who immigrated to the U.S. in 1913. In the '40s and early '50s he was a mainstay at Fawcett on DON WINSLOW, TOM MIX, KEN MAYNARD and others. He devoted his later life to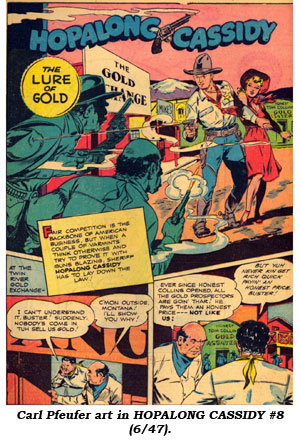 painting and sculptures for various art galleries. Pfeufer contributed many stories through #79 but less talented inkers were hired to finish his art as the '50s began. Also the coloring became sloppier. A preponderance of the stories from '46 to '53 were drawn by Irvin Steinberg (1916-1993). For instance, #58 is all Steinberg. After Fawcett folded Steinberg later worked for Quality, then left the field. Other artists who worked on HOPALONG CASSIDY include Harry Fisk (1887-1974) on some early issues, Ed Waldman, Paul Gattuso, Pete Costanza (1913-1984), Ruben Moreira and the less talented Max Elkan as of #79.
Drawn covers were on #1-4, 6-7, 9-10, 12, 20-27, 29-34, 37-41 (many with Pfeufer art as of #6, Parkhurst drew #1-4). There were photo covers of #5, 8, 11, 13-19, 28, 35-36, 42-85. #19 (5/48) is unusual as it's a movie scene with Hoppy, Bob Baker and Jimmy Rogers from "Mystery Man" ('44). Early drawn covers depicted Hoppy wearing a white, blue or red shirt…even photo covers showed him wearing green, red or blue shirts. With #33 (7/49) Fawcett finally switched to Hoppy's standard black clothing. Beginning with #14 (12/47) each issue contained the "Ridin' Herd with William Boyd" one page feature wherein Boyd talks with readers and plugs the latest Hoppy U.A. B-western. This feature ran through #28 (2/49).
Several small size giveaway comics reprinted Fawcett stories. There was a Grape Nuts giveaway in '50 and three 16 pg. Bond Bread giveaways in '51, all edited and recolored from early issues. Also a White Tower giveaway in '46. Hoppy stories popped up again briefly alongside Captain Marvel Jr. in MASTER COMICS #88 (2/48) through #94 (8/48) at which time Tom Mix stories replaced Hoppy.
Maximizing their most popular western star, Fawcett also co-starred Hoppy monthly alongside Tom Mix, Monte Hale and Gabby Hayes in REAL WESTERN HERO (aka WESTERN HERO) #70 (#1, 9/48) through #86 (1/50). Hoppy rode the covers of #70-76, 78, 80, 82, 84, 86. As of #88 Hoppy tales were switched to Bill Boyd stories.
Even more, Hoppy rides the printed page with Rocky Lane, Smiley Burnette and Lash LaRue in Fawcett's bimonthly SIX GUN HEROES #1 (3/50) through #24 (1/54), the first Charlton published issue after Fawcett folded. Probably due to licensing costs, Charlton discontinued Hoppy stories as National Comics (DC) picked up rights to the character.
Due to Hoppy's everlasting popularity, you won't find early issues in Fine condition priced cheaply. HOPALONG CASSIDY #1 (Fn) can bring $1,000. #2—$159; #3-5—$75; #6-10—$50; #11-29 about $40; #30-70 about $30; #71-85 about $25. MASTER COMICS #33 to #49 in Fine range from $125-$270 depending on the Capt. Marvel Jr. and Bulletman adventures. MASTER #88-94 are in the $60 range in Fine. REAL WESTERN HERO (WESTERN HERO) #70 (#1) is around $66 in Fine with #71-75 about $45 and #76-86 around $30. SIX GUN HEROES #1 in Fine commands $93 with #2-5 priced about $45 and #6-24 about $30.
HOPALONG CASSIDY Cover Gallery