"ANNIE OAKLEY AND TAGG"
"Annie Oakley" began in January 1954 as a TV series starring Gail Davis as Annie, Jimmy Hawkins as her kid brother Tagg, and Brad Johnson as Sheriff Lofty Craig. Gene Autry's Flying A produced 81 episodes through 1957.
Altho there had been an Annie Oakley comic book from Atlas (Marvel) in '48, it naturally bore no resemblance to and was not authorized by Autry's Flying A. Gene already had a working relationship with Dell to publish his own comic book as well as RANGE RIDER, so Dell quickly adapted ANNIE OAKLEY AND TAGG to comic form in early '54 with Four Color #438 and FC#481, although neither had photo covers nor did the artwork much resemble Davis and Hawkins…nor was Johnson as Lofty present in these first two issues.
FC#438 featured a cover drawn by Mike Arens (1915-1976) as well as interior art by Arens. Arens worked at the Disney Animation studios from '37-'42 then turned to comic covers in the '50s, churning out Dell covers for Buck Jones, Tarzan and others besides interior art on GENE AUTRY, REX ALLEN, as well as doing the Roy Rogers Sunday comic strip from '57-'62. He later returned to animation at Hanna-Barbera.
FC#481 sported a painted cover of Annie and Tagg with interior art by Nat Edson and John Ushler. Edson did Dell covers on CICSO KID and LONE RANGER and also drew some REX ALLEN stories. Ushler, born in the '20s, worked at Dell on ELFEGO BACA, DAVY CROCKETT, ZORRO, ROY ROGERS, REX ALLEN and BUFFALO BILL JR. among others.
Everything changed with FC#575—Gail Davis was cover featured from then til the end of the run, #18 in Jan./Mar. '59. However, even though the comic was always entitled ANNIE OAKLEY AND TAGG, Jimmy Hawkins as Tagg never appeared on a cover photo. Jimmy Hawkins tells WC, "The reason they added Tagg to most of the Annie Oakley products was to make them more boy friendly. They wanted to reach as many fans as possible. Boys wouldn't buy a BB gun if it were just Annie, but with Tagg on the box… maybe. The same with the Annie and Tagg comics, etc. When we made the pilot 'Annie Gets Her Man', they were kicking around the idea to call the series 'Annie Oakley and Tagg', but in the end they went with 'Annie Oakley'. Good choice I think. Those Dell comic cover photos were shot on the series hiatus and I was back in school. They would have had to get a welfare worker, etc. But, I really don't know…just an excuse for not being included on the covers I guess."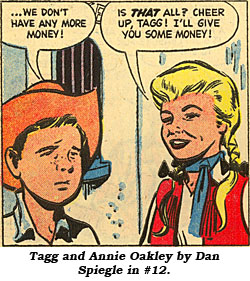 With FC#575, Annie now referred to her horse as Target—as on the TV series—and Sheriff Lofty Craig was included in the comics. #575 also had an inside front cover photo of Gail.
Regular numbering began with #4 (July/Sept. '55); Dell continued to publish Annie quarterly through #18 (Jan./Mar. '59). #4 had an inside front cover and back cover photo of Gail. #9 and 11 also had back cover photos.
According to comic art researchers Steinar Adland and Alberto Becattini, Bob Schoenke contributed art to #4 and 6 with Jesse Marsh doing a back-up story in #5 and Tony Sgroi drafting the second story in #6. Schoenke is noted for his work on the JACK ARMSTRONG newspaper strip from '47-'50 and later drew LAREDO CROCKETT and JANE ARDEN ('64-'68) for the newspapers. Sgroi (1924-2001) also worked for Dell on CHAMPION, RANGE RIDER, REX ALLEN and for Fawcett on LASH LARUE and MONTE HALE. Jesse Marsh (1907-1966) is best known for his work on TARZAN at Dell, although he also worked on several Dell westerns. FC#575 had one story drawn by Ernest Nordli, a former Disney animation art director from '48-'53. Dan Spiegle took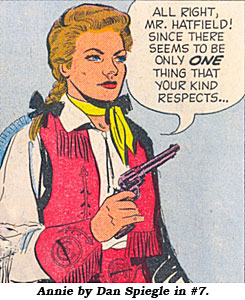 over the art on ANNIE OAKLEY AND TAGG with #7 and continued to the end of the run. However, either Spiegle (1920- ), a westerns comic workhorse at Dell and on the HOPALONG CASSIDY daily and Sunday comic strip ('49-'55), was sloughing off on ANNIE or he was sabotaged by poor inkers on many issues because the artwork is simply not up to Spiegle's usual standards. Noted comic art researcher Steinar Adland tells WC, "It could well be Spiegle inked ANNIE #7, first story in #9 and both in #10. The rest are by other inkers. ANNIE #12 must be Bill Ziegler with heavy inking first story, the pencil work is by Spiegle, with his horses in ¾ back view with large back part and small head and prominent ears, and all his close up 'Kermit the Frog' faces, then his rather short figures with large heads. The inking has made it difficult to see Spiegle here. ANNIE #14 looks like Ziegler inking trying to keep some of the Spiegle penciled faces. The following issues are pencil by Spiegle and some inked by Ziegler and others. The inkers have made it difficult to spot Spiegle's art, but many close up faces, fish mouth, horses and the overall layout feeling indicates his work." Thankfully, most of the art captured Gail Davis' likeness, but very little resembled Jimmy Hawkins or Brad Johnson.
For whatever reason, possibly because the "Annie Oakley" TV series was in reruns, Gold Key issued ANNIE OAKLEY AND TAGG #1 in July 1965, but the comic simply reprinted the cover to Dell #6 and two interior stories from other issues.
As a collector, your best issues are #7, 10, 12, 15, 16, 18. In Fine, FC#438 sells for $36. #481, 575 go for $27 each. #4-18 bring $21-$24 with the Gold Key reprint at $12.
ANNIE OAKLEY AND TAGG
Cover Gallery