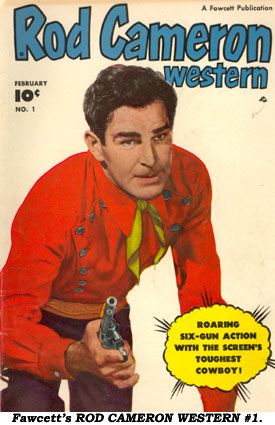 "ROD CAMERON"
With the success of ROCKY LANE, MONTE HALE and LASH LARUE comic books all started by Fawcett in 1949, plus their long running TOM MIX and HOPALONG CASSIDY series, the two leading comic book proponents of our cowboy heroes, Fawcett and Dell, went on a signing spree in 1950. Fawcett added Smiley Burnette, Ken Maynard, Bob Steele, Andy Devine, Tex Ritter, Bill Boyd and Rod Cameron to their roster in '50. Dell signed up Cisco Kid, Bill Elliott, Rex Allen, Johnny Mack Brown and Buck Jones. Lesser companies grabbed the leftovers of Hoot Gibson, Whip Wilson and Reno Browne. ME and DC had signed Durango Kid and Jimmy Wakely, respectively, in late '49. All of these served to make 1950 a banner year for B-western comic book readers.
Fawcett's ROD CAMERON WESTERN ran for 20 bi-monthly issues, beginning in February '50 and ending in April '53. Rod's horse in the comics was named War Paint. All 20 issues had fabulous photo covers, with #1-9 having full color back cover photos as well.
Stories, mostly by prolific Otto Binder (1911-1974), were often book-length thrillers (#1-8, 10, 12, 13). Every story, except one in #15, was drawn by Clem (Clement) Weisbecker ( -1965) who rendered a respectable likeness of Cameron. Weisbecker started in comics in '42 and also worked for Timely, Archie (funny stuff as well as superheros) and Street and Smith. The better issues, such as #2, were inked by John Jordan (Carl Pfeufer's regular inker on TOM MIX). The most outrageous story is in #14 when Rod joins a minstrel show in black face.
Oddly, one story in #19 bills Rod as "Republic Pictures Star." No other stories credit any studio.
All 20 issues featured a one page "Riding Trail with Rod Cameron" in which Rod wrote a letter to his readers, often plugged his latest western, and sold photos for 10¢ to $1. (Boy have times changed, eh?)
Four page Rod Cameron stories were also featured in Fawcett's CAPTAIN VIDEO #1-6 ('51). The Captain Video TV show used edited versions of old B-westerns which may be the reason Fawcett inserted Cameron stories in the comic books.
ROD CAMERON WESTERN #1 in Fine books out at $123, #2 at $63, #3-10 range from $45-$57 and #11-20 about $42.
ROD CAMERON
Cover Gallery