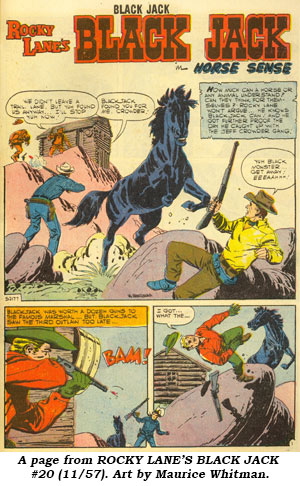 ROCKY LANE'S BLACK JACK
ROCKY LANE WESTERN #1 (see WC #97, pg. 7) was issued by Fawcett in May '49 and continued on a monthly basis through #55 (1/54) at which time Fawcett Comics folded (due to litigation by DC against Fawcett's Capt. Marvel feature copying Superman) and Charlton picked up Rocky with #56 on through #87 (11/59).
In November '57 Charlton created a comic book series based on ROCKY LANE'S BLACK JACK that ran for two years through November '59. Although Rocky was often in the stories, the focus was on his horse. Confusingly, numbering started with #20, picking up numbering from the cancelled JIM BOWIE ('56-'57) which had no connection to the Scott Forbes TV series. (Dell published two issues related to the TV series in '58, '59.)
Art in the BLACK JACK Charlton Comics was often by the adequate Maurice Whitman, as well as Medio Iorio, Sal Trapani, Mastroserio and Masulli, Charles Nicholas, even Steve Ditko. #22 was a Giant 68 page 15¢ issue. As with most Charlton comics, the art became more methodical as the series progressed. Back-up non-Black Jack stories were drawn by Al Williamson/Angelo Torres; Pete Morisi; Joe Maneely, and Steve Ditko. The series ended with #30 in November 1959.
In Fine #27 commands $27 with the rest in the $18-$24 range.
BLACK JACK Cover Gallery