COLT .45
"Colt .45" starring Wayde Preston debuted on ABC-TV in October 1957.
Dell picked up licensing rights and issued COLT .45 Four Color #924 (#1) in August '58. Four Color #1004 (#2) followed a year later in June/August '59 with Four Color #1058 (#3) in November/January '60. Selling well, regular numbering began with #4 (Feb./Apr. '60). Published quarterly, the series ran through #9 (May/July '61), about a year after the TV series ended.
All stories were originals, many written by the prolific Eric Freiwald and Robert Schaefer. Although on TV Chris Colt was a government agent who posed as a salesman for the Colt Firearms Company, he was never seen in a Cavalry uniform. However, many of the comic stories place him in uniform.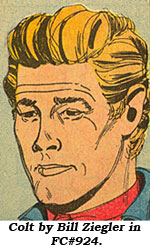 There were photo covers on all nine issues and all but #9 had inside front cover photos of Wayde Preston. The back cover to FC #1004 was a photo-pinup with a facsimile signature by Preston. For the record, covers of FC #924, #5, #6, #7 showed Wayde sans mustache. The others featured Wayde in his bib shirt sporting a mustache.
Artwork in FC #924 was by Bill Ziegler (1925-1993) who also worked on ANNIE OAKLEY, CASEY JONES, REX ALLEN, DALE EVANS, LAWMAN, JOHNNY MACK BROWN, BILL ELLIOTT and RANGE RIDER for Dell.
Dan Spiegle (1920- ), best known for the HOPALONG CASSIDY newspaper strip from '49-'55, drew FC #1004 (#2) and FC #1058 (#3). An excellent western artist, Spiegle also contributed to issues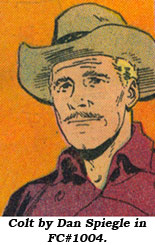 of ANNIE OAKLEY, BAT MASTERSON, BRAVE EAGLE, CIRCUS BOY, TALES OF WELLS FARGO, GENE AUTRY, JOHNNY MACK BROWN, JIM BOWIE, DALE EVANS, RAWHIDE, RESTLESS GUN, REX ALLEN, RIN TIN TIN, ROY ROGERS, TEXAN and TOMBSTONE TERRITORY at Dell.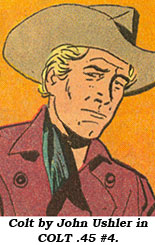 COLT .45 #4 and #5 were drawn by John Ushler (192?- ) who also worked on Dell's ZORRO, TEXAS JOHN SLAUGHTER, ELFEGO BACA, DALE EVANS and REX ALLEN.
Dell settled on one of their workhorse artists, Nat Edson (1909-2001), for #6-9. For Dell, Edson also drew issues of BUCK JONES, BUFFALO BILL JR., GENE AUTRY, RANGE RIDER, JOHNNY MACK BROWN, ANNIE OAKLEY, ZORRO, RESTLESS GUN, SUGARFOOT, REX ALLEN, RIFLEMAN, WAGON TRAIN and HIGH CHAPARRAL.
In Fine, FC #924 (#1) brings $27 while the rest in Fine price out at about $21. (#6 may bring a few dollars more due to a filler story by the collectible Alex Toth.) A good TV series and a too often overlooked comic. (Thanx in part to Steiner Adland.)
COLT .45 Cover Gallery