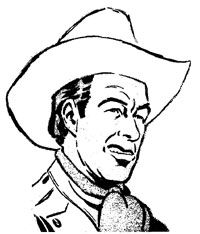 One of the screen's most popular and enduring heroes was the peaceable man, Wild Bill Elliott. Achieving instant fame with his "Great Adventures of Wild Bill Hickok" serial at Columbia in '38, Bill turned out great B-western features at Columbia, then Republic (some as the popular Red Ryder) and finally Monogram/Allied Artists, winding up his western career in 1954…a great 17 year run.
Dell, one of the two most prolific publishers of comicbooks based on western stars (the other being Fawcett), began publishing Bill's adventures in May '50 with Four Color #278. Regular numbering picked up with #2, reverted back to FC #472 and FC #520 for #11, 12, then regular numbering again until #18 which was FC #643. A bit confusing, but 18 issues total, all with fabulous photo covers. The first 12 also featured back cover photos as well.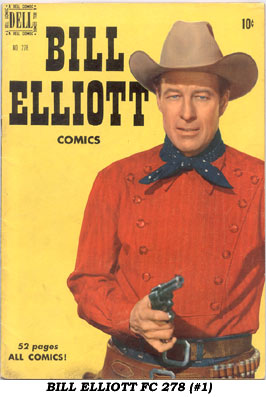 In some photos Bill was dressed as Red Ryder although none of the comic stories portrayed him as such. The photos displayed Bill with various steeds, including Thunder, although his horse was named Stormy in all the comic stories.
Artwork in #1-12 was by "Cary" who signed one story in the first issue. The artist had a sketchy, rough style that sometimes looked like Bill, but often did not. Somehow, Cary maintained the flavor of Elliott, usually drawing Bill wearing a bib-front shirt.
With #13, Albert Micale (pronounced Mi-cah-lee; 1913-1993) (who sometimes drew Roy Rogers) took over the art. Micale was a boring, lazy artist, so lazy he eventually did away with Bill's bib shirt. He lasted until the series folded with FC #643 (#18) in July '55, a year after Elliott left the western screen.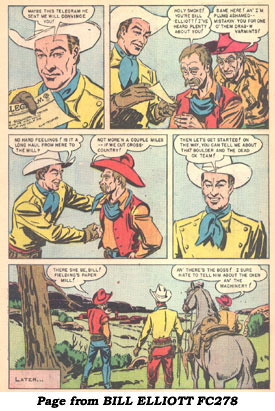 Bill Elliott stories also appeared in Dell's Giant WESTERN ROUNDUP #1-18, drawn by a succession of various artists (Peter Alvarado, Hi Mankin among them), none usually very good.
WILD BILL ELLIOTT #1 ranges from $14 (Good) to $185 (Mint). Most issues in Fine condition may be purchased for $18-$50.