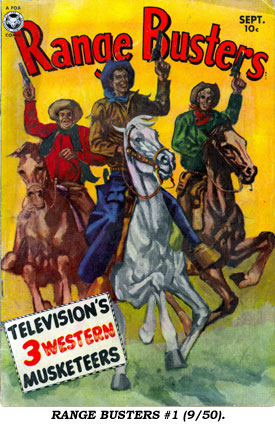 RANGE BUSTERS
As you know, The Range Busters were a very successful B-Western screen trio from 1940-1943 at Monogram. There were 16 films with Ray "Crash" Corrigan, John King and Max Terhune. Corrigan stepped out for four replaced by Dave Sharpe. When Corrigan returned, King was gone replaced by Dennis Moore.
Nothing more was heard from the trio until Fox Feature Publications released one issue of RANGE BUSTERS, calling them "Television's Three Western Musketeers" on a cover blurb. But these three, the leader Scotty, young Chip and heavy-set sidekick Doodle bore no resemblance to Monogram's threesome. Perhaps a TV pilot was filmed, but if so it has never surfaced.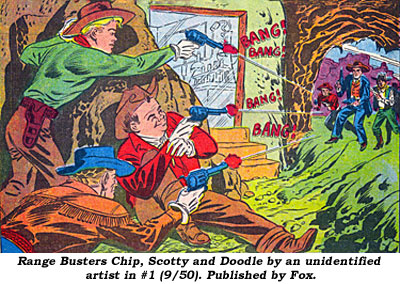 The solitary issue of Fox's RANGE BUSTERS is dated #1, September 1950. Art by an unidentified artist is rushed with nearly incomprehensible scripts. The comic is quite rare and can set you back as much as $60 in Fine, if you can locate a copy. A second issue is alluded to on an inside front cover banner—"Next issue RANGE BUSTERS on sale 2nd week of Sept." but it never appeared.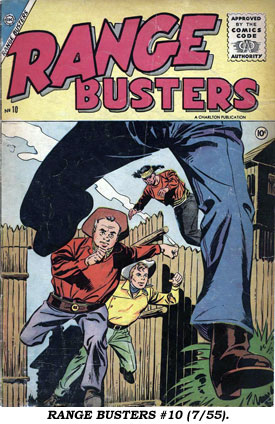 From May 1955 to September 1955 Charlton released three Western comics titled RANGE BUSTERS, #8, 9 and 10, continuing numbering from some cancelled title. Altho I've yet to see any of these, #10 may be the earlier never issued RANGE BUSTERS comic as Doodle and Chip are shown on the cover. #8, 9 bore generic Western covers. The comic changed titles and became the more successful WYATT EARP, FRONTIER MARSHAL from #11 in late 1955 through #72 in '67, having nothing to do with the popular Hugh O'Brian TV series, Dell was handling that exclusively.