"WALT DISNEY PRESENTS..."
"ANDY BURNETT",
"TEXAS JOHN SLAUGHTER",
"ELFEGO BACA" and
"SWAMP FOX"

To coincide with "Walt Disney Presents" on ABC TV, Dell, who had a marvelous established working relationship with Uncle Walt on Mickey Mouse, Donald Duck, and many more Disney characters, issued comic books based on all the TV Disney western heroes.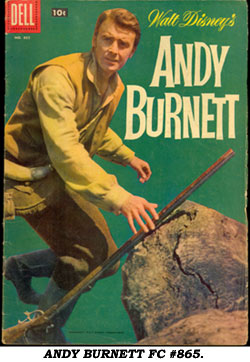 As the series was short-lived (6 episodes), only one issue of ANDY BURNETT was printed in December '57—Four Color #865—with a hurried art style by Bill Ziegler. Not a favorite of mine, Dell employed his minimalist style also on ANNIE OAKLEY, COLT .45, JOHNNY MACK BROWN, LAWMAN, REX ALLEN and WILD BILL ELLIOTT. It did feature a photo cover of Jerome Courtland with three inside front cover photos.
WALT DISNEY PRESENTS began with FC #997 (June-Aug. '59) and featured "Texas John Slaughter" and "Elfego Baca", both of which had begun on TV the previous October. There were front and back cover photos of Tom Tryon (Slaughter) and Robert Loggia (Baca). An added bonus were the words to both series TV theme songs on the inside back cover.
"The Swamp Fox" and "Elfego Baca" were featured in WALT DISNEY PRESENTS #2 (Dec.-Feb. '60) (picking up its numbering from the Four Color issue). Cover photo of Loggia and Leslie Nielsen (Swamp Fox).
#3-6 co-starred all three Disney heroes, with #6 published in Dec.-Feb. '61, by which time all of the TV shows had wrapped production. Also each of these four issues had cover photos of all three (Nielsen, Loggia, Tryon) with inside front cover photos on #3, 4, 6.
Earlier in '61, Dell also published one-shot issues of THE SWAMP FOX (FC 1179, March-May '61) and TEXAS JOHN SLAUGHTER (FC 1181, April-June '61). Both featured photo covers.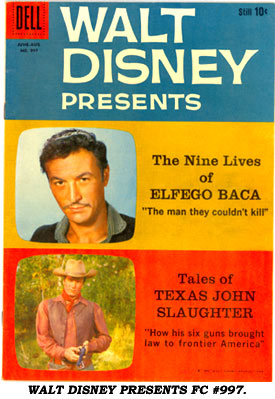 The prolific Robert Schaefer ('26-'06) collaborating with Eric Friewald ('27- ) wrote many of the stories for all three series. Schaefer and Freiwald also wrote westerns for the TV screen such as "Gene Autry", "Hopalong Cassidy", "Buffalo Bill Jr.", "Maverick", "Wild Bill Hickok", even the "Lone Ranger" radio program. Paul S. Newman ('24-'99), the most prolific comic book writer of all time, also contributed SWAMP FOX tales.
John Ushler provided some nice artwork on ELFEGO BACA, SWAMP FOX and TEXAS JOHN SLAUGHTER with good likenesses of Loggia and Tryon. Ushler did other nice work for Dell on JOHNNY MACK BROWN, REX ALLEN, BUCK JONES, ROY ROGERS and RANGE RIDER. On the other hand, Richard Thomas "Sparky" Moore ('25- ) handed in some very rushed

work on ELFEGO BACA and TEXAS JOHN SLAUGHTER. Dan Spiegle ('20- ), best known for his excellent work on the HOPALONG CASSIDY newspaper strip, worked on SWAMP FOX and TEXAS JOHN SLAUGHTER. Mel Keefer ('26- ) contributed to SWAMP FOX. He also worked at Dell on DALE EVANS and TALES OF THE TEXAS RANGERS as well as the GENE AUTRY syndicated newspaper strip. Warren Tufts ('25-'82), noted for his CASEY RUGGLES comic strip ('49-'54), drew the SWAMP FOX tale in #5. All issues are good, but the best art likenesses of all three are in WALT DISNEY PRESENTS #3.
FC #997 (#1) sells for $21 in Fine, with #2-6 going for $15 in Fine. The single issues of SWAMP FOX and TEXAS JOHN SLAUGHTER are listed at around $21 in Overstreet's COMIC BOOK PRICEGUIDE.
Dell also produced one issue based on Disney's version of DANIEL BOONE (FC 1163, March-May '61) with Jesse Marsh art and no photo cover. $15 in Fine.
SWAMP FOX, ELFEGO BACA and TEXAS JOHN SLAUGHTER were all excellent TV series and comic books of which we wish there had been more.