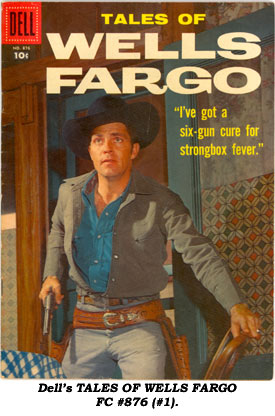 "TALES OF
WELLS FARGO"
It took nearly a year after "Tales of Wells Fargo" began on TV (3/18/57) before Dell Comics rode Dale Robertson as Wells Fargo troubleshooter Jim Hardie onto the comic book page with Four Color #876 in February '58.
Although successful both on TV (6 seasons, through June '62) and in comics (nine issues through mid '62 also), for whatever reason Dell never gave TALES OF WELLS FARGO regular numbering, but kept sporadically issuing Four Color numbers. FC #876 (#1) came out in February '58 and contained two stories based on TV scripts, "Alder Gulch" was TV episode #3 and "Manuel" was TV episode #7. It was exactly a year before Dell issued FC #968 (#2) in February '59. FC #1023 (#3) hit newsstands about six months

later (Aug.-Oct. '59). Nearly another six months passed before FC #1075 (#4) came out in March '60. FC #1113 (#5) was dated July-Sept. '60 but then another six months lapsed before FC #1167 (#6) hit newsstands in March-May '61. #7, FC #1215, was dated Oct.-Dec. '61. For unknown reasons the final two issues saw a slight title change to MAN FROM WELLS FARGO with FC #1287 (#8) dated Feb.-April '62. Dell's numbering system even changed with the 9th issue labeled 01-495-207 (May-July '62). The reason why Dell subjected Dale Robertson's popular TV show to such an erratic publishing schedule is lost to the ages, but we're just thankful we have nine excellent issues.
Each issue featured a posed photo cover of Robertson with smaller inside front cover photos (several in FC #876, #968).
In the comic, Dale often mentioned his horse's name, Jubilee, of whom Robertson was quite proud.
Quite common with Dell westerns, the scripts came from the equally prolific and talented Paul Newman (FC#876) and Gaylord DuBois who wrote all the other issues.
Artwork was assigned to a succession of men, Nat Edson, Alberto Giolitti, Gil Kane, Dan Spiegle and Russ Heath. The first issue (Spiegle?) doesn't truly capture Robertson's likeness, but successive issues were far better (including Russ Heath's work in FC #1167, #1215.
Additionally, there were TALES OF WELLS FARGO stories in four of Dell's 25¢ Giant WESTERN ROUNDUP when it switched formats to include more TV heroes, #22 (April-May '58) through #25 (Jan.-Mar. '59), when, unfortunately, the title was cancelled.
TALES OF WELLS FARGO FC #876 (#1) lists at $27 in Fine in OVERSTREET'S COMIC BOOK PRICE GUIDE, with #968-#1215 costing $24 each in Fine and the final two renamed MAN FROM WELLS FARGO bringing $18 each in Fine. We suggest FC #1023, #1167 and #1215 as your best representative issues. (Thanx for scripting notes to Dave Porta.)