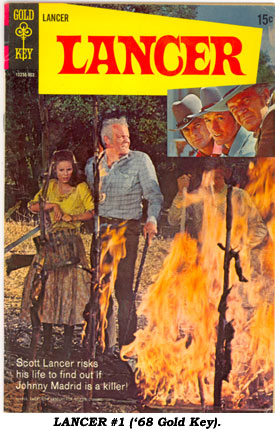 "LANCER"
"Lancer" began on CBS-TV in September '68 and Gold Key immediately brought the popular series to the comic book printed page by late '68 (#1). The second issue came out in June '69 with the third and final issue published in September '69.
Each issue featured a well written "Lancer"-like book-length adventure of the Lancer clan—father Murdoch Lancer (Andrew Duggan), Scott Lancer (Wayne Maunder), Johnny Madrid (James Stacy) and Teresa O'Brien (Elizabeth Baur).
There were photo covers on all three, although the photos are very disjointed and probably didn't help sales as publication ended after these three issues in Sept. '69 although the TV series ran through May '70.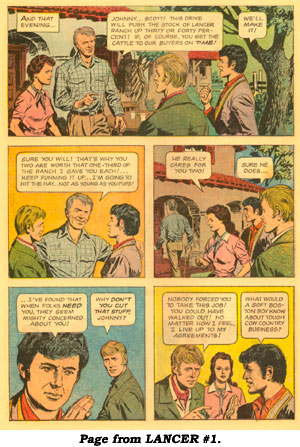 Interior work by an unknown artist was excellent and captured the likenesses of all the characters.
Fortunately, copies can still be picked up at more than reasonable cost. In Fine #1—$12, #2, 3—$9.