Reviews and Observations on

Silent Westerns

by Boyd Magers
As the forerunner of the sound westerns we all enjoy, the silent westerns that still exist deserve our consideration and attention. As seemed to be the custom of the day, you'll notice in silents many of the cowboy heroes mix light comedy with hard action. This style was carried over into talkies primarily by Hoot Gibson, but to a lesser degree by Ken Maynard and Buck Jones, eventually giving way to straight action from the star of the film with the comedy elements left to the sidekicks (Gabby, Fuzzy, Smiley, etc.) Silent westerns also exhibited stronger roles for women and usually more romance than in the sound era B-westerns.
For specific stars or titles, use your "Find on this page" feature on your computer.
The
Ratings

Well above the norm and definitely worth a look

Above Average

Average

Very little of Interest




Not Worth
your time!
Posted 2/18/22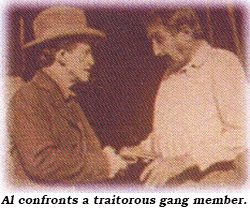 THE TRYOUT (1919 Nu-Art) 24 minutes
Young Tom Ashton wants to join outlaw Al Jennings' gang. Al gives him a three day tryout to convince him to give up his outlaw dreams. On day one they find a boy whipped by his brutal father. Al tries to goad Ashton to whip the father but he has no stomach for it. Day 2 finds Al planning a bank robbery. When one gang member plans to turn them in, Al asks Ashton to shoot him—but again he cannot do it. Day 3—Al still plans to rob the bank but Ashton is scared cold and elects to give up wanting to be an outlaw. (There is also a nice twist ending.)



WHITE OAK (1921 Artcraft/Paramount)

On the Missouri River dapper villain Mark Granger deceives and abuses Rose, the sister of gambler William S. Hart (aka Oak Miller). Attempting to escape Granger, Rose jumps in the deathly cold river. Hart, bent on revenge, searches for Granger in Independence, MO while he also cares for his seriously ailing sister. Rose is also under the care of an Indian girl and a nurse Barbara (Vola Vale) who is secretly in love with Hart. At the same time Hart is secretly drawn to Barbara. Meanwhile, Granger, now bearded in disguise, shows up in Independence plotting with his gang and Indian Chief Long Knife to attack a wagon train and split the booty. Granger also has devilish eyes set on Barbara who has her own troubles with her abusive stepfather. Hart is grief stricken when Rose dies, as well as mistakenly believing Barbara is in love with another man (Robert Walker). Turns out he is actually Barbara's brother.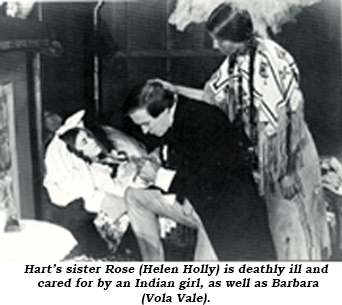 When Barbara's stepfather is found dead she is suspected, although she and her brother are now on the wagon train being attacked by Long Knife. At this point the outcome of all this tragedy is best left for you to see for yourself. Although a mite soap-opera-ish there is plenty of action at the end to which Hart is perfectly suited. Oddly, the "White" in the title is linked with Hart's name of Oak but never explained or used.