Reviews and Observations on

Silent Westerns

by Boyd Magers
As the forerunner of the sound westerns we all enjoy, the silent westerns that still exist deserve our consideration and attention. As seemed to be the custom of the day, you'll notice in silents many of the cowboy heroes mix light comedy with hard action. This style was carried over into talkies primarily by Hoot Gibson, but to a lesser degree by Ken Maynard and Buck Jones, eventually giving way to straight action from the star of the film with the comedy elements left to the sidekicks (Gabby, Fuzzy, Smiley, etc.) Silent westerns also exhibited stronger roles for women and usually more romance than in the sound era B-westerns.
For specific stars or titles, use your "Find on this page" feature on your computer.
The
Ratings

Well above the norm and definitely worth a look

Above Average

Average

Very little of Interest




Not Worth
your time!
Posted 2/19/23

LEGAL ADVICE (1916) 12 minutes
Another of Tom Mix's humorous early silent shorts. Female lawyer Vicky Sands comes to town and all the cowboys attempt to impress her. Smitten, Tom steals the sheriff's horse and shoots up the town hoping he'll be arrested and she'll be his lawyer. However, at Tom's trial who should arrive but—Vicky's husband!

CACTUS JIM (1915) 16.5 minutes
Another of Tom Mix's comedic shorts. Out west, Tom (Cactus Jim) places an ad in an eastern newspaper looking for a wife. Back east, poor shop girl Nell is intrigued and answers the ad in agreement. While Tom is off to get his bride, his ranch hands prepare "a welcoming". But, when Tom arrives, Nell has had second thoughts. So as not be have his ranch hands laugh at him, Tom rigs up a female dummy hoping he can keep 'her' hidden enough. Then, Nell, being a woman, feels she's been too hasty, changes her mind again and heads west, meets up with Tom just before the boys get wise to the dummy, saving Tom's pride.
Posted 12/16/22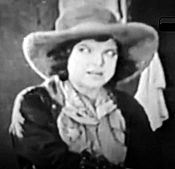 LETTERS OF FIRE (1919 Melody Prod.) 12:41 min.
No nonsense, tough as nails Sheriff Texas Guinan is after cattle rustler El Tigre. He turns the tables on her, captures and brands her chest with E.T., letters of fire. Seeking revenge she soon returns the favor. Action short from start to finish.
Posted 11/24/22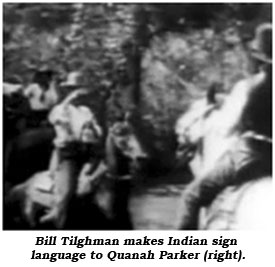 THE BANK ROBBERY (1908 Oklahoma Mutoscene Co.) 26 min.
Real life "outlaw" Al Jennings supposedly recreated one of his bank robberies in this film shot in Cache, OK, whose population was about 300 people, and the Wichita National Forest and Game Preserve. What's noteworthy about this historic but slow moving, poorly filmed and directed by real life Dodge City lawman William "Bill" Tilghman is the inclusion of not only Jennings as one of the bank robbers, but Tilghman as head of the posse chasing and gunning down the robbers. The posse also includes real life Western lawman Heck Thomas who served primarily in Indian Territory. He was among the lawmen who ended the reign of the Doolin/Dalton gang in Coffeyville, KS. Also in the film is Frank Canton, a deputy U.S. Marshal involved in the Johnson County war in Wyoming. Later in life he worked for hanging judge Isaac Parker. Also in the film is Quannah Parker, a war leader of the Comanche Nation who had clashed with Colonel Ronald MacKenzie. Parker eventually surrendered and peaceably led the renegades to the Fort Sill, OK reservation. He was later elected deputy sheriff of Lawton, OK in 1902. (Cache, OK is now a suburb of Lawton.) Sadly, this historic piece of film is filmed completely in long shots, no closeups, medium shots or intertitles making these famous participants unrecognizable. Interestingly, during filming a bystander thought the bank was really being robbed and jumped out a window to run for the police.

THE AUCTION SALE OF RUN-DOWN RANCH (1915 Selig) 10 min.
Bill Herrick, owner of a run-down ranch, decides to sell the worthless place at auction. Some whiskey and kerosene have been spilled on the ground and schemer Isaac Goldplate sees it and believes it to be an oil strike and pays $5,000 for the property. He heads for town to stop payment on the check but is stopped by foreman Tom Mix who gets the check cashed and returns it to bill who rewards Tom with a portion of the money. Amusing, nothing more.
Posted 10/15/22


KIT CARSON OVER THE GREAT DIVIDE (1925 Sunset) 62 min.
Produced by the noted Anthony J. Xydias, this silent is well made with plenty of action, but a bit complicated keeping up with all the characters and their plot machinations. Also, midway there's way too much drunken 'comedy' from scout Billy Francy. Roy Stewart is a scout for Lt. John Fremont's (Arthur Hotaling) 1842 surveying expedition. Nearby, Doctor Henry Walthall, his wife Nora (Marguerite Snow) and daughter Nancy (Charlotte Stevens) are besieged by Indians orchestrated by villainous Sheldon Lewis. Charlotte rides to Fremont and Stewart for help. As they return and fight off the Indians the doctor's wife is taken hostage by the Indians and sold to Lewis. Also—Earl Metcalf, the doctor's clerk, is a thief in

love with Charlotte. During the melee he steals the doctor's money. Fremont's party reaches the fort and Kit Carson (Jack Mower) while Lewis absconds with Nora over the great divide. Roy Stewart (left) and Charlotte quickly fall in love as Fremont continues his expedition with Stewart's aid. When Stewart returns he fins Metcalf trying to have his way with Nancy. He stops Metcalf and both ride off with Fremont, Kit Carson and Dr. Walthall to find Lewis and the doctor's wife. At last, Lewis betrays his Indian 'friends' and they turn on him just as Fremont's party arrives to drive them off. Lewis is killed, the doctor and his wife are reunited and Stewart and Charlotte plan to wed.
Greek born film producer Anthony J. Xydias (1882-1952) (left) got his start in the film industry when he opened a theatre in Dallas, TX in as early as 1909. Successful, he soon had a string of theaters. Desiring to produce his own low-budget Westerns he formed Sunset Pictures in 1922 with "Barb Wire" starring Jack Hoxie. However, Xydias lost his star when, after seven Westerns in '22-'23, Hoxie moved to bigger budget fare at Universal. Xydias chose Kenneth MacDonald to replace Hoxie but his non-Western action pictures flopped. (This was not the Kenneth MacDonald who had a successful B-Western film career, primarily as a heavy.) Xydias also hired J. B. Warner but the lanky Nebraska cowboy died at 29 of tuberculosis on November 9, 1924 after making only nine Westerns for Xydias. Xydias then turned his attention to producing a series of semi-historical Westerns, using names such as Buffalo Bill, George Custer, Daniel Boone and —Kit Carson and John Fremont ("With Kit Carson Over the Great Divide" being one of these Westerns). Due to ill health Xydias retired in 1931, but with sound he returned in 1935 and produced two low-budget B's starring Noah Beery Jr., "Devil's Canyon" (also featuring former silent names William Desmond and Fred Church) and "Five Bad Men" (again supported by William Desmond, Buffalo Bill Jr. (Jay Wilsey), Pete Morrison, Bill Patton and Art Mix). Both are lost to the ages and both were directed by ubiquitous low-budget silent director Clifford Smith who'd been 'away' since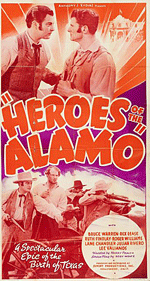 1932. (However, after these two, Smith went on to helm six Universal serials in '36-'37…"Adventures of Frank Merriwell", "Jungle Jim", "Ace Drummond", "Wild West Days", "Radio Patrol", "Secret Agent X-9"…before retiring.) Xydias then elected to produce more historical type Westerns. Unfortunately, the only one was "Heroes of the Alamo" starring Rex Lease, Lane Chandler, Earle Hodgins, Steve Clark and Denver Dixon. A slipshod 'epic', the low-budget affair planned to coincide with the Texas Centennial Exposition, garnered, shall we say, less than spectacular reception. With that, he sold off "Heroes of the Alamo" for pennies on the dollar to Columbia (they re-released it in 1938 sans Xydias' name as "Remember the Alamo") and retired from the film business. In 1941 he was in the Philippines on a business trip when the country was invaded by Japanese forces. He was captured and spent the duration of the war in a prison camp. He died in L.A. in 1952.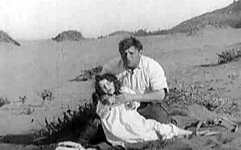 OUTLAW AND THE CHILD (1911 Essanay) 15 min.
Very predictable little drama, but one must remember these short films were 'of their time'. Outlaw Broncho Billy breaks jail and rides away. A deputy goes to the Sheriff's home who leaves his little girl sleeping as he forms a posse to search for Billy. Failing to locate Billy, the Sheriff returns home only to find his small daughter has awakened and wandered off into the desert. Billy finds her collapsed and, struggling every step of the way, he somehow trudges through the barren wasteland and returns the child to her home and father only to die from the ordeal.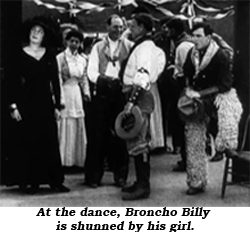 PUNCHER'S NEW LOVE (1911 Essanay) 12.5 min.
Broncho Billy courts one girl (Anna Little) and asks her to the town dance. Before the dance he becomes infatuated by newly arrived city girl Gladys Field. Both show up at the dance, leaving Billy non-plussed. Trying to make amends he soon loses both and realizes his terrible mistakes.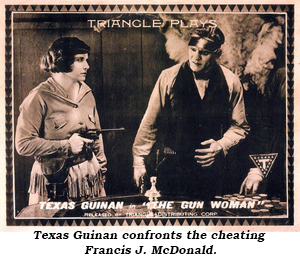 THE GUN WOMAN (1918 Triangle) 61 min.
Opens with a stagecoach robbery by the mysterious Collector. The story quickly switches to the dying mining town of La Mesa run by the owner of the Devil's Kitchen saloon, Texas Guinan, a woman loved, hated, feared and well named The Tigress. Two strangers arrive in La Mesa, handsome Francis McDonald and Bostonian Ed Brady. The tough as nails Tigress soon falls for McDonald, making him a partner in her saloon—with plans to wed. Bostonian Brady becomes a respected deputy sheriff, also infatuated with Guinan. After two old pards of McDonald's arrive in La Mesa, McDonald leaves Guinan taking with him all their money and promising to return for her, but sets up his own gambling joint in Bravos, a nearby town where a rich strike has been discovered. The La Mesa residents all flee for Bravos, leaving Guinan nearly broke, yearning for and wondering what happened to McDonald. Meantime, Brady has fallen in love with Guinan and wants to marry her. Suddenly, the duplicitous McDonald returns to La Mesa, not to marry Guinan, but only to "hire" her to work in his saloon. Realizing she's been cheated in love and money, what happens to the broken-hearted Guinan, the crooked McDonald, the lovelorn Brady and who the Collector is would be a spoiler explained here.

"The Gun Woman" smacks of a William S. Hart-ish story, no wonder, it's directed by Frank Borzage (left) who helmed several Hart Westerns. Borzage began acting and directing shorts in 1912, graduating to features in 1916. By 1923 he became a noted producer and director with such hits as "No Greater Glory" ('34), "A Farewell to Arms" ('32), "Flirtation Walk" ('34), among others. He won the Best Director Oscar for "7th Heaven" ('27) and "Bad Girl" ('31).
Francis J. McDonald's career as an actor literally spanned from early silent films and the silver screen era of sound film to follow on through the golden age of TV. His screen credits, noticeable and small, amount to an amazing over 370 roles. Starting on stage, he was a slight but handsome leading man who entered films in 1913 and continued in featured romantic


roles into the '20s. It was during this period that he married—and divorced—noted actress Mae Busch. McDonald worked on Broadway briefly and by the time he did his first totally sound film he had 83 films under his belt. Into the '30s, being older, his roles were turning toward shady characters, increasingly uncredited. He got to know Cecil B. DeMille and had a regular featured character role in his long history of films beginning with "The Plainsman" ('36). Through the '30s and '40s McDonald averaged a steady 5 to 10 films a year. Into the '50s he was increasingly cast in one of his perennial staples, Westerns, with roles already familiar to him: weaselly, tin horn gamblers, henchmen, old timers; as well as dignified Indian chiefs in many B-Westerns with Bob Steele, Tom Tyler, Tom Mix and later Hoppy, Roy, Gene, Lane, Elliott, Holt and Lash. In 1953 he was a natural to move into the incredibly popular Western phenomenon that burst over the new medium of TV. He showed up in the spectrum of half hour episodic Westerns: "Range Rider", "Kit Carson", "Wild Bill Hickok", "Annie Oakley", "Gene Autry", "Roy Rogers" and "The Lone Ranger" to later fare, such as, "Have Gun Will Travel", "Wanted Dead or Alive", "Wagon Train", the whole stable of Warner Bros. Westerns and "The Virginian". In the meanwhile there were some good character pieces in larger movies. Perhaps the most poignant being his last for DeMille's "The Ten Commandments" ('56) where he had the small but showcase role as Simon, the old Jewish slave. McDonald worked until 1965. He died at 77 in 1968.
Mary Louise Cecilia "Texas" Guinan (1884-1933) left the state from which she took her name as a teenager with dreams of becoming a movie star. Her crass, brazen personality and leggy figure guaranteed her regular work as a chorus girl on Broadway. Moonlighting in vaudeville, she developed a cowgirl character that caught the attention of Hollywood and was cast in her first film "The Wildcat" (1917). Over the next few years, Texas starred in close to 50 pictures (though she liked to brag it was 300), all Westerns, leading movie magazines to dub her "The Queen of the West". Her fiercely independent, no-nonsense persona served as a prototype for femme fatales like Greta Garbo and Marlene Dietrich. Texas, always too smart for her own good, quickly grew bored with Hollywood. When Prohibition was introduced, she opened a popular speakeasy in New York, the 300 Club, famous for its scantily-clad dancers. Guinan became one of the city's biggest celebrities, and her tangles with the law made headlines (though whether because of a corrupt police force or her own ingenuity, she never actually served a jail sentence.) Eventually tiring of dueling with the NYPD, she launched a traveling burlesque show in Europe. While on the road, she died from an epidemic of amoebic dysentery—ironically, a month before Prohibition was repealed.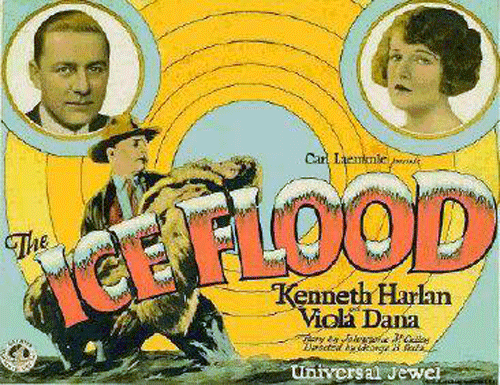 THE ICE FLOOD (1926 Universal) 71 min.
Very slow moving you've seen it all before north Western filmed at a lumber mill along the Klamath River in Oregon. Kenneth Harlan, a graduate of Oxford, is considered a wastrel by his father, owner of a large lumber company in Oregon. To hopefully prove he is a 'man' his father sends him to take charge of the lumber camp which is filled by brawny men who waste their time drinking, gambling and brawling instead of cutting timber. Arriving in Oregon,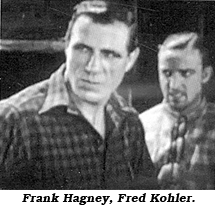 Harlan also discovers an elaborate bootlegging operation run by brutish Frank Hagney who believes Harlan is a dude and mocks him at a dance along with the other men. But Harlan establishes himself in a bare-knuckle brawl at the dance; while also winning the heart of Viola Dana. Beaten, Hagney and cohort Fred Kohler plan to escape with all their "stuff" just as a monsterous spring thaw ice flood begins. When Viola Dana discovers them, she is bound and set adrift in the raging waters on a small boat. Harlan discovers the bootleggers, captures them, saves Dana and proves to Dad he is truly a 'man'.
Posted 9/1/22



DEMON RIDER (1925 Davis) 50 minutes
Ken Maynard"s "Demon Rider" is a comedy of errors about mistaken identity and a chase after stolen money. Altho the beginning of the film is lost to the ravages of time we know bandit leader Black Hawk (Tom London) and his men steal a bag of money from the bank. The foreman of the B-Ranch, Billy Dennis (Ken Maynard) pursues them. While the bandits hole-up, Ken lassoes them, grabs the money bag and makes away with it intending to return it to the bank. Sheriff Fred Burns and his posse locate the gang and capture them, but London convinces Sheriff Burns the bandit leader, Black Hawk, is actually Maynard and turns

London loose. As Maynard stops to rest his horse Tarzan, the money bag accidentally falls to the ground. After he rides away, he suddenly realizes the money bag is gone. He searches back to look for it but, meanwhile, it's been found by Ken's girl Alma Rayford's ranch house cook, Jim Lowe. Ken goes to Alma explaining his plight. Frightened, Lowe overhears and realizes he must return the money to Ken. Unfortunately, with the posse hot on his trail, Ken has ridden out to look for the lost loot. Ken at last corrals London and Lowe arrives with the money bag just as the Sheriff rides up. With Ken cleared, he and Alma embrace. Excitingly photographed with some terrific long shots and aerial photography. Three star rating—I'd give it four if it were complete.
Posted 7/10/22




CHIP OF THE FLYING U (1926 Universal) 70 minutes
Charming, highly enjoyable romantic light comedy Western for which star Hoot Gibson was famous in the '20s—and this may be his best! Exciting beginning as a posse chases Hoot over the mountains. You assume he's an outlaw— but no, the Flying U ranch hands just catch girl-shy Hoot to bring him back to be kissed at a dance. Then, the excellent leery of women, sensitive artist is deployed against his will, by ranch owner DeWitt Jennings, to pick up his visiting sister, Dr. Virginia Browne Faire, at the train station. Meeting her, the formerly scairt-of-women-Hooter is quickly smitten by Faire. But—to his devastation he soon learns she is engaged to Jenning's neighboring rancher, rakish, ill-tempered Philo McCullough. Trouble begins when Hoot falls in love, overcomes his shyness and makes a serious mistake by faking an injury to get more attention from the lady doctor. Only drawback to this delightful Hooter is an elongated "comedy" sequence midway between Hoot's pal Weary (Harry Todd) and the orthopedist (Nora Cecil) he's fallen for.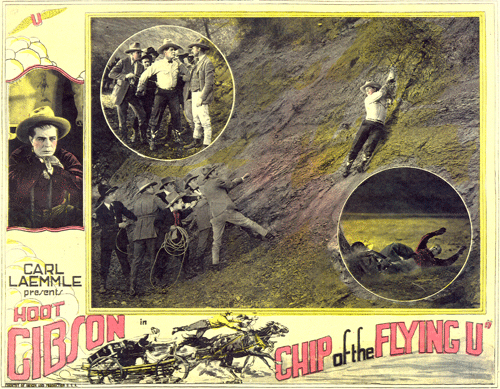 HELL BENT (1918 Universal) 53 Minutes

Cheyenne Harry (Harry Carey Sr.) flees the law after a poker game shootout and winds up in the tough town of Rawhide as a saloon bouncer where he becomes friendly with dance hall girl Neva Gerber. When sleazy gang boss Joseph Harris falls hard for Gerber and kidnaps her, Harry goes to desperate lengths traveling across the desert wasteland to free Gerber from Harris.
This is one of a series of Cheyenne Harry Westerns director John Ford made early in his career with Carey.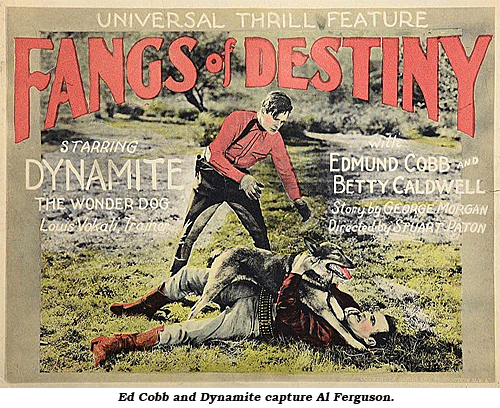 FANGS OF DESTINY (1927 Universal) 59 minutes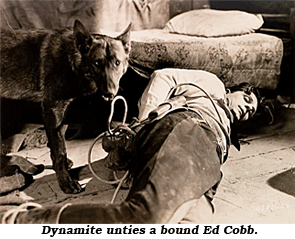 Edmund Cobb and his dog Dynamite are hired on at George Periolat's ranch after Periolat fires his rustling foreman who is in cahoots with crooked Al Ferguson who holds mortgage notes on the ranch and gived Periolat 30 days to pay up, which Periolat can't do because he's being broken by the rustling. Luckily, in the nick of time, Cobb and Dynamite discover oil on the ranch in a terrific action packed climax.
In the tradition of the silent era's Rin Tin Tin, Dynamite is an amazing acrobatic dog, jumping on the back of a horse, climbing a tree, knocking a rider from his saddle, crashing through a window, executing a series of flying tackles—and—even "talking". His barking is translated on the screen in superimpositions. Cobb, later a heavy in dozens of Westerns, is good but Dynamite is the whole reason to not miss this one.
Watch for former silent star Bob Reeves as one of Ferguson's henchmen. Reeves starred in silent Westerns from 1920-1925, then after a year layoff returned as an almost always, uncredited character player until he died at 68 after appearing on several Warner Bros. TV Westerns.
From low budget silents to low budget talkies director Stuart Paton worked from 1914-1938.
Posted 2/18/22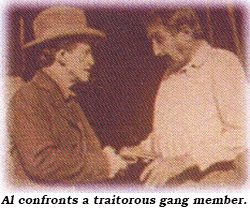 THE TRYOUT (1919 Nu-Art) 24 minutes
Young Tom Ashton wants to join outlaw Al Jennings' gang. Al gives him a three day tryout to convince him to give up his outlaw dreams. On day one they find a boy whipped by his brutal father. Al tries to goad Ashton to whip the father but he has no stomach for it. Day 2 finds Al planning a bank robbery. When one gang member plans to turn them in, Al asks Ashton to shoot him—but again he cannot do it. Day 3—Al still plans to rob the bank but Ashton is scared cold and elects to give up wanting to be an outlaw. (There is also a nice twist ending.)



WHITE OAK (1921 Artcraft/Paramount)

On the Missouri River dapper villain Mark Granger deceives and abuses Rose, the sister of gambler William S. Hart (aka Oak Miller). Attempting to escape Granger, Rose jumps in the deathly cold river. Hart, bent on revenge, searches for Granger in Independence, MO while he also cares for his seriously ailing sister. Rose is also under the care of an Indian girl and a nurse Barbara (Vola Vale) who is secretly in love with Hart. At the same time Hart is secretly drawn to Barbara. Meanwhile, Granger, now bearded in disguise, shows up in Independence plotting with his gang and Indian Chief Long Knife to attack a wagon train and split the booty. Granger also has devilish eyes set on Barbara who has her own troubles with her abusive stepfather. Hart is grief stricken when Rose dies, as well as mistakenly believing Barbara is in love with another man (Robert Walker). Turns out he is actually Barbara's brother.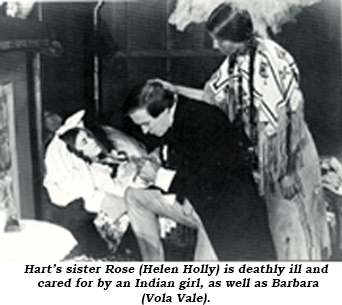 When Barbara's stepfather is found dead she is suspected, although she and her brother are now on the wagon train being attacked by Long Knife. At this point the outcome of all this tragedy is best left for you to see for yourself. Although a mite soap-opera-ish there is plenty of action at the end to which Hart is perfectly suited. Oddly, the "White" in the title is linked with Hart's name of Oak but never explained or used.