WARREN OATES
Warren Oates always said he was a character actor, but the '70s, when he was at his career height, was a time when character men were leading men, and no one personified that better than Oates. His smiling rural drawl and distinctive uncommon presence suited him best for Westerns, in which he excelled for 20 years, '58-'78. One critic wrote, "What made Warren Oates so badass was the way he simply didn't give a shit what people thought." Another critic colorfully wrote, "You can smell whiskey and sweat on him. He has a face like prison bread, with eyes that have known too much solitary confinement." Oates himself stated, "Hopalong Cassidy and Ben Johnson rubbed off on my life, but I sometimes feel uncomfortable in a Western role because my image of the Western man is John Wayne and I'm just a little shit. I don't intentionally set out to be a villain. I do what is given me to do and from there I evolve my attitude. Heavies are closer to life than leading men. The heavy is everyman—everyman when he faces a tough moment in life. It's the heavy that has to do with the meat of life."
Oates was born of English, Scottish and Welsh ancestry in Depoy, a tiny rural coal mining community west of Greenville in Kentucky. He was the son of Sarah Mercer and Bayless Oates who owned a general store. The family moved to Louisville, KY when he was 13 where Warren attended high school until 1945 but did not graduate. Instead he enlisted in the Marine Corps for two years serving as an aircraft mechanic. He later earned a high school equivalency diploma. Attending the University of Louisville he became interested in acting and appeared in several plays there in '53. In 1954 he headed for New York to make his mark. His first job was on "Beat the Clock". While making the audition rounds, to make a living he served as the hat check man at the 21 nightclub. By '56 and '57 he found sporadic work on TV programs produced in NY ("U.S. Steel Hour", "Studio One", "Big Story").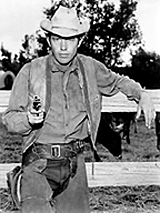 Robert Culp and Oates knew each other in NY so when Culp moved to Hollywood in '57 for "Trackdown" he let Warren know there was plenty of work out west suited for Oates' Western-leaning persona. His first TV Western was the "Three Sons" episode of "Have Gun Will Travel" in '58. It firmly established him as a rascally heavy and he worked on over 40 Western TV series, often multiple episodes (10 "Gunsmoke", 5 "Rifleman"). "There were 40 Western series, and I went from one to the other. I started out playing the third bad guy on a horse and worked my way up to the No. 1 bad guy," Oates once quipped. This included a co-starring role as irascible conman Ves Painter in Jack Lord's "Stoney Burke" ('63) of which producer Leslie Stevens stated, "Warren and I were very close friends, and in one of those episodes ("Point of Honor") he appears with Harry Dean Stanton. He and Warren were very authentic, and they hadn't yet gotten anywhere in the business—they were just starting to—and they talked so oddly, and were funny 'hill people.' Between the two of them, you got some extremely good scenes because of their absolute authenticity. They came out of the country people of America, which is the same population that goes into rodeo."
Perhaps Oates' best work was for his friend, director Sam Peckinpah. Apparently they understood each other, but they also came to hate each other. They met while doing a "Rifleman" episode. It was Peckinpah who elevated Warren to A-films with "Ride the High Country" ('62), "Major Dundee" ('65) and "The Wild Bunch" in '69. (Oates actually turned down the lead in "Support Your Local Sheriff" in order to make "The Wild Bunch".) Commenting on Peckinpah Oates opined, "Sam has always believed, and I believe rightly, that he is there to make the film and anyone who stands in his way is dead. They're in deep, deep trouble. And anyone who doesn't come up to snuff and do their job absolutely perfect is in deep trouble with Sam. I don't think he's a horrible maniac, it's just that he injures your innocence, and you get pissed off about it."
"The Wild Bunch" came at a dark time in Oates' life, he was divorced from Roberta Eis in July '59—they'd wed in '57. He quickly married again to Teddy Louise Farmer in August '59 with whom he'd been having an affair. The marriage to Teddy lasted til November '66 and bore three children. Oates married for the third time to English actress Vickery Turner in June '69. They divorced in '74. His last marriage was to Judy Jones in August '77.
"The Wild Bunch" put Oates into the A-list and he starred in "Barquero" ('70), "The Hired Hand" ('71), "Two Lane Blacktop" ('71), "Chandler" ('71), "Dillinger" ('73), Peckinpah's "Bring Me the Head of Alfredo Garcia" ('74), "Race With the Devil" ('75), "True Grit" (TVM) ('78) among others.
Oates was ill with the flu in the weeks before his death. He died in his sleep at 53 while taking an afternoon nap on April 3, 1982 in his L.A. house. It was ruled a heart attack following chest pains and shortness of breath which began that morning. An autopsy showed he had chronic obstructive pulmonary disease. His body was cremated and his ashes scattered over his ranch in Montana. At the time of his passing he and Peckinpah were on the outs and Sam was told not to come to the funeral. He came anyway. The University of Louisville established a scholarship in Oates' name for promising students in their arts program.