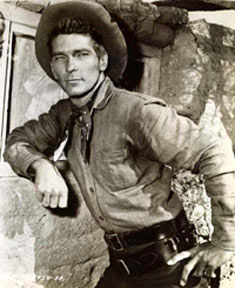 L. Q. JONES
L. Q. Jones' cunning, wolf-like looks—a thatch of dingy, straw blond hair, thick mustache, and feral smile lurking beneath the surface—were right at home on a sheriff's office wanted poster.
Justus Ellis McQueen was born August 19, 1927, in Beaumont, Texas, the son of Justus Ellis McQueen Sr. and Pat Stephens. Growing up in Texas, he was educated at Lamar Junior College until 1944 and Lon Morris College until 1949. After serving with the Navy from '45-'46 he studied law at the University of Texas from '50-'51. He was sidetracked into being a standup comic and did some 800 shows in the area. He once joked, "I am but several hours away from three degrees—one in law, one in business, one in journalism."
Heavily into competitive sports at a young age, he played "a little professional baseball, football until I had both legs broken. I like sports of all kinds."
The actor-to-be was ranching in Nicaragua when an old college roommate, Fess Parker, who had come to Hollywood, sent him a copy of the book BATTLE CRY. Brash and innocent, McQueen thought he'd like to play the part of L. Q. Jones in the film, it seemed to fit him. Through luck, circumstance and pure bravado swagger, director Raoul Walsh took a liking to "the kid," took a wild chance and cast him in "Battle Cry" ('55) as Texan L. Q. Jones—a name that stuck, he's used it ever since.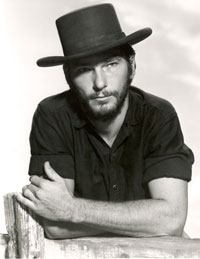 Explaining his take on being a heavy, Jones told author William R. Horner for his BAD AT THE BIJOU book, "Different parts call for different heavies. I have a certain presence. I play against that presence a lot of times. One school of heavy that kind of came in vogue, I use it, Warren Oates used it for a while, Jack Elam did with his own twist—and that's of a heavy that is not crazy or deranged—although we play those, of course—but rather someone who is a heavy because he enjoys being a heavy. I've done 25, 30, 50 different types of heavies, a shade here, a shade there…it's really hard to say what they're looking for when they pick me. A lot of times your heavy is not that well presented in the script. Most times he's too one-sided. So we look for things to bring to being a heavy: a certain softness; a vulnerability that makes him human; a quiet moment when he's a screamer most of the time; a look; the way he dresses; the way he walks into a room. There are many things that contribute to why a casting director will choose me over someone else…or someone else over me."
1962 saw L. Q. team up with violent director Sam Peckinpah for "Ride the High Country", the first of five films with the eccentric maverick director; a man of whom Jones has since said, "He was crazy."
In 1975 Jones produced and directed his own film, the post-apocalyptic "A Boy and His Dog", which has become a cult film. Through his production company, L. Q. Jones and Friends, he produced and directed several horror films in the '60s and '70s.
He's flirted with being "on" various TV series over the years. He was Clint Walker's sidekick Smitty on a few early episodes of "Cheyenne" in '55, but Warner Bros. soon abandoned the character and let Walker ride alone. He had the recurring role of ranch hand Andy Belden on "The Virginian" from '64-'67, but the character was never fully developed. He was Joe Teal on a few early episodes of "Klondike" in '60, but that character was also quickly dropped, as was the series after 17 episodes. Lastly, Jones played the when-needed sheriff on "The Yellow Rose" series in '83.
Jones married Sue Helen Lewis on October 10, 1950. After she died, he remarried in '74 but divorced after 21 years.
L. Q. has continued to work on into the new century, as the lines in his craggy face have deepened, he turns up more frequently as crusty old westerners as in "Lightning Jack" ('94), "Tornado" ('96), "Mask of Zorro" ('98), "Jack Bull" ('99) and "Route 666" ('01).