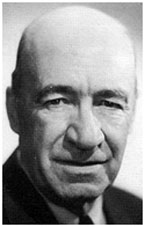 J. FARRELL MacDONALD
Born in Waterbury, CT, on April 14, 1875, J. (Joseph) Farrell Mac-Donald was one of the screen's most beloved and prolific character actors for 40 years (1911-1951). A near genius and jack of many trades by choice or accident, little is known of his teen years other than he sang in the church choir. After attending prep school in Ansonia, CT, he went to Yale University, where he played football, graduating in 1903 with a B.A. and LL.B. He also attended Stewarttown University in Stewarttown, Ontario, Canada, where he earned an LL.D. Obviously he studied law, but he also earned graduate and mining certificates, eventually joining a government geological survey through Mexico, S. Colorado and into the Rockies. His roving spirit next carried him to England where he appeared in grand opera and studied art in London, acquiring some ability as a painter, later exhibiting 18 canvases at L.A. galleries.
By 1900 he was married to silent screen actress Edith Bostwick (born 1882 in Colorado). They later had a daughter, Lorna. As a minstrel singer, J. Farrell MacDonald toured the U.S. in stage productions for several years (including a stint as a baritone singer in Lillian Russell's production of "The Princess Nicotine"). MacDonald even spent time as a police reporter on a Baltimore newspaper.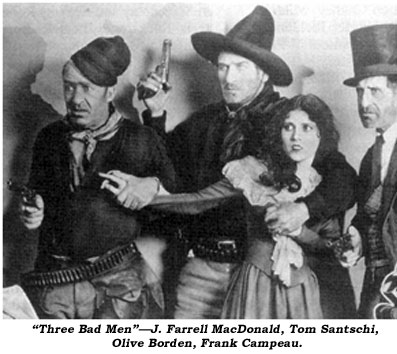 Finally, at age 36, returning to NY to go into stock work again, he began to think about the burgeoning medium of motion pictures and joined Carl Laemmle's IMP Company (the forerunner of Universal) in NY in 1911. Moving to Hollywood in 1912, within two years he was established as a lead actor as well as a director. Functioning in the latter capacity with L. Frank Baum's Oz Film Company, MacDonald gave work to up-and-coming extras Hal Roach and Harold Lloyd. When Roach set up his own production company in 1915 with Lloyd as his star, he signed MacDonald as a director.
From 1915-1920 MacDonald sandwiched stage work in between film assignments. After serving in WWI, MacDonald began to concentrate solely on acting, soon becoming a particular favorite of director John Ford who featured him in at least 10 westerns between 1919 and 1921. (Eight starring Harry Carey, one ["Action"] with Hoot Gibson and one with Frank Mayo.) Ford liked MacDonald's penchant for Irish brogue and his diversified life experiences. "Every man has music in his soul," MacDonald once commented on his brogue. "If it isn't in notes of harmony, it is in the tongue of the mother-land. I'd rather hear an Irish brogue than Beethoven or Bach."
MacDonald was featured in other westerns in the teens and early '20s opposite Buck Jones, Tom Mix, William Russell, Bill Patton and Thomas Meighan; even starring in one 2-reeler, "The Boss of Copperhead" ('20, Universal).
Ford selected MacDonald for the prominent role of Corporal Casey in the groundbreaking epic "The Iron Horse" in '24 and co-starred MacDonald (along with Tom Santschi and Frank Campeau) as one of the "Three Bad Men" in '26. The same year he was Wild Bill Hickok in the William Boyd epic "The Last Frontier".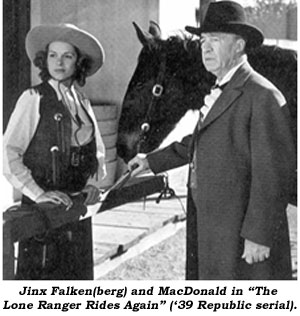 With a voice that matched his personality perfectly, MacDonald was busier than ever as talkies invaded the screen, often playing Irish cops of one rank or another. Now 57, in 1932 alone he showed up in 23 films, including John Wayne's "Hurricane Express" Mascot serial. Some of his better western roles were as Randolph Scott's rancher employer in Scott's first western, Zane Grey's "Heritage of the Desert" ('32); the town Marshal gunned down in "The Arizonian" ('35); the rancher in conflict with brother Fred Kohler Sr. in "Stormy" ('35); Richard Arlen's surveyor friend searching for a railroad pass through the Rockies in "Silent Barriers" ('37); the Free Ranger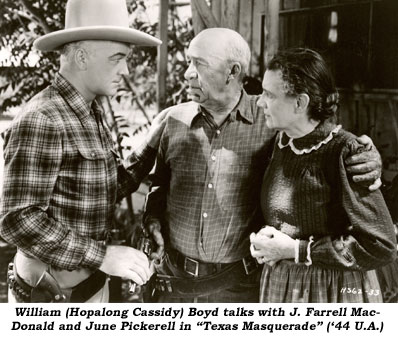 who adopts young Bob Baker in "Courage of the West" ('37); cattle baron Craig Dolan in the Republic serial "The Lone Ranger Rides Again" ('39); Joan Barclay's rancher father in "Gentleman From Arizona" ('39); stageline owner in Hopalong Cassidy's "Stagecoach War" ('40); and as a newspaper-man campaigning against outlawed Gabby Hayes in Roy Rogers' "In Old Cheyenne" ('41).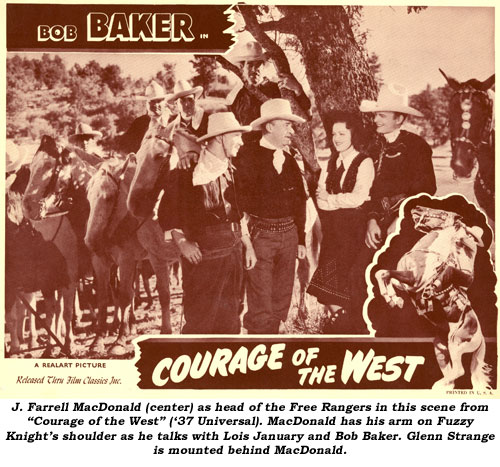 He kept up his workload of five to 10 films per year into the '40s, often unbilled in small roles, with one of his choicest parts as Dodge City barkeep Mac in John Ford's "My Darling Clementine" ('46). The late '40s saw him in westerns starring George Montgomery, Victor Mature, Rod Cameron, Alan Ladd, Don Barry, Randolph Scott, Lash LaRue and even one of the Tommy Carr directed Jimmy Ellison/Russell Hayden quickies, "Hostile Country" ('50).
At 76, MacDonald's final role was as Pop Shannon in "Superman and the Molemen" ('51). With a legacy of 327 acting assignments and 44 director's credits, one of the screen's most beloved character players died August 2, 1952. (Thanx for research assistance to Evy Patrick.)