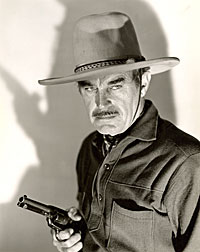 HARRY WOODS
Roy Barcroft, favorite badman of many people, always acknowledged Harry Woods as his role model.
Born Harry Lewis Woods May 5, 1889, in Cleveland, OH, at maturity his 6' 2" frame carried about 210 lbs. He had brown hair and greenish-hazel eyes.
Harry married Helen Hookenberry in 1911, with three children (Maril Lee, Richard, Harrison) being born in 1913, 1916 and 1918 respectively.
Although earning a living as a millinery salesman, friends urged Woods toward trying his luck on the stage, which he did with a stock company out of Lakewood (Cleveland), OH. He alternated stage work with a job as sales manager for a large rubber company before he finally decided to try his luck in Hollywood, eventually landing work at the Hal Roach Studio in 1921. As the Ruth Roland serials lensed there, Harry may have worked uncredited in some of them but there is no documented evidence to this effect.
He did appear, credited, in William Duncan's 1923 15 chapter Universal serial, "Steel Trail". The same year he was a knight in Jack Hoxie's "Don Quickshot of the Rio Grande". From then on Harry began to work steadily in silent serials ("Fast Express", "Ten Scars Make a Man", "Wolves of the North") and in features opposite Joe Bonomo, Fred Thomson, Buck Jones, Tom Tyler, Tim McCoy and others.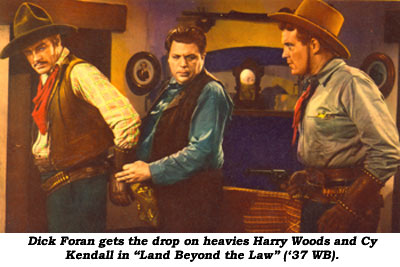 With the advent of sound, his suave demeanor, cobra-like eyes and deep resonate voice made him a truly convincing badman—whether it be dress heavy or dog heavy—he played both to the hilt menacing Tom Tyler, Buck Jones, Ken Maynard, Charles Starrett, John Wayne, Dick Foran, Bob Allen, Bob Baker, Bill Elliott, Roy Rogers, Gene Autry, Johnny Mack Brown, Trail Blazers, Randolph Scott, Tim Holt and others.
All the major studios making westerns employed him. So much in demand was Woods, he never had to seek employment at the lower ranks of PRC.
Harry was reportedly a one-time skating champion and golf addict. His hobby was remodeling houses and, when not employed in film, he made a lot of money in the remodeling business.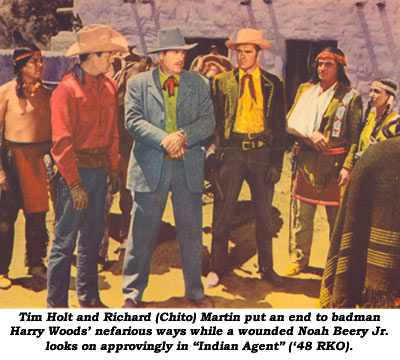 In the '50s, B-westerns gone, Harry worked more infrequently with his last role being in TV's "Bat Masterson: Run for Your Money" in '61…a good solid western on which to end a 40 year screen career.
Harry Woods, who in the early days ranked up there as a badman's badman with Fred Kohler, Noah Beery, Walter Miller, Bob Kortman and who, in the later days, was a role model for Roy Barcroft, Stan Jolley and others, died December 28, 1968, in Los Angeles of uremia. He was 79. He is buried at Valhalla Memorial Park in North Hollywood. With some 230 films to his credit (over 190 talkies), mainly westerns, Harry Woods is considered the dean of western heavies.