LAFE McKEE
The Grand Old Man of Westerns, white-haired Lafe McKee (real name Lafayette Stocking McKee) seemed to be born old, even by the mid-teens playing old codgers, likable fathers, distressed bankers, aged sheriffs or ranch owners on the verge of losing the homestead to any variety of unscrupulous heavies.
Born January 23, 1872, in Morrison, IL, his mother's maiden name was Johnson, first name Lucy. According to a distant nephew, Ted McKee, Lafe's father, Jesse, operated both a furniture business and a funeral parlor. Morrison's Heritage Museum displays one of the firm's beautiful tables, built in 1866. Young Lafe played on the local baseball team and began acting in local theatrical productions.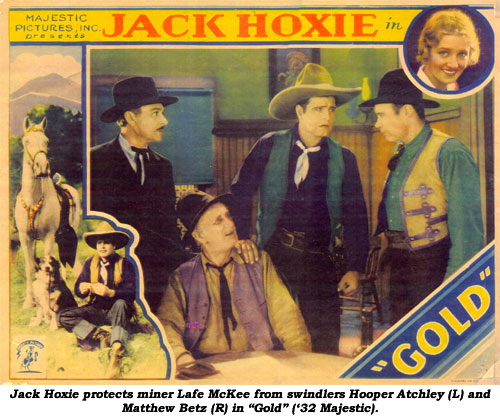 The 5' 10" Lafe was already 40 when he and his wife Leah (called Lulu) and their daughter (Lucille, born 1906) and son (Joe, born 1911) moved to Hollywood in 1912 where Lafe immediately found work in silent films—billed then as Lafayette McKee. (Another son, Dick, was born in 1925.) Early on Lafe made only a few westerns (one with Tom Mix, one with Tom Santschi, etc.) but did manage to appear in at least eight silent serials including "Adventures of Kathlyn" ('13), "Jungle Goddess" ('22), "Power God" ('26) and "Mystery Box" ('26).
Things changed by '22. Now 50, Lafe settled into the "old timer" roles we best know him for, working primarily in lower budget silent westerns with Buffalo Bill Jr., Lester Cuneo, Buddy Roosevelt, Wally Wales, Ben Wilson, Bob Custer and Bob Steele. In all, Lafe worked in over 150 silent films.
His careful and slow manner of speech enabled him to make an easy transition into talkies and he appeared in some 250 sound films, again primarily westerns with everyone from Tom Tyler, Bob Steele, John Wayne and Ken Maynard to Johnny Mack Brown and Charles Starrett. Lafe also worked in at least 27 sound serials—Mascot and Universal used him extensively in the '30s. Just a few of his notable roles are—a hard drinking but mild mannered miner in Jack Hoxie's "Gold" ('32); commanding officer Col. Burke in Tim McCoy's "End of the Trail" ('32); dressed in drag as a bedraggled senorita breaking Ken Maynard out of jail in "Range Law" ('31); an inveterate gambler in Hoot Gibson's "Gay Buckaroo" ('32); giving Tom Tyler 24 hours to capture a phantom stallion before Lafe issues a kill order in "Coyote Trails" ('35) and especially as Ken Maynard's two-gun saddlepal and mentor in "Two Gun Man" ('31).
McKee occasionally stepped out of his kindly-old-timer typecasting to play a heavy as in Mascot's Harry Carey serial "The Vanishing Legion" ('31) and Tom Tyler's "Mystery Range" ('37).
We're still locating unbilled McKee performances, but to date we've logged 248 sound productions from '30 to '48 (his last seems to be as a dance extra in "Belle Star's Daughter" when he was 76.) Around 185 of those were westerns.
The Grand Old Man was 87 when he died of arteriosclerosis August 10, 1959, in Temple City, CA.