CHARLES "SLIM" WHITAKER
Charles "Slim" Whitaker came off the real west range to become one of the B-Western's earliest and principal no-good, dirty, rotten polecats. Through the years the pounds began to pile up on him so that he was not only a "heavy" on screen, but heavy in real life.
Charles Orby (not Orbie as often reported, according to family members) Whitaker was born July 29, 1893, in Kansas City, MO. His parents were Sherman Whitaker, a Missouri native, and Bell Shepered, place of birth unknown. Slim's background is supplied by Tom Bahn, who is married to Slim's great granddaughter, and was fortunate enough to glean information on the family from Leota Whitaker Gandrau, Slim's daughter and Rose Banks, Slim's granddaughter. Slim married Ethel Maze in 1910 and shortly thereafter left Missouri, heading for California. Over the years the couple had three children—Leota born 1915, June born 1917 and Charles in 1920.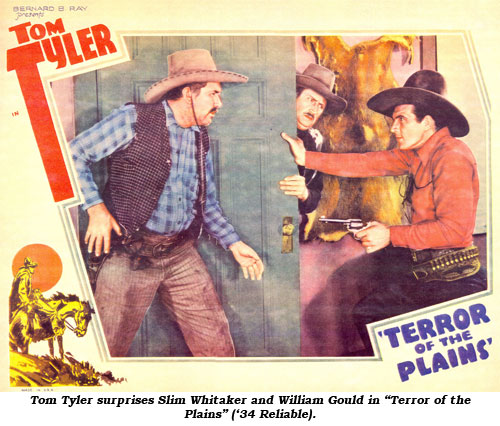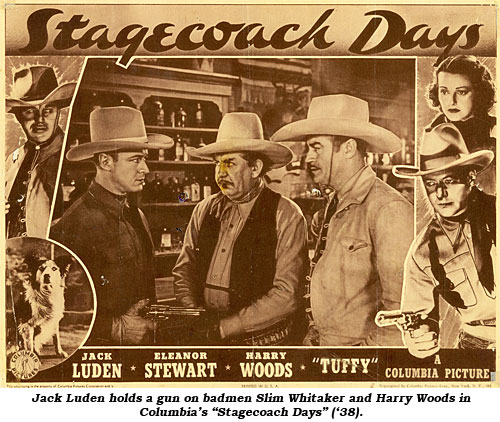 After a brief career on the rodeo circuit, Slim joined several cattle drives eventually ending up as a cowboy at the Chowchilla Ranch in California's San Joaquin Valley where hands earned about a dollar a day and the days were 18 hours long. During this period Slim became friends with other cowboys who would all find their way into the burgeoning motion picture business—Bill Gillis, Hank Bell, Jack Montgomery, Ed Hendershot. In 1912, the Chowchilla Ranch owner announced he had sold the ranch. Somehow the cowhands got the mistaken idea the new owner was a British concern and, pledging they'd never work for a foreigner, the five friends "up and quit," riding north looking for ranch work. After traveling 120 miles on horseback, they stumbled upon Broncho Billy filming a western in Niles Canyon where they were hired as riding extras and stuntmen. Unfortunately, the work wasn't steady and they were only paid for the days they worked.
In late 1913, Slim headed south hoping to find jobs in Southern California. Thanks to his short stint with Broncho Billy, the film studios were quick to hire him as a riding extra in westerns where he earned five times the wages he'd been drawing as a ranch hand. Although his first film was "Tested By Fire" in '14, his first credited western is the one-reeler "When Thieves Fall Out" ('14 Selig) with Harold Lockwood. Plenty more opposite William Farnum, Wally Wales, Buffalo Bill Jr., Bob Custer, Buddy Roosevelt, Yakima Canutt, Pete Morrison and Ken Maynard followed.
Slim's daughter Leota said whenever the kids were around show business folks, Slim protected his children from studio riff-raff. He was a big, easy-going man, Leota declared, "You didn't want to get him mad."
In April of 1920, Jack Montgomery and Hank Bell had migrated to Southern California and met Slim at his favorite Hollywood bar. Unable to find work as ranch hands, Slim introduced them to film production in Edendale where both men became well known and had long careers in Westerns.
According to Leota, the actors were required to supply their own clothes, saddle, guns and spurs. Players were to be on the job at five in the morning if they were shooting at the studio. If they were working on location they could catch a ride at the studio or, as Slim usually did, wait by the curb in front of his North Hollywood house. Leota remembers Wally Wales, Charlie King and Al Bridge were like her uncles, spending so much time at her house that it was if they lived there. Charlie and Al were regular drinking buddies of Slim's with the poker games always at Slim's place.
After 34 years of marriage, Ethel became tired of rowdy cowboys playing poker, getting drunk and passing out at her house. She divorced Slim in '44, remarried and bought a restaurant on San Fernando Rd. in Sunland, CA. She and Slim remained friends and he was often seen having a meal or coffee at the restaurant—which is probably the basis for the erroneous oft-printed info that Slim was a restaurant short-order cook in his later years. Actually, after leaving films in 1949, Slim worked as a bartender at a cowboy bar in Sunland and later as a fireman for a couple of years, then retired.
Slim had five grandchildren and lived to see the first of 13 great-grandchildren. He died at 66 June 27, 1960, at Cedars of Lebanon Hospital from a heart attack and was buried at Valhalla Cemetery in North Hollywood.
During the post silent era, Slim was among the busiest of support players. English film historian Nick Nichols once calculated Slim appeared in over 584 films over 35 years, most of which were Westerns. It would be hard to find a B-Western star to whom Slim had not been a nemesis. His last Westerns were a pair with Eddie Dean ("Westward Trail" and "Black Hills", both '48 PRC) and a bit in Universal's "Gal Who Took the West" ('49). Whitaker maintained a frequent presence in some 22 serials with his best parts in "Law of the Wild" ('34 Mascot) , "Roaring West" ('35 Universal) and "Lost Jungle" ('34 Mascot).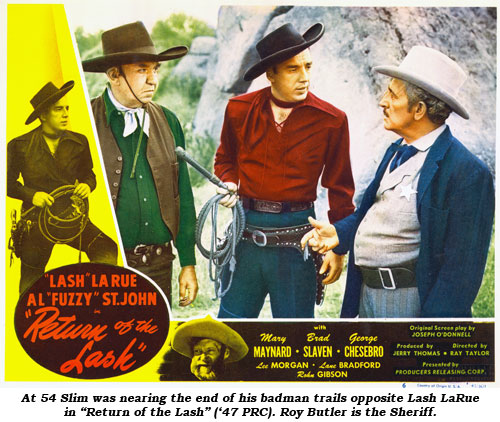 Montie Montana once said, "Slim was a hard drinking cowboy that enjoyed kidding and telling jokes. He should have been a comedian." As a matter of fact, RKO, after letting Ray Whitley and Chill Wills be George O'Brien's saddlepals, gave ol' Slim a crack at it in "Fighting Gringo" ('39), "Bullet Code" ('40) and as Silent in the best of the bunch (with good billing too), "Prairie Law" ('40). And he was downright good at it! But there were to be no more. No matter, he was soon right back at his nasty, underhanded villainy, right where we expected him to be. Undoubtedly, one of the Top 10 Western screen badmen.