I. STANFORD JOLLEY
Black-hatted, black mustached, black-hearted I. Stanford Jolley was a busy badman in close to 300 features, primarily portraying the sophisticated "dress heavy" bossing around his "dog heavy" henchmen. The lean, intellectual-looking Jolley was a fixture at PRC in the '40s, then at Monogram when PRC went out of the cowboy biz. Jolley was also featured in 25 serials from '37-'54 with his best roles coming in "Perils of the Royal Mounted" ('42 Columbia) as thug Pierre, "Black Arrow" ('44 Columbia) as one of a trio of carpetbaggers, "Jungle Raiders" ('45 Columbia) as henchman Brent, "Crimson Ghost" ('46 Republic) as the spooky voice of the skeletal cloaked villain and another totally unrelated character, "Black Widow" ('47 Republic) as henchman scientist Jaffa, "Tex Granger" ('48 Columbia) as the town boss, "Congo Bill" ('48 Columbia) as a crooked circus manager, and, especially, "Desperadoes of the West" ('50 Republic) as stovepipe hat-wearing chief heavy Dude Dawson. Besides all this, Jolley was in over 160 TVers, playing heavies in the early juvenile westerns ("Lone Ranger", "Cisco Kid", "Roy Rogers", "Gene Autry") then, like most of the "vintage" movie badmen, now in his mid 50s, switched to character roles circa 1955.
Jolley set a standard for himself with his second B-Western role of any consequence, playing the mysterious killer "The Jingler", wearer of ominously noisy spurs, in the Range Busters' "Trail of the Silver Spurs" (41 Monogram).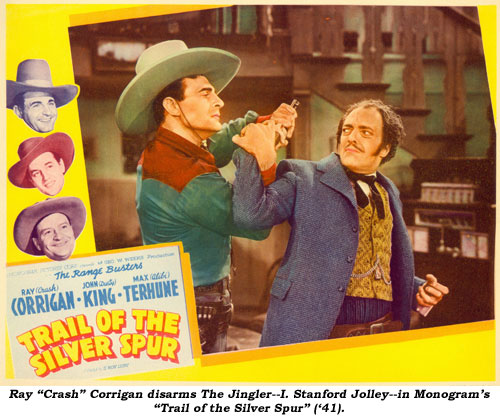 Isaac (after his grandfather) Stanford Jolley was born October 24, 1900, in Elizabeth, New Jersey. His father, Robert B. Jolley, was a New Jersey native who was the owner of a circus and carnival, hence, much of Jolley's formative years were spent on tour as a kid clown with the family enterprise up and down the east coast. His mother, Minnie Smith, was also a Jersey native. As the years went by, Jolley's father became an electrical contractor in New Jersey. Jolley went to school in Morristown.
Jolley's career started around 1916-1917 in vaudeville, achieving the dream of every vaudeville performer by playing the Palace Theatre in New York with Vera Gordon. Jolley played a blind juvenile in a sketch called "America". Later he was successful on the Broadway stage in "Sweet Seventeen" in 1924, then on to radio where he was one of the voices for Cecil B. DeMille's "Lux Presents Hollywood". That opened the way for a film career starting in '35 with an unbilled role in "Front Page Woman".
Slowly, Jolley's status as an actor rose over the next five years until he found his niche as a usually well-dressed boss heavy in Westerns with 1940's "Trail of the Silver Spurs". Fellow badman Pierce Lyden said, "He was one of everybody's favorites! Always turning in a good performance. Stan was always quietly promoting himself, knew everyone in the business, and with his big home, was able to entertain. Of course, this never hurt you with the stars, producers and directors. He wasn't the physical stuntman of most badmen, but one of the better actors."
As for Jolley's approach to acting, "I don't try to act. I just try to play the individual and all this comes out in the performance. You get the part, study the part, absorb it, you walk in front of the camera and you've got it."
Jolley was married in about 1920 to Emily Mae Hacker. They had two children, Stan (1926-2012), who became a successful motion picture art designer and production designer, and Sandra, a one-time Earl Carroll showgirl, who was at one time married to actors Forrest Tucker and later Jack Carson. Son Stan has an Academy Award nomination for "Witness" ('86) to his credit.
Jolley's last film was an episode of TV's "The Quest" in 1976. He had also done several Purina Pet Food commercials.
On December 6, 1978, at 78, Jolley died of congestive heart failure due to arteriosclerosis while a patient at the Motion Picture and TV Hospital in Woodland Hills, California. His widow lived to be 102, spending the last 12 years of her life at the Motion Picture Home. She died October 18, 2003, and was buried next to her husband on a steep slope at Forest Lawn Cemetery, Hollywood Hills. Stan's marker reads, "A gentle man and as Jolley by nature as he was by name—loved by all, especially his family."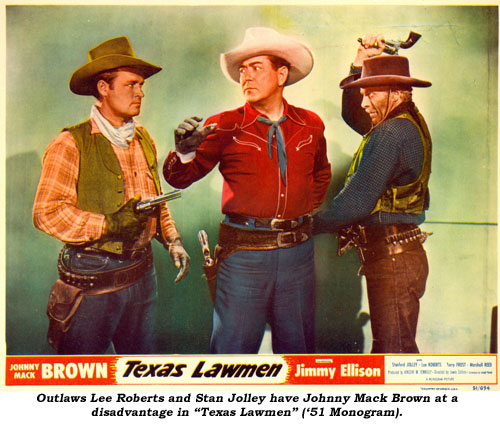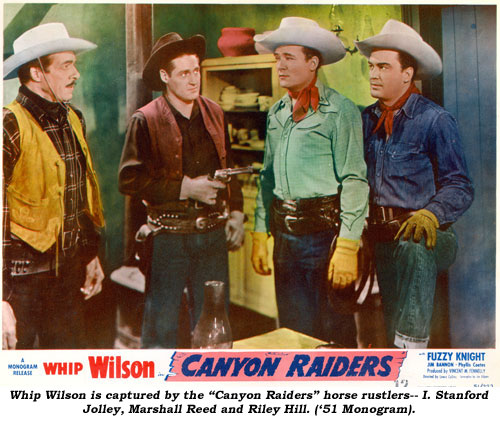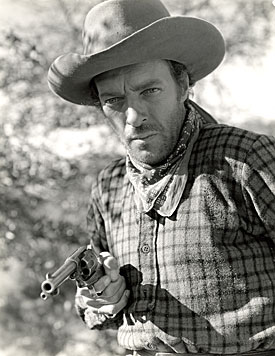 Stan Jolley could play the dress heavy or the dog heavy with equal evilness.