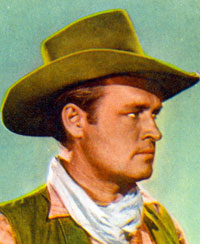 LEE ROBERTS
At last the mystery surrounding Western badman Lee Roberts' birth and death has been solved. He was born Robert R. Allen June 17, 1913, in Ohio. His mother's maiden name was Simpkinson. His father is not listed in the California death records. After completing only two years of high school, it's not known what he did during his early years but he came to movies in The Trail Blazers' "Blazing Guns" in 1943. He was also in their "Death Valley Rangers" and "Outlaw Trail" as well as a bit in Republic's "Masked Marvel" serial before enlistment in the Army on February 14, 1945, at San Pedro, CA.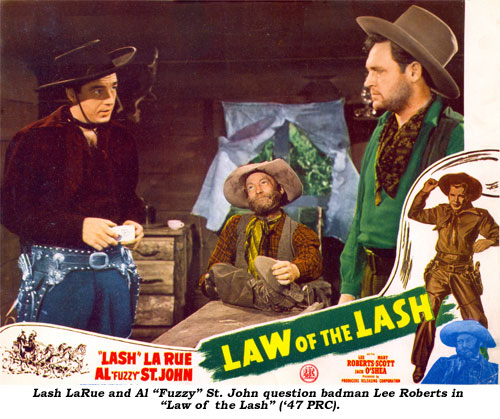 His enlistment records indicate he was married at the time. Discharged by '46, he was back in westerns with Universal's "Scarlet Horseman" serial and several Eddie Dean Bs.
Usually he was one of the gang out to rustle, steal or swindle, but on occasion he moved up to second lead with Whip Wilson ("Stage To Blue River" '51 Monogram, "Riders of the Dusk" '49 Monogram), Eddie Dean ("Stars Over Texas" '46 PRC), Johnny Mack Brown ("Canyon Ambush" '52 Monogram) and Sunset Carson ("Battling Marshal" '50 Yucca).
Lee's one chance at stardom came late in the game when Sam Katzman selected him as Tom Bridger, the lead for his "Blazing the Overland Trail" '56 Columbia serial, dressing Roberts to match stock footage of Buck Jones from earlier Columbia serials, "White Eagle" in particular. It was the last serial ever made. Incidentally, Lee was a henchman in Republic's last serial, "King of the Carnival" in '55.
"He was a good 'hand,'" badman Pierce Lyden wrote in his MOVIE BADMEN I RODE WITH book. "I always thought he would get a break and move up. Lee was quiet, steady and a real nice guy. When Katzman gave him a chance (to star) in the serial 'Blazing the Overland Trail' he looked great and it could have led to something big. It didn't."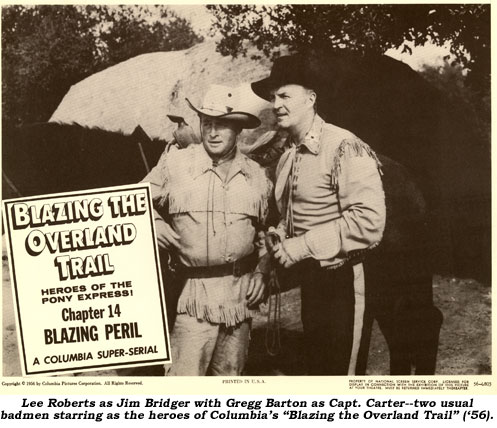 Roberts was in 14 serials, with good roles also in "Pirates of the High Seas" ('50), "Great Adventures of Capt. Kidd" ('53), "Lost Planet" ('53) and "Adventures of Captain Africa" ('55). Roles in film and on TV were minimal after the serial and by '61 Roberts had disappeared. He was last seen on a few episodes of ZIV TV's syndicated "McKenzie's Raiders", a "Laramie" in 1960—"Hour After Dawn" and as a bus driver in a '61 episode of "Route 66".
Stuntlady/actress Evelyn Finley met Roberts while working (under the name Eve Anderson) in Katzman's "Perils of the Wilderness" Columbia serial in '56. They were soon married but it ended quickly when Finley discovered, as she told Boyd Magers, "Lee was a closet drinker. Literally. He had his bottles in the closet. I never knew til a short while after we were married." Evelyn, a devout Christian Scientist, could not live with Roberts' drinking and they were divorced. Evelyn went on to say, "I have to say he had more talent and ability than anyone I ever knew. He could have gone far as an actor—if only someone would have 'pushed' him. He wouldn't 'push' himself, and I could only encourage him. I can't really put my finger on the real reason Lee wasn't successful in motion pictures—unless he just didn't care for acting. He was, without a doubt, the finest, most clean-minded man, a gentleman at all times. I still truly admired him—though we had our differences. One day he left! We have never heard from him since. He seems to have disappeared. I treasure the good times we had together, and I wish him the best of everything."
Shortly before Evelyn died on April 7, 1989, she tried to locate Roberts having heard rumors of his living on L.A.'s skid row or possibly having become an insurance salesman. Alas, her search ended in a cold trail. We now know Roberts lived in Stockton, CA, in 1972, was in Encino, CA, in 1983 and back to Stockton by 1988. He died at 75 April 24, 1989, oddly only 17 days after Evelyn's passing. He was living at 95207 Stockton, San Joaquin, CA. (Thanx for research to Bill Aynes and Evy Patrick.)