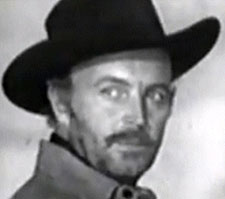 GREGG BARTON
"I've been knocked on my rear by every western star, including Annie Oakley. When the price is right, I'd let anyone knock me down." One of the busiest heavies of the late '40s on through the '50s, particularly on the TV screen, was stubbly bearded Gregg Barton—especially in Gene Autry's Columbia westerns and TV series.
Born Harold Wilsea Barker June 5, 1912, on Long Island City, New York, during the time the Infantile Paralysis epidemic swept through the city, Hal's father was George Wilsea Barker born in Kent, England, and his mother was Mae Malcolm, born in New York of Scottish heritage. Hal's father, an electrical engineer, died at 33 when Hal was only 3. As his father was a Mason, Hal (age 3) and his older brother, age 4, were accepted into the Masonic Home and sent to their Home for Boys in Burlington, New Jersey, where Hal grew up. His younger brother did not go as he was only one year old. Interestingly, prior to that, when Hal was younger, the children's babysitter was a teenaged Ethel Merman.
Finishing high school, Hal attended the University of North Carolina at Chapel Hill on a football scholarship. Hal went to work as a sales rep for a textile company but soon tired of this and headed west for greener pastures in California where he worked at odd jobs until he stumbled into the acting profession during a party at a friend's house circa 1939.
MGM tested him and put him through their school, although nothing transpired. Hal studied at Bliss-Hayden Theatre and did little theatre work. He acquired an agent and switched his name to Gregg Barton to avoid confusion with Lex Barker or Jess Barker.
He was just getting started with a bit in "A Yank At Eton" ('42 MGM) and a decent role in John Wayne's "Flying Tigers" ('42 Republic) when he enlisted in the Marine Corps the day after the attack on Pearl Harbor. During WWII Gregg served as a tank commander with the 5th Tank Battalion, 5th Marine Division in the Pacific, taking part in the invasion of Iwo Jima. For his heroism in that battle he received the Silver Star. Reminded of this in later years, Gregg remarked, "They're all heroes, all of them." During his service period, '41-'46, he achieved the rank of Major.
Back in Hollywood, Gregg was hired to play the lead heavy in Eddie Dean's "West To Glory" ('47) which started him on his villainous career. Besides roles in A films such as "Joan Of Arc" ('48), "Tap Roots" ('48), "Jet Pilot" ('50) and others, Gregg menaced B-cowboys Charles Starrett, Rex Allen, Whip Wilson, Johnny Mack Brown, Bill Elliott, Wayne Morris and, of course, Gene Autry (11 features, 24 TVers), in the waning days of the B-western.
Gregg found work too in A-westerns—"The Outriders" ('50 MGM), "The Gunfighter" ('50 20th Century Fox), "Distant Drums" ('51 Warner Bros.), "Bend of the River" ('52 Universal), "Drums Across the River" ('54 Universal), "Man From Laramie" ('55 Columbia), "Raw Edge" ('56 Universal), "Joe Dakota" ('57 Universal), "Gunfight At Dodge City" ('59 United Artists), among others. Gregg's also in four of the latter-day serials, "Gunfighters of the Northwest" ('54 Columbia), "Riding With Buffalo Bill" ('54 Columbia), "Man With the Steel Whip" ('54 Republic) and "Blazing the Overland Trail" ('56 Columbia).
But it was on the '50s-'60s TV screen where Gregg amassed well over 120 credits. Besides those 24 Autrys, Gregg rode the outlaw trail on "Lone Ranger", "Wild Bill Hickok", "Roy Rogers", "Range Rider", "Annie Oakley", "Tales of the Texas Rangers", "My Friend Flicka", "Wyatt Earp", "Sgt. Preston", "Zane Grey Theatre", "26 Men", "Kit Carson", "Buffalo Bill Jr.", "Colt .45", "Cisco Kid", "Casey Jones", "Champion", "Death Valley Days", "Deputy", "Hopalong Cassidy", "Laramie", "Maverick" and others.
Working on so many Autry productions, Gregg became close friends with Armand "Mandy" Schaefer of whom he said, "Mandy steered me very nicely, advised me what not to do and I'll be forever indebted to him for his clear-sightedness."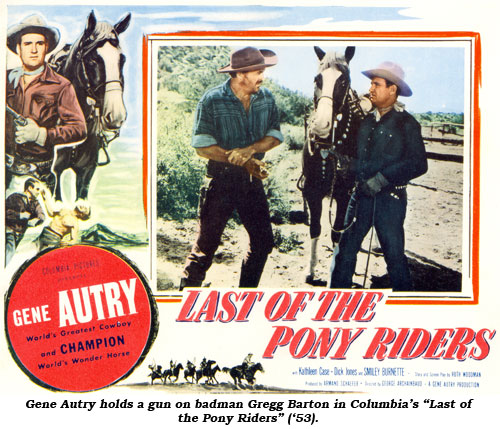 For over 10 years, in between his TV and movie work, Gregg managed a 1,600 acre cattle ranch at Bonsail, California. Retiring from films (his last was an episode of "Death Valley Days" in '66), Gregg worked for Safeco Title Insurance for 22 years where he became top sales rep in Southern California.
Gregg was married in the late '40s, for about 14 years, to a lady named Helen Norris. After a long stretch as a bachelor, Gregg and Bonita Cooper were wed in 1983 until the time of his death at 88 on November 28, 2000, in the Fallbrook, California, convalescent center. His health had been failing since he had knee surgery earlier in the month. He is buried at Fort Rosecrans in San Diego, CA.
Richard ("Sgt. Preston") Simmons recalled, "Gregg was a good man. Ironically, he played just the opposite characters in pictures. Perhaps his reason being most 'heavy' parts had more to do, and for the most were better parts. He was truly a good actor. He was so well liked by all that knew him. I clearly recall one night. We were at a party. In the course of the evening a rather elderly lady came to me and said in no uncertain terms, 'Mr. Simmons, I've seen you in several shows along with my dear friend Gregg Barton. And I'm sick and tired of seeing you try to beat the tar out of him. He's a very nice young man and deserves much better. Please pick on someone else.' That says it all. The people who knew Gregg knew him for what he really was. A very nice, honest, good person. To this lady he was everything a gentleman should be. Gregg was such a fine actor he could portray quite the opposite very convincingly."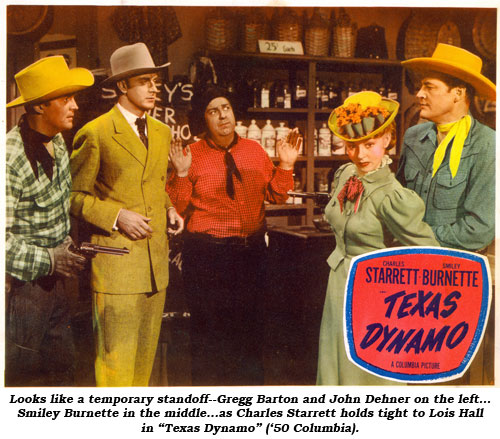 Dick Jones: "What a great guy he was, how much fun he was to work with. We had a lot of fun doing 'Range Rider' and 'Buffalo Bill Jr.' He was a good fight routine man. We had a lot of fun tearing the sets apart. He did all of his own fights. He was dependable. He didn't phony it up by looking back to where he was gonna go and staggering to it…getting down on one knee and then the next knee when he took a fall. He did it like a true athlete. He worked it out. When he was gonna go back over a table, he knew where the table was and he went over it just like you would actually do it. One time we were doing a fight routine in Judge Ben 'Fair and Square' Wiley's general store. They had all these beautiful props…barber chair, counter, back shelves full of goodies. So we routined a fight to go completely around the room, into the barber chair, over the chair, into the counter, over the counter, up on the shelves and pull the whole thing down. I reached over to grab him by the shirt, to do a body throw, but when I let go on the body throw I heard this blood curdling scream. I had reached through his shirt and grabbed hold of his chest hairs. He said, 'You scalped me!' All this talk was going, but with my back to the camera they didn't pick it up and kept on going. Besides all that, he was a good actor. His physique allowed him to play a stripped to the waist blacksmith or he could let his beard grow, put a dirty old slouch hat on and be the toughest villain there ever was. And he was handy on a horse. He looked good on a horse. I really liked him."
Walter Reed: "He was a hard working man who worked an awful lot. He was a very dear friend—and a friend to a lot of people. He was a wonderful husband to Bonita, he was very, very good to her. The first picture I ever did with him was 'Tripoli'. I loved him."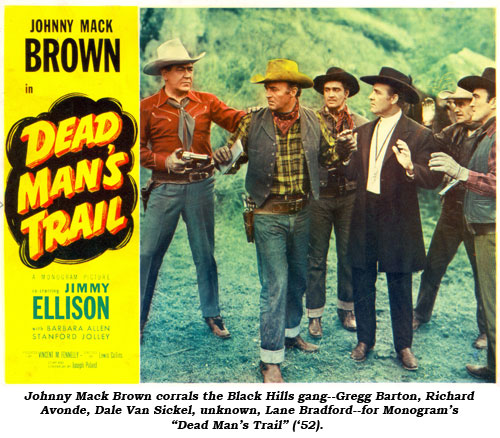 Rand Brooks: "Most all of our western friends were on the very, very gentlemanly, fun side but Gregg was a notch above."
Stuntman Jack Williams: "Gregg and I were up in Canada on 'The Far Country' with Anthony Mann directing. Jimmy Stewart, Walter Brennan—a bunch up there. At the end of the picture they were trying to save a little money. They had used three railroad cars taking stuff to location, but now they tried to condense it into one. I had bought some maple syrup. There's nothing better than Canadian maple syrup. Now, Gregg was perhaps the nattiest dresser that ever lived in the picture business. He was immaculate. Gregg was wearing doeskin pants that cost $100 a pair when actors were making $35 a day. (Laughs) Cut to the studio—they're unloading all this stuff. Incidentally, when it was loaded in Canada, they were just throwing it in. It looked like everybody was on some of that Canadian whiskey…just tossing it in this boxcar. Got back—and Gregg's clothes looked like they'd been dipped in my syrup! (Laughs) Gregg was upset and so was I, 'cause it was my syrup! One of the greatest guys that was ever in the business."
Donna Martell: "He was one of the nicest gentlemen—and a gentle man—that I met in the business. Just so quiet, refined. A serious actor. He took his work seriously. He wasn't the kind who horsed around or made jokes, he was just a really nice guy. A sweet person."
John Hart: "The guy was a Marine officer. That's pretty hard to do. He was certainly a competent actor. I admired him as an actor and war veteran."
Myron Healey: "We worked together a lot. I was doing the lead heavy and he was doing the dog heavy. He was a very nice guy that I admired greatly. Back in the days of Flying A and Monogram, he mentioned he and his wife were moving onto a ranch down in Fallbrook. They were gonna raise strawberries. I said, 'That happens to be my favorite food. We're working together a lot, next time you're scheduled to work with old Dad, bring me a basket of berries.' For years after that, every few months we'd get a job together and I'd look at him and say, 'Well…?' and he'd say, 'Oh God, No strawberries.' This went on for years and years and years. It got to a point where I'd really be disappointed if he ever brought me any strawberries. (Laughs) At the Golden Boot awards, I didn't have to ask him. When we went backstage, just before we came on, he looked at me and smiled, 'No berries.' (Laughs)"