DENVER PYLE
Denver Pyle started out as a Western badman in the B's of "Rocky" Lane, Gene Autry, Tim Holt and others in the late '40s, then easily slipped into the rapidly expanding band of juvenile oriented TV Westerns, appearing more than frequently on "Roy Rogers", "Gene Autry", "Range Rider", "Kit Carson", "Annie Oakley" and others. Prematurely gray (a family trait), he became a familiar player on "Gunsmoke", "Bonanza", "Have Gun Will Travel", "Zane Grey Theatre" and dozens more, still playing occasional badmen, but slowly slipping into more character oriented roles.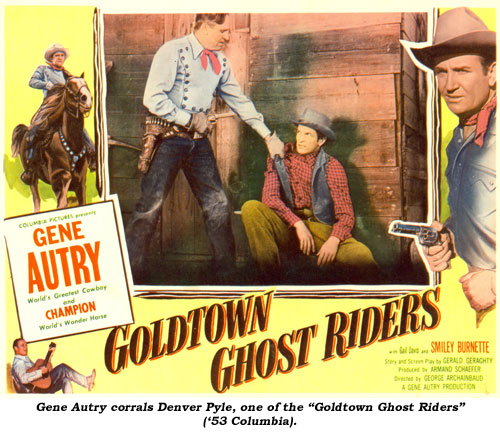 Pyle's more important movie and TV roles came late in his career. One of his most memorable film roles was in "Bonnie and Clyde" ('67) as Sheriff Frank Hamer, the handcuffed hostage of the outlaw duo who spits in Faye Dunaway's face after she coyly poses with him for the camera.
For TV he was Grandpa to "Tammy" ('65-'66), Doris Day's ranch owner father on "The Doris Day Show" ('68-'70), a regular on the brief run of "Karen" ('75), mountain man Mad Jack on "Grizzly Adams" ('77-'78), and finally, a role he will always be associated with, love it or not, Uncle Jesse
Duke to the good-ol'-boy "Dukes of Hazzard" from '79-'85.
The crotchety hillbilly/mountain man with a full beard types he played on the latter two series fit him well, and he brought that presence to many other films ("Escape To Witch Mountain", "Winterhawk", "Adventures of Frontier Fremont", "Wind In the Wire" etc.) and TV series.
Named after the capital of the state where he was born, Denver Dell Pyle was born in the little Colorado town of Bethune on May 11, 1920. His parents, married in Smith Center, Kansas, struck out on horseback to stake out a homestead where his Dad built a sod house. He and his older brother Willie (later a noted Disney animator) and older sister Skippy grew up on that farm. Denver attended school through the eighth grade in Bethune at which time the three children moved to Boulder, Colorado, and found jobs there. His sister started in college there, Willie in high school and Denver in junior high. Eventually their mother joined them and opened up a boarding house. Denver later went to the University of Colorado for two years until wanderlust consumed him and he, in his words, "Went on the bum."
By now, his brother was working for Disney and his sister was at Benton and Bowles Advertising Agency in Hollywood. After working in the oil fields of Oklahoma and Texas for a couple of years, he decided to visit his siblings in California where he ended up getting a job as a page boy at NBC during the daytime while he worked at Lockheed as a riveter at night when WWII started. Through the Merchant Marines he was able to enlist in the Navy. He was given a medical discharge in 1942 after receiving wounds at Guadalcanal.
After the war Denver was working in the defense system and was married to a lady named Marilee. (They divorced in 1966, but had two sons.)
Through a friend, actor Sidney Gordon, Denver was coaxed into auditioning for a play. He began to study acting and was overjoyed when noted actress and coach Maria Ouspenskaya requested him personally to study with her. To pay his tuition he built sets and helped around the American Rep Theatre. Through a play, Michael Chekhov asked Denver to join a group he was coaching (Marc Lawrence, John Dehner, Akim Tamiroff, Bill Phipps, others). In six years of intensive study Denver overcame his wanderlust and found his calling. Over this time he did plays at the Glendale Center Theatre, The Actor's Lab and other little theatres while he earned his keep waiting on tables and selling hearing aids.
Six years of hard work paid off when he was cast for a bit role in "The Guilt of Janet Ames" in '47. Other roles quickly followed including a choice part as an informant in Glenn Ford's "Man From Colorado" ('48 Columbia). On this film Denver met Edgar Buchanan who became a life long friend and who, Denver admits, "I emulated and stole liberally from."
It took Denver til about 1955 when he was outlaw Ben Thompson on "Wyatt Earp" to get established as a full time actor.
Over the years Pyle received many honors…John Wayne (with whom he worked frequently) became impressed with his photography and designated Pyle as the official set photographer for "The Alamo". Cumberland College in the Appalachians honored him for his continuous contributions to their scholarship fund. He received a Golden Boot Award in '84 and a star on the Hollywood Walk of Fame just two weeks before his death at 77 in Burbank from lung cancer on December 25, 1997.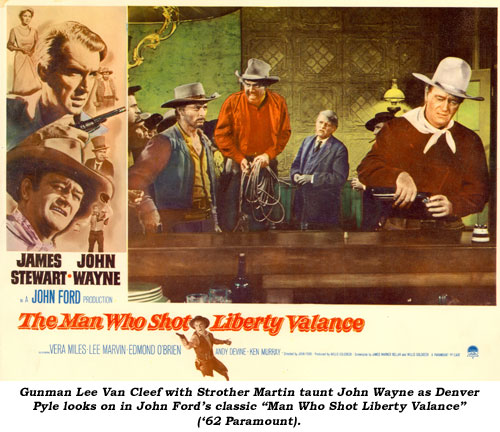 Denver's longtime friend and co-star on "Dukes of Hazzard", James Best, told us, "Denver was one of the building stones of the real old Hollywood. He was a superb talent. He made his living during the time when talent really meant something. He wasn't just a personality. Denver was certainly an icon among the character actors in Hollywood."
Character player Walter Reed said, "He was a dear old friend of mine. I knew him when he wasn't doing too well financially. He sold me a car one time for 50 bucks, and said, 'Give me $10 at a time'—cause he was that busted. (Laughs) He was one fine, fine actor…a hell of a good character man, and he could do Shakespeare too. When Gabby Hayes died, Denver said, 'Hell, I'm gonna grow a beard.' He reinvented himself about five times."
Veteran heavy Gregg Barton said at learning of Denver's death, "What a wonderful, thorough professional…always ready, always competent. Just completely cooperative in any way you wanted to work with the man. He'll be missed by a lot of us old timers."