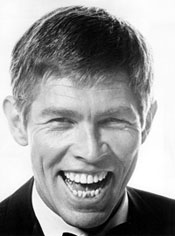 JAMES COBURN
The villainy of lean, gangly James Coburn proved so personable that his suave demeanor and tooth-filled crooked smile thrust him to major stardom.
Born August 31, 1928, in Laurel, Nebraska, his family moved to California in 1933 after his father's business in Nebraska was wiped out by the Depression. Following high school, he attended Compton Junior College in 1950 where a classmate recalled Coburn sang in the College glee club. After service as a radio operator during the Korean conflict, Coburn enrolled at Los Angeles City College where he majored in drama. He also studied with Stella Adler in New York City before making his first significant role in a live "Studio One" presentation in 1957.
Beginning in 1958 he was being seen on all the major TV westerns—"Wagon Train", "Rifleman", "Tales of Wells Fargo", "Bronco", "Cheyenne", "Restless Gun", "Bat Masterson", "Have Gun Will Travel", "Lawman" etc.—where his tall, lean, relaxed but tough screen persona kept him in constant demand. Director Budd Boetticher cast him in his first big screen western, Randolph Scott's "Ride Lonesome" in '59.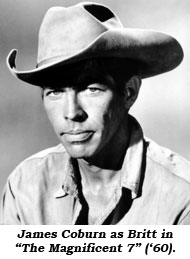 A chance meeting with friend Robert Vaughn tipped him that director John Sturges was casting "The Magnificent Seven". Coburn persuaded the director to cast him as Britt, the guy with the knives, in the western version of Kurosawa's "Seven Samurai". From that star-maker role, director Sam Peckinpah hired Coburn for "Major Dundee" ('65) and "Pat Garrett and Billy the Kid" ('73). At the same time, James Bondish spy spoofs "Our Man Flint" ('66) and "In Like Flint" ('67) further elevated his star.
Coburn continued to appear on episodic TV through 1964, including a regular stint as gambler Jeff Durain on NBC's "Klondike" ('60-'61) with co-star Ralph Taeger.
At 60, in 1978, in the middle of an illustrious career, he was stricken with severe rheumatoid arthritis which at times left him completely debilitated. After growing increasingly frustrated with "doctors who didn't know much about it," Coburn found his own relief in dietary supplements. His good friend, R. G. Armstrong, told us, "When he got sick with rheumatoid arthritis was when I got to know him. I had learned from a lady a message technique about the whole blood flow in the body. I did it with my hands, so I worked on Jim for three months and got him up and moving out of his chair, feeling good and normal. He really came back. He was a wonderful personality. He did a great villain because he had that aplomb, that suavity and style. He carried his great style through to the end."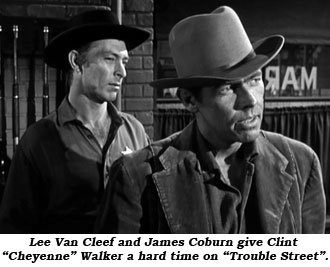 Jan Merlin remembers, "When James Coburn first showed up in Hollywood, I owned a little house in Laurel Canyon he rented from me. It once had been previously lived in by Robert Mitchum, and the site of some media interest. Being already a well known actor at the time, I was quite sure Coburn would become a star, and told him so. He grinned and hoped he would be. He was a gentle man…a fine character actor…and I was delighted to see his career leap into what he dreamt of it becoming. I'll always remember his engaging smile."
Don "Johnny Ringo" Durant says, "I will never forget working with James Coburn in 'The Arrival' episode of 'Johnny Ringo'. Not only was he a good actor, he was a gentleman in every way. The characters we have often seen him portray as a heavy or bad guy are exactly opposite of the very man he was. James was always very considerate and courteous with his fellow actors. I remember vividly rehearsing our lines together and the professionalism he showed in making suggestions on any dialogue changes or additions. Also, in blocking out a scene he was always conscious in not 'upstaging' you."
After 10 years of suffering, Coburn began to shun doctors and drugs to find his own relief from his crippling arthritis through a series of alternative treatments, including electromagnetic therapy and heavy dosage of MSM. Coburn's health rebounded to where he won the Best Supporting Actor award for "Affliction" in '99.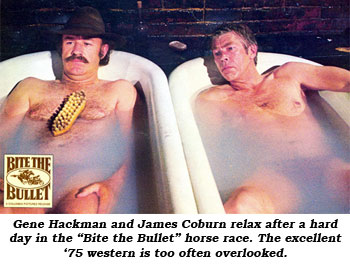 Coburn was first married to Beverly Kelly from 1959-1979 when they were divorced. They had one son, James, born in 1961. Another daughter, Lisa, was born in 1957. He married Paula Murad in 1993.
Coburn, 74, died of a heart attack in his wife Paula's arms at his Beverly Hills home on November 18, 2002.