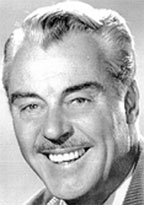 TRIS COFFIN
Suave and dapper, Tristram Coffin was one of the best dressed and handsomest heavies to work in westerns. In a Hollywood career spanning over 30 years, Coffin's work ran the gamut of all film genres—he even got to be the hero in Republic's "King of the Rocketmen" serial and TV's "26 Men" ('57-'59) which co-starred Kelo Henderson who remembers Tris as "an accomplished veteran actor who knew his theatrical trade and portrayed his role as Ranger Captain with authority. He was pleasant to the various casts he had to work with and to the crew members. Also to the fans who came out to watch the series being filmed."
Tristram Chalkley Coffin was born in the silver mining town of Mammoth, UT, August 13, 1909. His father, Edwin Coffin, was from Iowa and his mother, Elizabeth Christie, was a Utah native. Tris' father was superintendent of Mammoth Mines, one of the largest silver mines in the world. Tris grew up and received his education in the Salt Lake City, UT, schools where he started acting in school plays.
Following high school, Tris became a member of a touring stock company. He first attended the University of Utah, studying medicine, gave that up to attend, and graduate from, the University of Washington with a major in speech which led to employment as chief staff announcer on WAB and WAC radio in Boston, MA. While there, a Hollywood scout heard him and that, coupled with his good looks, caused the scout to urge Coffin towards Hollywood. Fittingly, Tris' first film, "The Saint Strikes Back" ('39), saw him playing a radio newscaster.
From the beginning, Coffin worked in Monogram westerns opposite Jack Randall, Tex Ritter, Range Busters and Rough Riders. By the early '40s he was working at Columbia and Republic menacing Bill Elliott/Tex Ritter, Gene Autry, Roy Rogers and Russell Hayden.
Tris served in the Navy from late '42 to early '46 or late '45, although he somehow managed to still work in a few films all those years, except '45.
Post WWII saw Tris in 10-13 films per year from '46-'51, mostly westerns although he squeezed in a few with Charlie Chan, Jungle Jim and the Bowery Boys…even several major films such as "The Fountainhead" ('49), "Flamingo Road" ('49), "Voice Of the Turtle" ('47) and "The Fat Man" ('51). But we enjoyed it most when he was giving trouble to Johnny Mack Brown, Sunset Carson, Gene Autry, Roy Rogers, Monte Hale, Allan "Rocky" Lane, Charles Starrett, Jimmy Wakely, Whip Wilson, Rex Allen and others.
Tris told Tom and Jim Goldrup (FEATURE PLAYERS VOL. I), "A lot of my (over 300 movie and TV) films I can't remember the titles or having ever worked in them. You made so many, it was almost like being on a roller-skate going from one studio to another. On a couple of occasions I was working in two pictures on the same lot at the same time."
Tris' serial work was prolific as well, with at least 14 credits from "Dick Tracy's G-Men" ('39) to his starring role in "King of the Rocketmen" ('49). He's also in "Holt of the Secret Service" ('41), "Perils of Nyoka" ('42), "Jesse James Rides Again" and "Pirates of the High Seas" ('50) among others.
With the advent of TV, Tris cut his film workload back to only a few a year, concentrating on the multitude of half-hour TV westerns now on the air—"Lone Ranger", "Cisco Kid", "Kit Carson", "Cowboy G-Men", "Wild Bill Hickok", "Judge Roy Bean", "Death Valley Days", "Wyatt Earp" and others. Then came his starring role as Capt. Tom Rynning on "26 Men". He also co-starred on the syndicated "Files of Jeffrey Jones" ('54) w/Don Haggerty and Gloria Henry.
Tris continued to work on TV and in films, mostly character parts, until 1971. His last credited role is in Disney's "Barefoot Executive". Tris was married to Vera Duke. They last resided at 2314 Pier Ave., Santa Monica, CA.
At 80, Tris died of cardiac arrest and lung cancer March 26, 1990, at St. John's Medical Center in Santa Monica. His remains were cremated and scattered at sea off the coast of Long Beach.
Describing how he became cast as a badman, Tris said, "I asked for it. I pleaded for it, and fought for it. I was doing leading man and romance roles but I loved westerns. I talked to Scotty Dunlap, who was producing westerns at Monogram, and asked him if I could do some heavies. He said, 'Tris, you're too dignified. You're strictly a leading man and romance type. You can't work in westerns as a heavy.' I said, 'Scotty, have you ever gone to a state penitentiary and looked at some of the inmates? There are lawyers, doctors, and motion picture producers; they're not all mugs.' So he said, 'Well, maybe you've got a point. I've got a script with a heavy that can be played smooth.' So he gave me the part and that was my start playing heavies and I've always loved doing them. I've played many villains and have been so mean that in one picture they even tried to give me to the Indians and they wouldn't take me."