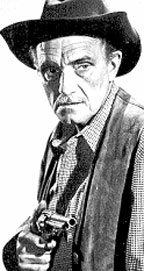 MORRIS ANKRUM
Morris Ankrum distinguished himself as an actor and established himself as a nasty heavy in a terrific string of six-in-a-row Hopalong Cassidy westerns in '36-'37 and seven more (again 6 in a row) in '40-'41.
Born Morris Nussbaum August 27, 1896, in Danville, IL, he prepared to be a lawyer (no wonder he could essay such evil portrayals) and graduated with a law degree from USC.
He first became interested in acting while an associate professor of economics at the University of California at Berkeley, founding a Little Theatre there. Becoming a teacher and director at the Pasadena Playhouse in 1930, he encouraged many young actors, including Gloria Stuart, who credits him for helping her screen career evolve through a play in which he cast her. Ankrum also cast veteran B-western badman Pierce Lyden in his first production at the Playhouse—as Lord Chamberlain in Shakespeare's "Henry the Eighth".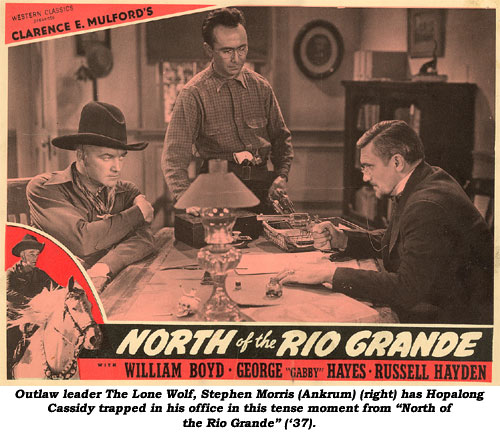 Although his first film role was a bit as a musician in MGM's "Reunion in Vienna" ('33), Morris was primarily doing stage work (including Broadway with Orson Welles) until his film debut as a psychotic gunman in "Hopalong Cassidy Returns" ('36). Already 40 years old, this Hoppy and the next five sent Ankrum (known as Stephen Morris through '37) on a life-long acting journey of close to 300 films and TVers until 1963, only a year before his untimely death.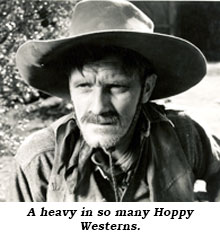 Pierce Lyden once described Morrie (as his friends called him) as "…studious but moody. He wasn't a cowboy…he was an actor…and a great guy." That moodiness came across on screen, he seldom looked "happy," but his strong, resonant, controlled, identifiable voice and serious manner served him well in westerns.
Francis "Mike" Nevins, in his FILMS OF HOPALONG CASSIDY book, described Ankrum's dual role as derelict, half-wit Loco and the cunning Fox in "Borderland" ('37) as "the most stunning enactment of a villain in any of the 66 pictures (in the Hopalong Cassidy) series."
Obviously, producer Harry Sherman agreed, using Morris for an unprecedented six Hoppy films in a row (5 of them as a badman). Sherman may then have felt Ankrum was being over-used and retired him from the Hoppys until 1940 when he brought him back for 7 more (five of them as heavies). Meantime, Sherman utilized Ankrum in his larger scale Zane Grey and Richard Dix westerns.
Ankrum continued to appear in B-westerns opposite Tim Holt, Dick Foran and others while expanding his repertoire to A-films such as "I Wake Up Screaming", "Time To Kill", "Sea of Grass", "Adventure", "Thin Man Goes Home" and many others at MGM to whom he was under contract from mid '42 to '47.
By now, Ankrum could play tweedy country-club types, seedy villains, professional men, ranchers, and was ideal as low-key patriotic father figures especially in sci-fi films of the '50s where he became a fixture as military officers, mayors, scientists, police captains and judges.
Freelancing from the late '40s, often sporting a gray mustache, Ankrum became a dependable character actor with a handsome, distinguished, weathered countenance. The western roles began to return—"Colorado Territory", "Short Grass", "Along the Great Divide", "Fort Osage", "Man Behind the Gun", "Cattle Queen of Montana", "Silver Lode", "Taza, Son of Cochise", "Two Guns and a Badge", "Vera Cruz", "Naked Gun", "Badman's Country", "Saga of Hemp Brown". He now played not only heavies but ranchers, fathers, sheriffs, mayors—even Indian chiefs.
His presence was felt on TV as well—"Rin Tin Tin", "Wyatt Earp", "Cheyenne", "Sugarfoot", "Tombstone Territory", "Have Gun Will Travel", "Rawhide", "Gunsmoke" and dozens more.
His last film was "X—The Man With the X-Ray Eyes" in '63, the year before he died of trichinosis at 68 on September 2, 1964. Morrie's widow, whom he'd met at Pasadena Playhouse, Joan Wheeler (an actress for about a year in '34) succumbed at 88 on December 20, 2001.