ERNIE ADAMS
Weasely little Ernie Adams was one of the more talented B-western performers. Proof of this is found by viewing his various roles in large budget films. But it's his badmen parts in B-Westerns for which he's best remembered. Not only did he become type-cast as a badman, he specialized in whimpering fink "stool pigeon" roles. Whenever a cowboy hero threatened to beat up Ernie, you always knew he would "spill the beans". A prime example of this can be seen in "Bar-Z Badmen" with Johnny Mack Brown.
Occasionally Ernie would step out of character and portray a nice guy, or perhaps even have a meaty role. Two examples are his portrayal of the Phantom's ally Rusty Denton in Columbia's "Phantom" serial ('43) which starred Tom Tyler, and as legendary baseball manager Miller Huggins in "The Pride of the Yankees" ('42) with Gary Cooper as baseball legend Lou Gehrig.
He was one of the stable of players at Nat Levine's Mascot serial factory, appearing in "Miracle Rider" ('35) with Tom Mix, "Hurricane Express" ('32) and "Shadow of the Eagle" ('32), both with John Wayne, "Galloping Ghost" ('31) with Red Grange, "Law of the Wild" ('34) with Bob Custer, and others. In all, Adams appeared in 32 serials (including one silent—"Melting Millions" for Pathé in '27), splitting his time almost equally between Mascot, Universal and Republic. Often his role was worked in for a specific reason, as when the script called for a "squealer". Other prominent serial roles for Ernie were in "Jungle Raiders" ('45 Columbia), "Hop Harrigan" ('46 Columbia) and "Son of Zorro" ('47 Republic). His last, in "Black Widow" (Republic), was completed in '47 just prior to his death.
Ernest S. Adams was born in San Francisco, California, June 18, 1885, the son of Leon D. Adams, a San Francisco native, and Laurence G. Girard of Paris, France.
Ernie was married to Berdonna Gilbert. The couple spent the early years of their entertainment careers as the vaudeville team of Adams and Gilbert. According to reports, at that time Ernie was quite a song and dance man.
Adams came to the film business in 1919 with a role (appropriately) as Shorty in "A Regular Girl". This film was made back East and Ernie didn't arrive in Hollywood until 1924. His first film "out west" was "Hutch of the U.S.A.", a Charles Hutchinson action film. His first Western came a year later in support of Dick Hatton in "My Pal" for Arrow. Ernie actually only made about six westerns in the silent era where he was usually cast as a convict, ex-con, valet, pitchman of some sort—or low-rent gangster.
As sound came his western roles began to increase. He was a saloon singer/henchman in Gary Cooper's classic "The Virginian" in 1929. By 1936 he was in westerns almost exclusively until about 1939 when he began to obtain roles in A films as well ("Young Tom Edison", "Sea Wolf", "Jack London", "Merry Monahans", "Murder My Sweet", "Blue Dahlia", "Buck Privates Come Home", etc.). Not that Ernie ever stopped making westerns—his last film was "Return of the Bad Men", released after his death.
Besides his outlaw and fink-squealer roles, there were a couple of departures into sidekick parts. He's one of Tom Keene's fun-loving singing/roving buckaroos in "Beyond the Rockies" ('32 RKO), rode with Bob Steele in "Colorado Kid" ('37 Republic) and partnered up with Jack Randall in "Riders From Nowhere" ('40 Monogram).
From '30-'47, 17 years, Ernie worked in over 350 films!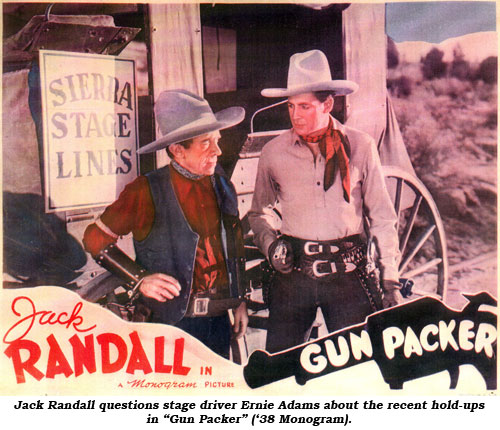 Badman Pierce Lyden remembered Ernie as "always jumpin' around. He was like a kid that gets into everything. Asking to do something, suggesting things to the director. He was a volunteer and he loved the business. The people in charge loved him and kept him busy. He was great to have around."
Adams lived at 1830 N. Cherokee Ave. in L.A. with Berdonna and their daughter Robin until his death at 62 on November 26, 1947. He spent a week at West Olympic Sanitarium in L.A. before dying of pulmonary disease. His wife, 58 at the time, died February 12, 1961. Adams is at rest at Valhalla Cemetery in North Hollywood.