JOHN ANDERSON
Tall, lanky John Anderson was born on a farm October 20, 1922, near Clayton, Illinois, but grew up in the larger nearby city of Quincy. Observing traveling medicine shows as a child on the farm, John became interested in acting, becoming involved in high school plays. Following high school, John moved to St. Louis, Missouri, where he worked as a radio announcer. He soon was working as an actor on a Mississippi showboat, The Goldenrod, in what he termed "corny melodramas," for about six months in 1942.
After Coast Guard service during WWII, John returned to Quincy where he worked in radio, married, and took advantage of the G. I. Bill to study drama at the University of Iowa. During his last year he got a job in summer stock in Buffalo, New York. When the summer stock season closed, John joined the Cleveland Playhouse, one of only two resident companies in the country, the other being the Pasadena Playhouse. After one season, John decided to try his luck in New York in 1950 where he worked for six years in off Broadway shows, winter stock and live TV, finally landing a Broadway show, "Cat On a Hot Tin Roof" in '56. The show then toured the country, including five weeks in L.A.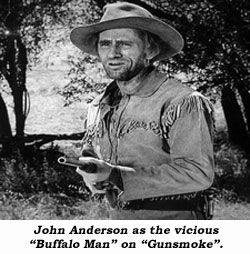 Picking up an agent, he was cast in a lead guest star role on an episode of "Gunsmoke". John remembered, "It's like an actor's dream. The show was a big hit and the role I was playing was a very showy villain with heavy make-up, just a crazy man ("Buffalo Man"). It really opened doors, I just ran from one show to another. I did the craziest, nuttiest guys in the world and I had a ball doing it." Anderson returned to appear on 10 other "Gunsmoke" episodes.
In the '50s John segued from "Gunsmoke" to "Trackdown", "Have Gun Will Travel", "Tales of Wells Fargo", "Rifleman", "Bonanza", "Wanted Dead Or Alive", "Johnny Ringo", "Big Valley", "Laramie", "Maverick", "Virginian", to all of the other TV westerns of the period. In all, John worked on over 500 TV shows. From '58-'61 John played the recurring role of brother Virgil Earp on Hugh O'Brian's "Life and Legend of Wyatt Earp".
By 1960, John began to obtain roles in major films such as Alfred Hitchcock's "Psycho" and Sam Peckinpah's "Ride the High Country".
He lost his wife of over 40 years, Patricia, in 1989. He was still working in 1992 when he died of a heart attack at his home in Sherman Oaks, California on August 7 at only 69. Having received a Western Heritage Award at the Cowboy Hall of Fame in '67, John summed up his career, "If I had it to do all over again, I would. I wouldn't change a thing."
His friend of 33 years, Marsha Hunt (herself a co-star in many late '30s Zane Grey westerns), told us, "We were so close…so comfortable together after I lost my husband and he lost his wife. He was a thorough professional…almost the ideal actor. He had a rich background in theatre. He'd done a great number of musicals—sang and danced…Broadway, off Broadway, a lot of regional professional theatre. He was the most working actor I've ever known. One never said 'Are you doing anything right now, John?' What you said was, 'What are you doing now, John?' He loved acting, he loved theatre, he loved the Screen Actors Guild; he worked on improvements of film actors' conditions. He really cared about the profession in a way not many performers do. He was a very bright, caring person. Johnny Crawford was almost like a son to him because he played in so many 'Rifleman' episodes. When Johnny was a little boy they really formed quite a bond of friendship. John was not a star…but he was in everything but fact."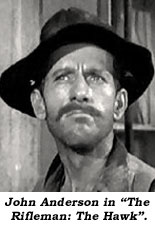 Johnny Crawford, Mark McCain, on "The Rifleman", said, "When I was shooting 'Rifleman' I enjoyed working with him, he seemed like a very serious actor and I always admired him. I thought he was so unique…very professional, prepared. He was an inspiration to work with. Then I didn't see him for many years, but a few years back I ran into him at a benefit. We struck up a conversation, had a great time and became pretty close. He started coming to performances of my music and was a real staunch supporter. He'd come to more performances than any friend I have. He was very conscientious and thoughtful about his work and his beliefs, very active in his support of people and things and political choices. He was a real artist."