MORT MILLS
Ex-Marine paratrooper Mort Mills made his screen debut in 1952 as a thug in the Bowery Boys' "No Holds Barred". Although Mills co-starred (with Rex Reason) as Marshal Frank Talman on TV's "Man Without A Gun" ('57-'59) and certainly simulated the part of other sheriffs, bartenders, reporters, etc., it is as a stern, sour-faced badman that we best remember him on over 150 TV shows and in nearly 50 films for almost 20 years from '52-'71.
Mortimer Michael Mills, whose true surname might have been Kaplan, as his father, Hyman Kaplan, was from Russia, was born in New York City January 11, 1919. His mother's name was Florence, state of birth unknown.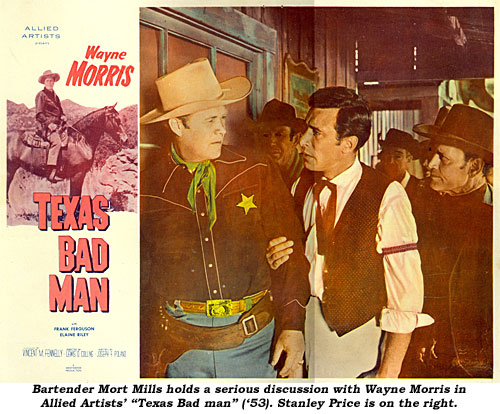 Following his Marine paratrooper career in WWII ('41-'45), Mills more than likely came to the screen via his cousin, comic actress Mary Treen who began in 1934. His abilities as a badman were quickly put to use, especially in the burgeoning TV medium where new faces were being sought. Moving from the half-hour juvenile Westerns to the more adult Westerns ("Lone Ranger", "Cisco Kid", "Hopalong Cassidy"), Mills was ever in demand. Following "Man Without a Gun", the "Perry Mason" series hired him for the recurring role of Lt. Ben Landau. He also had a recurring role as Sheriff Fred Madden on "Big Valley" in '65.
During his career, Mills managed some significant character roles in several classic films…he was a deputy in Marlon Brando's "Wild One" ('53), a soldier in Audie Murphy's "To Hell and Back" ('55), a reporter in Bogart's "The Harder They Fall" ('56), a highway patrolman in Hitchcock's "Psycho" ('60) and a farmer in another Hitchcock film, "Torn Curtain" ('66).
With the TV Western era ending, Mills dropped from public life after a small role in an "Alias Smith and Jones" episode ('71). Fellow screen badman Chris Alcaide recalls, "Mort wanted out of 'Man Without a Gun'. He felt he was doing a stupid job and wanted to do more important things. But from the moment he got out of the series, it never seemed to happen for him. The next time I ran into him he was selling nuts and bolts…wholesale manufacturing. A friend of Mort's was a manufacturer and Mort was an agent representing him going all over."
Mills suffered a heart attack at his home on Pierpont Blvd. in Ventura, California, while in bed and died June 6, 1993. Since he was allegedly smoking in bed, it was first reported he fell asleep with a lighted cigarette and died from "Thermal burns and inhalation of noxious products of combustion." Saner heads prevailed, and an amended death certificate was filed stating the cause of death to be a heart attack. His remains were cremated and deposited at sea offshore in the Santa Barbara Channel by the Neptune Society. Mills was widowed at the time of his death from a woman named Mary. There was at least one child, a son named Michael G. Mills of Malibu.