BOB WILKE
"Here was a guy that could be described as a human dynamo, a veritable windmill with an inexhaustible supply of energy," so wrote B-badman Pierce Lyden of his friend and cohort in screen crime, Bob Wilke.
Another shifty-eyed co-worker, Zon Murray, used to refer to Wilke as "old ugly." They were "good friends" though and could "party" all night, according to Lyden, then "play a round of golf in the morning and still do a great job of whatever was required that day on a western."
The 6' 2", 200 lb. Wilke was said to be an excellent golfer. Actor Claude Akins remarked Wilke earned more money on the golf course than he ever did in movies. Lyden said, "Bob was an avid golfer and very good, playing in some big Pro-Am meets with the best. When you were playing Pebble Beach in the Crosby, you had to be good."
Robert Joseph Wilke was born in Cincinnati, Ohio, May 18, 1914. His father, name unknown, was born in Germany. His mother's name and origin are not known. Wilke attended Parochial school in Cincinnati, one year of high school, Elder High in Cincinnati and the Miller Business School also in Cincinnati.
Wilke left Cincinnati as a youth to work at a series of odd jobs that found him in '33-'34 performing a high dive at the Chicago World's Fair. Wilke was working as a lifeguard at a Miami, Florida, hotel where he made show business contacts which led him to Hollywood finding work as a stuntman in 1935 with his first film being the blockbuster "San Francisco" ('36) starring Clark Gable.
Bob knocked around in serials and B-Westerns, particularly at Republic, in over 40 films as a stage guard, deputy, background badman and other stuntmen/bit parts until obtaining more meaningful henchman roles in Sunset Carson and Allan Lane films at Republic in '45. Lyden recalled, "Wilke was a good stuntman. Maybe too good. It paid more money than acting jobs and that was hard to turn down. You can get 'typed' or locked into a groove."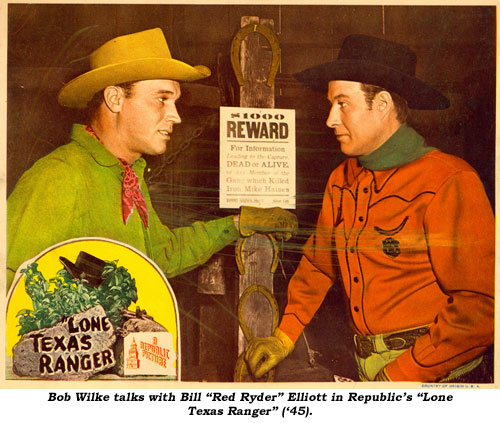 As to serials, most people do not realize Bob worked in 21 Republic serials, principally because he never had more than a bit role in any of them. Republic really missed the boat on Wilke, not utilizing his talents as a badman by putting him under contract and elevating him to lead heavy parts as they did with Roy Barcroft, Kenne Duncan, Bud Geary and LeRoy Mason. Even when Wilke began to obtain bigger roles at Columbia with Charles Starrett B's in '46-'48, Republic still cast Bob in bit roles.
By the early '50s Bob was a lead heavy in RKO Tim Holts where he was often better than the material. Regarding his B-Western work Bob remembered, "Those were rough days, calls at four o'clock in the morning, be ready to start at five-thirty, drive to locations, eat a terrible box lunch, and work 14 hours a day. But we had fun that was the important thing. We used to start as soon as the sun came up, then, we would just keep getting higher and higher, by the end of the evening, we're on top of the mountain getting the last of the sun."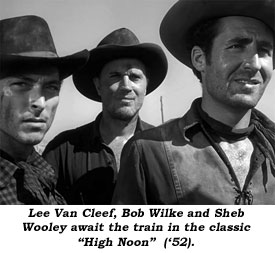 Then, in 1952, director Fred Zinnemann cast Bob as one of the four badmen (along with Ian MacDonald, Lee Van Cleef, Sheb Wooley, out to kill Marshal Will Kane (Gary Cooper) in "High Noon". Zinnemann had considered Wilke for the main heavy role of Frank Miller but eventually selected Ian MacDonald, relegating Wilke to the lesser, but still star-making, breakthrough role of Pierce. In later years Bob said, "I think 'High Noon' was the greatest western ever made. I am proud I was a part of it. Without a doubt, it is the best thing I've ever done."
The "High Noon" role greatly elevated Wilke's salary, and visibility at a very opportune time, just as the B-western era he'd been so associated with was coming to a close. Although he did work in a few more medium budget Westerns, the weathered visage of Wilke was now considered for, and cast in, more major Westerns ("Powder River" '53, "Arrowhead" '53, "Far Country" '55, "Night Passage" '58, "Man of the West" '60, "Magnificent Seven" '63, "Cheyenne Social Club" '71).
Good roles in important non-western films were also now being offered him—"From Here to Eternity" '53, "20,000 Leagues Under the Sea" '54, "Written On the Wind" '56, "Spartacus" '60, "Tony Rome" '67.
Television provided Wilke a great deal of work in the '50s and '60s, with again, "High Noon" elevating his roles from the juvenile TV westerns of Cisco, Roy, Annie and Gene to meatier roles on "Have Gun Will Travel", "Gunsmoke", "Lawman", "Wanted Dead or Alive", "Laramie", "Bat Masterson", "Maverick" etc. Over 140 TVers, nearly all Westerns. He turned to the right side of the law as Marshal Sam Corbett in his only TV series "The Legend of Jesse James" in '65-'66, unfortunately the series never took off and is not well remembered today.
Bob tapered off his work load drastically in the late '70s and early '80s, preferring to spend more time at his Makato Inn on Riverside Dr. spinning yarns, telling gags and doing gimmicky magic tricks. Pierce Lyden tells us Bob also owned a bar years earlier on Ventura Blvd. in Studio City. "When Bob wasn't working, he was back of the bar. You couldn't go in the place that he didn't have everyone in 'stitches,'" Lyden smiled.
Upon his death, I gathered several remembrances of Bob: Director William Witney: "He was a most pleasant person…he was always there…a good actor and a hell of a good golfer. He'd classify as one of the good guys." Harry Lauter: "He was a very dear friend of mine. We must have worked off and on together for 15-20 years. He was a very versatile actor, and he was a big man—probably 6' 2"—looked like a bear but had a heart as big as he was. A great golfer…and he was a hustler…had a handicap of 4 or 5. Good sense of humor. A very amusing thing, he sold a watch to a director of ours without any works in it. I always looked forward to working with Robert…he was excellent." Sheb Wooley, one of the Miller Brothers in "High Noon": "We were a mean team…raisin' hell and goin' after it. He was a fine golfer too." Lois Hall, co-star in Charles Starrett's "Frontier Outpost": "He was a very nice person—a real gentleman—extremely helpful. He'd talk with the extras and stagehands and that's always nice."
Bob's last part was that of a train engineer in the TV movie "The Texas Rangers" with Jeff Osterhage in '81.
Bob was married to Patricia Kesinger at the time of his death. They had one son, Bob. They lived at 12550 Ostetgo St. in North Hollywood. Without a doubt, one of the finest, most menacing Western heavies died March 28, 1989, from lung cancer at St. Joseph's Medical Center in Burbank, California. He was 74.