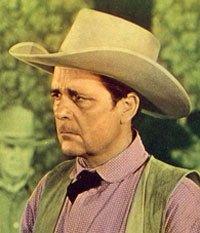 EDMUND COBB
Grim, tight-lipped, droopy-eyed, pudgy and sullen, 6' 1", 170 lbs. Edmund Cobb would sometimes be only one of many henchmen at the bottom of the cast, other times he was one of the primary heavies. Earlier, on the silent screen, Cobb starred from '24 to '29 in a popular series of two-reel "Mustang" westerns produced by Universal. It's doubtful Cobb ever worried about collecting unemployment benefits in a Hollywood career that spanned 56 years from 1912-1966. Counting silents, serials, shorts and TV episodes, it's estimated Cobb was on screen over 550 times in his life.
Edmund Fessenden Cobb was born June 23, 1892, in Albuquerque, New Mexico, to William Henry Cobb (originally from New York) and his wife, Edwinna (Eddie) Ross (originally from Kansas). Edmund F. Cobb's grandfather, Edmund Gibson Ross, served as Governor of the Territory of New Mexico (1885-1889) and was a one-term senator from Kansas (1866-1871), who many contend cast the pivotal vote for acquittal in the impeachment trial of President Andrew Johnson in May, 1868. Cobb's parents operated Cobb Photography Studio in Albuquerque. Edmund Cobb's siblings, Susan Ross Cobb (1894-1987), Daphne M. Cobb (1898-1928) and Wilfred B. Cobb (1901-1982) remained in Albuquerque, but several Ross cousins resided in California. May Ross, first cousin of Edmund F. Cobb's mother, was married to Meredith Pinxton Snyder (1859-1937), the first Mayor of Los Angeles to be elected to the office four times, his first term beginning in 1897 and his last term ending in 1921.
Young Ed was being prepped by his grandfather for a life in politics, however, he died when Ed was 15. It was at this time Ed got the acting bug with an Albuquerque stock company. After Ed had appeared in several plays for a few years, the St. Louis Motion Picture Company came to New Mexico in 1910 to make a picture (the title of which is lost to the ages) and Ed, who had learned to ride well on his grandfather's ranch, obtained a part in the film. Over the next couple of years Cobb worked in other films shot in the area, including some for the Romaine Fielding Company in Las Vegas, New Mexico. The only documented Cobb appearance from this era is "A Pueblo Legend" (1912 Biograph) directed by D. W. Griffith and filmed at Isleta Pueblo near Albuquerque. Cobb first came to California in 1913 to work for Selig in their first serial, "The Adventures of Kathlyn" starring Kathlyn Williams.
In 1914 Cobb married Helen M. Hayes, who was born in 1893 in Tennessee. They had one daughter, Eddie Marie Cobb, who was born in Illinois in 1915 while Cobb was working for the Essanay Company in Chicago in some 35 productions from 1915-1916. According to a 1920 census, Ed and Helen were living and working as actor and actress in Denver, Colorado. However, their daughter was living with Helen's parents in North Chattanooga, Tennessee. By the early '20s Cobb was alternating supporting roles with leads in two-reelers. In 1923 and '24 Ed and Helen worked together in at least two westerns, "Riders of the Range" (Truart) and "A Rodeo Mixup" (Arrow). Also in 1924 Cobb co-starred with Neva Gerber in Arrow's 15 chapter serial "Days of '49".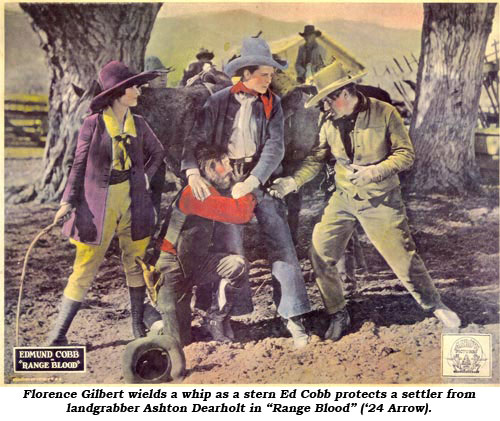 In 1925 Cobb signed with Universal to star in their two-reel Mustang series along with Fred Gilman, Fred Humes and Ted Wells. One of the first of Cobb's was "The Bashful Whirlwind".
Edmund and Helen divorced around 1925-'27. Helen remarried but died of tuberculosis in 1932. Ed remarried to Vivian Marie Winter who was born in Wisconsin January 16, 1894.
When Ed's Mustang series ended in 1927, he was cast by Universal in several features and then, in 1928, in the Forest Ranger two-reeler series through 1929. He also continued to make serials and co-star with youngsters such as Newton House, Bobby Nelson and Buzz Barton.
As the silent days faded away and talkies were born in 1930, so too did Edmund Cobb's starring days—save for one cheaply made independent, "Racketeer Round-Up" ('34 Aywon) which was reissued a year later by Beaumont with some new footage as "Gunners and Guns". One could also say he "starred" in "Arizona Badman" in 1935 as his role, footage and acting far out shined the real star, Reb Russell. There was also "Rawhide Terror", a Victor Adamson (aka Denver Dixon) cheapie in 1934 which was originally intended to be a serial but was eventually released—or escaped—as a feature starring both Cobb and Art Mix. But none of these did anything to place Cobb at the head of the cast in major B-westerns, so he confidently resigned himself to support roles of all types on through the '60s…mainly as a heavy, but also appearing as sheriffs, fathers, ranchers and townsmen.
As for serials, over the years Cobb appeared in 69. For Essanay there was "The Strange Case of Mary Page", a 15 chapter Henry B. Walthall serial. "Days of '49", in which he was the hero saving Neva Gerber, was released in 1924 by Arrow and "Fighting with Buffalo Bill" came along in '26 from Universal. Cobb was the gallant plainsman aiding Wallace MacDonald for 10 chapters. These were followed by "A Final Reckoning" ('28 Universal) which saw Cobb as a heavy opposing Newton House for 12 chapters and "Scarlet Arrow" ('28 Universal) starring Francis X. Bushman Jr. Cobb played a friend to Tim McCoy in Universal's bridge-over release between silent and sound serials (being released in both versions), "Indians Are Coming" ('30). Cobb continued as a featured player in serials throughout the '30s, '40s and '50s, playing every type of role written—but specializing in heavies. In most of his serials he was only assigned a surname, which gives you some idea of the type of lesser roles he played.
His better sound film cliffhanger roles were as the voice of the Rattler when in disguise, otherwise he is not seen, in "Mystery Mountain" ('34 Mascot), Buck Jones' pal Johnny Snow in "Red Rider" ('34 Universal), crooked horse trainer Jim Luger in "Law of the Wild" ('34 Mascot), crooked animal trainer Craddock in "Darkest Africa" ('36 Republic), cattleman suspect Stockton in "Son of Zorro" ('47 Republic) and industrialist R. J. Cook in "G-Men Never Forget" ('48 Republic). In most of the others he was one of those surname-mainstay-henchmen we so enjoyed seeing week after week in serials (and Westerns)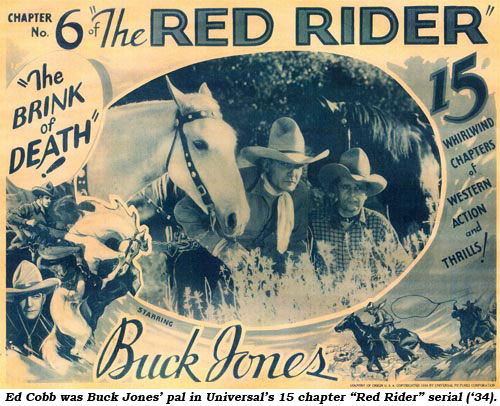 .
Certainly Cobb is remembered for his scores of Westerns, but he also did lots of other film work in Charlie Chan, Falcon, Frankenstein and Ma and Pa Kettle films, as well as an occasional part in a classic film—he's a Senator in "Mr. Smith Goes to Washington" ('39), a reporter in "Citizen Kane" ('41), a tower guard in "Brute Force" ('47) and a detective in "Detective Story" ('51).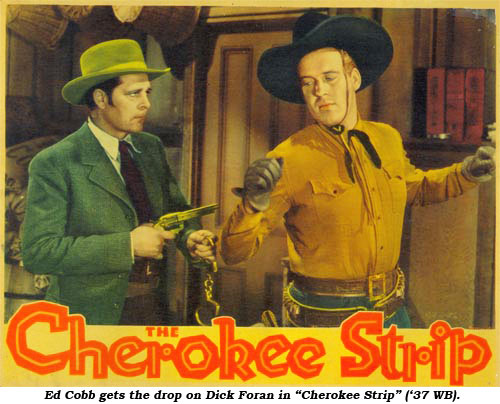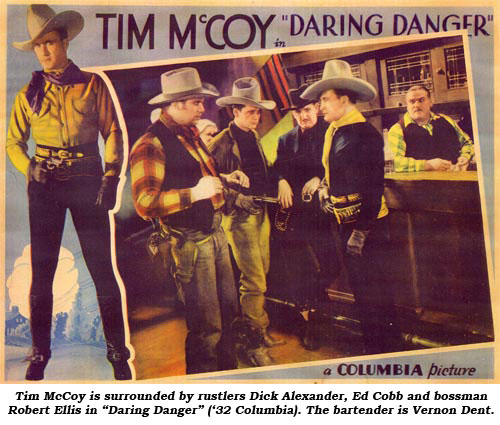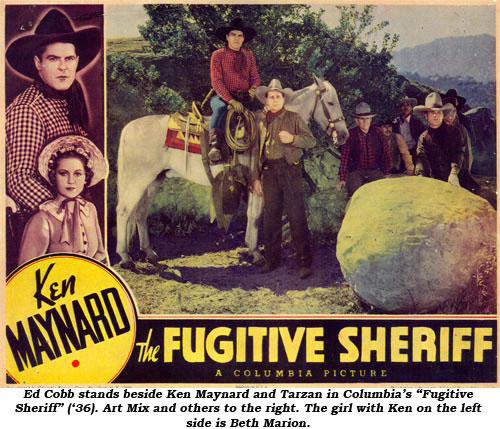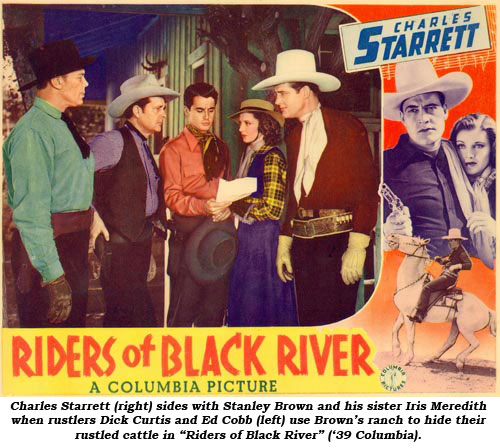 In later A-Westerns and TV shows of the '40s and '50s Ed played many sheriffs and townsmen. If there was a scene with a group of men on the backlot, you quite often could spot Ed with a line or two ("Comanche Territory" '50, "Kid From Texas" '50, "Carson City" '52, "Gun Belt" '53, "Apache Ambush" '55, etc.). In other words, Cobb continued to work, with his last role being a bit in producer A. C. Lyles' "Johnny Reno" ('66). Producer Alex Gordon had also featured Cobb in several of his productions, including his all-star westerns "Bounty Killer" and "Requiem For a Gunfighter'. Alex told us, "My wife and I, along with Ed and his wife often had dinner together and became friends. He was a wonderful man—didn't drink—and his wife was very beautiful and so well-dressed. She looked like Theda Bara—but not a vamp. Ed was not a wealthy man and for one of his birthdays in later years we gave him a money tree where all his friends pinned money on it. He was quite moved." By others who knew him, Cobb is described as a quiet, unassuming, down-to-earth, polite, gentleman who lived at 12500 Huston, Apt. 7, in North Hollywood, California.
In poor health, Cobb was admitted to the Motion Picture Hospital in Woodland Hills, California, where he died of congestive heart failure at 82, August 15, 1974. His wife died there as well, of bronchial pneumonia, barely three weeks earlier. Cobb is buried at Valhalla Cemetery in North Hollywood.
Ed Cobb will be remembered for his starring silent films and his coterie of heavies in sound films in an underrated illustrious career of nearly 700 productions that spanned six decades. But most of all he will be remembered as one of the good guys in real life, a gentleman and a regular guy.