DENNIS MOORE
Dennis (Smoky) Moore almost made the transition from screen badman to B-western hero. In fact, he did just that—several times.
Early on, in 1934, he was Bud of Bud 'n' Ben (with Ben Corbett) in Reliable's "West On Parade". But only once. Then in 1942 he was second lead to George Houston in five Lone Rider PRC westerns. In 1943 he joined the Range Busters trio for their last four films as well as supporting Tex Ritter in two at Universal ("Oklahoma Raiders", "Arizona Trail"). In 1944 Moore was second lead to Jimmy Wakely in his first two Monograms. Also in 1944, "Wells Fargo Days" was released in Cinecolor by Warner Bros., a 20 minute short that had been made in 1940. It starred Moore. Also that year Moore starred in Universal's "Raiders of Ghost City" serial. In 1945 he co-starred with Milburn Stone as the heroes battling "The Master Key", another Universal serial. Over at Republic, still in 1945, he fought Roy Barcroft for 15 chapters as "The Purple Monster Strikes". 1946–he was the hero of Universal's last serial, "The Mysterious Mr. M". It was 10 more years before he starred again, this time in Columbia's last two serials, "Perils of the Wilderness" and "Blazing the Overland Trail", both '56. In between all these attempts at real stardom, Dennis Moore played hundreds of heavies in movies and on TV. He also played juvenile roles—the girl's brother type—in many B-westerns.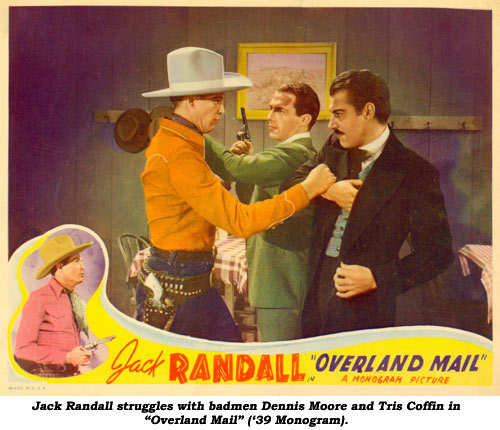 Dennis Moore was born in Fort Worth, Texas, January 26, 1908, but schooled in El Paso, Texas. His true name was apparently Dennis Meadows, the name he acted under early in his career, however his California death certificate refers to his father as Dennis Moore. Puzzling, yes! His mother's name was Bessie Price.
Studio publicity, which can often be discounted as hype, suggests several things about Moore's early life prior to entering films at 24. The best scenario is that he traveled the world extensively as a child with his parents who were financially stable. He later performed in both stock and stage drama. Having an avid interest in aviation, he received his pilots license and flew about four years until a bad crackup severely injured him. For an unspecified amount of time, Dennis found activity as a physical director.
More to the point from three other heavies that knew him: Pierce Lyden wrote, "He loved flying and was an instructor at Whitman Airport in the San Fernando Valley." As to his personality, Myron Healey said, "He was never what you'd call a team player. I don't know whether he didn't like the business or was just a private man." Gregg Barton described him as "a loner who limited his personal associations."
For greater insight into the personality of Dennis Moore, reference is made to the book SEE YOU UP THERE BABY, by Linda Lee Wakely, daughter of singing cowboy star Jimmy Wakely, in which she relates that in the '40s, Moore was selected, along with "Lasses" White, to play sidekick roles in a Wakely series at Monogram. Moore's ego was such that he apparently felt it demeaning to play second banana to a singing cowboy. One night (8/29/45) during a drinking session with Foy Willing and some other lesser known Hollywood cowboys in one of Hollywood's cantinas, Moore was bemoaning his fate when, drunk as a skunk, he announced he was going out to Wakely's ranch to "kill that singing cowboy son of a bitch." After midnight, Moore arrived at the Wakely home (at 7600 Lankershim Blvd.), called Jimmy outside, and armed with a knife, stabbed Jimmy in the head. The police arrived, took Moore into custody, but in court, Wakely refused to press charges. (LOS ANGELES TIMES 9/1/45). According to the book, the judge's words were, "My God, Mr. Wakely, this man tried to kill you and it could happen again. He should be put away." Wakely still refused to press charges, and the judge ruled thusly, "If Mr. Wakely won't have you jailed, you will have to leave town for 60 days. If you come back to Los Angeles, I'll have you jailed." John James replaced Moore as the third member of the star trio.
A stable fixture in westerns from '32-'58, 26 years, Moore's co-workers referred to him as "Dinty" while on screen he was often "Denny" or "Smoky".
The L.A. TIMES of July 28, 1952, reported Dennis received legal permission from a superior judge to drop his given name of Meadows and change it permanently to Moore. At the time, Dennis had been married for several years and was the father of an infant daughter. His wife Marilyn Estelle Moore, only 25, and little girl, Linda, 2, also changed their names to Moore. At this time, Dennis was employed as a flying instructor, obviously to supplement his acting income.
It was also around mid 1952, flying as a transport pilot, that he went into a spin at 3,299 feet. The crash left him with every bone in his body broken and small hope for him to live. Fourteen months in the hospital and nearly two more years of rest and recovery made him as good as new. He returned to film and TV work in 1954 where he found plenty of work, especially in TV series such as "Annie Oakley", "Kit Carson", "Lone Ranger", "Stories of the Century", "Buffalo Bill Jr.", "Roy Rogers", "Gene Autry", "Judge Roy Bean", "Sky King", "Wild Bill Hickok" and "Wyatt Earp". And he starred in those last two Columbia serials.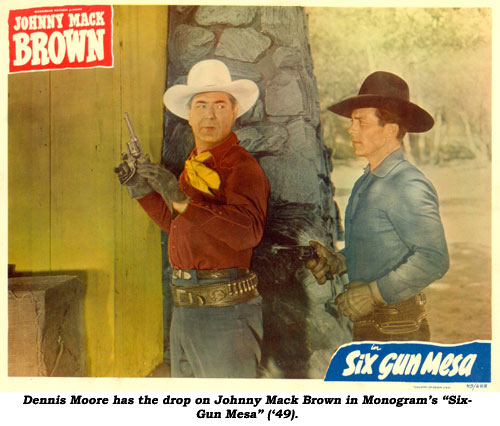 As the '50s rolled on, with his hair thinning, Moore found character roles on "Cimarron City", "Dragnet", "Black Saddle", "Have Gun Will Travel", "Buckskin", "Laramie" and "Wagon Train". Moore essayed recurring roles on "Tombstone Territory" (as a deputy) and "MacKenzie's Raiders" (as a Cavalry sergeant), both in '58 for ZIV TV. His last two parts were on "Bat Masterson" and "Tales of Wells Fargo" episodes in '61. (He only earned $700 that year as an actor.)
Moore and his wife moved to Big Bear Lake (where so many westerns were filmed) where they resided on Pine Knot Blvd. and operated a gift shop for four years until one of the best of the badmen, Dennis Moore died of acute circulatory failure…rheumatic heart disease…and rheumatic fever on March 1, 1964. He's buried at Mountain View Cemetery.
The next time you watch a film with Dennis Moore, notice his unique gun belt. It had a buckle on each side instead of having one buckle in the middle. The belt was obviously made expressly for Moore since I never saw anyone else with this design.