TOM LONDON
During a movie career that spanned 48 years beginning in 1915, Tom London had a face everyone recognized from his nearly 550 movies and close to 100 TV episodes.
Then there's dispute of Tom being in the "first" western, "The Great Train Robbery" in 1903. Some filmographies list it, some don't. Some western film historians say he was, some dispute it. However, freelance writer Jack Lewis (who wrote screenplays for "King of the Bullwhip", "Outlaw Gold", "Cisco Kid" episodes and others, as well as owning and publishing such magazines as GUN WORLD) interviewed Tom in 1954 during the filming of "Gunfighters of the Northwest" serial. Tom indicated to Jack he was in the picture, but offered a sly chuckle about his birth year as he did so. If he was in "The Great Train Robbery", he was only 14 at the time. Certain facts indicate otherwise.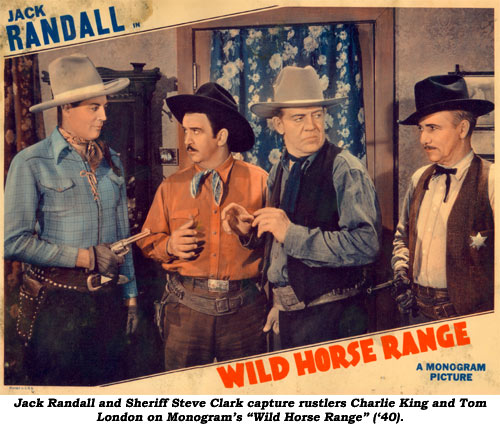 London was born Leonard Clapham August 24, 1889, in Louisville, Kentucky. Both of his parents, Harry R. Clapham and Mary J. Huesman, were Kentucky natives. As soon as he was old enough to leave home, Tom went to work as a salesman. Obviously, he couldn't have done this as a young teenager and made his way to the east coast where "The Great Train Robbery" was filmed. However, he did work as a salesman in New York, then Chicago. It was in the Windy City that he went to work as a prop man for the film company owned by William Selig. He did everything from sweeping stages to working as a stunt rider during this time in the early teens. Tom told Jack Lewis, "When I first tried to get on with Selig, I was afraid they'd say I was too young for the kind of work they were offering. That's the reason I backed up my birth date on job applications (to 1882), I needed the job."
When Selig had enough of making films in the Chicago area, having to sit out the harsh winters, he moved his operation to sunny California, and Leonard Clapham went along with him. "Out of (those Selig shorts) came a friendship with a Universal star named J. W. Kerrigan," Tom continued. "He got me on at Universal and I worked there from 1916 until 1923 or '24. Until then I was Leonard Clapham. It was the next year (1925) that I changed my name to Tom London."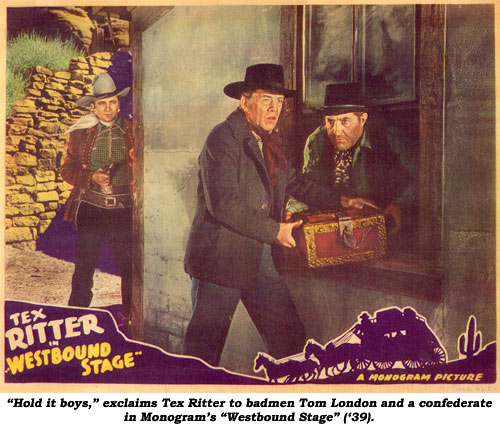 Throughout the silent era of the teens and '20s London rustled cattle, shot sheriffs in the back, ran sheepmen off their land and every other rotten deed as he functioned as a badman opposite Fred Church, Tom Mix, Eddie Polo, Hoot Gibson, Leo Maloney, Jack Perrin, Ken Maynard, Pete Morrison, Lefty Flynn, Fred Humes, William Desmond and others. As Leonard Clapham, he even achieved star status in a host of two-reelers co-starring Virginian Browne-Faire at Universal in 1920.
When sound came in, Tom's hearty, slightly nasal, but deep baritone voice made the transition easily. Developing a reputation as a true professional, he was cast constantly in westerns and serial after serial. Speaking of serials, we count Tom being in at least 60.
Republic was utilizing London so much in their westerns that they signed him (and fellow freelancers Roy Barcroft, Bud Geary, Kenne Duncan, Jack Kirk and LeRoy Mason) to term contracts in July 1943. Tom stayed under contract til July '47 playing sheriffs, sidekicks (especially to Sunset Carson), ranchers, fathers—and badmen.
As he turned more to character roles when his Republic contract ended, three of his best are as tough old Marshal Blackjack Flint in Jimmy Wakely's "Brand of Fear" ('49 Monogram), as Jocko Mahoney's weathered sidekick Doc Laramie in "Cody of the Pony Express" ('50 Columbia serial) and as "ghost rider" old man Roberts in "Riders In the Sky" ('49 Columbia) starring Gene Autry.
When TV came along, it was just another medium in which Tom could work. Now 61 in 1950, he left the owlhoot roles to a younger group of bushwhackers and concentrated on playing grizzled old-timers, sheriffs, scouts and the like. Gene Autry respected his talent and used Tom on close to 20 of his Flying A TV productions. Tom also worked on "Roy Rogers", "Kit Carson", "Lone Ranger", "Laramie", "Cisco Kid", "Death Valley Days", "Fury", "Wyatt Earp", "Have Gun Will Travel", "Bat Masterson", "Tall Man" and others.
Although the ideal western character actor on screen, off-screen Tom was a different person. He had an uncle who owned a clothing store, enabling him to buy all his clothes wholesale. Seen around town, he was a well-dressed man, especially when he went out dancing in the ballrooms, which he loved to do.
Tom lived in later years with his sister Anita J. Pearcy. However, contrary to published accounts, he was married at one time to silent screen actress Edith Stayart who preceded him in death. This is proven by the word "widowed" on Tom's California death certificate.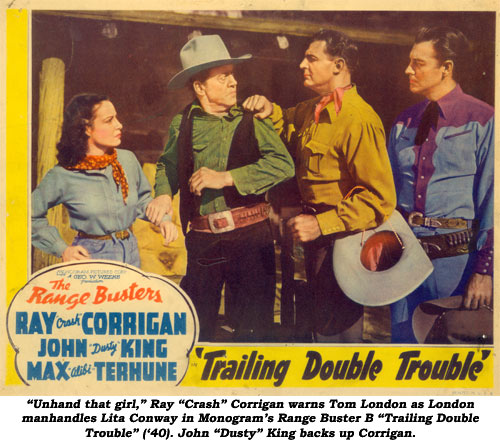 When writer Jack Lewis asked Tom who he most enjoyed acting with, he thought for a moment and replied, "Mae West. I worked with her in 'I'm No Angel' in '32. She was a fun lady." Asked who his least favorite in a working environment might be gave cause for a scowl, "Ken Maynard. I did six pictures with him, then refused offers after that. He was mean to his horses and mean to the people he thought he could buffalo. He was often half drunk on a picture and sometimes didn't even show up."
Queried in another interview about the number of pictures he'd been in, Tom mused, "I don't know how many I've been in. (London is in the GUINNESS BOOK OF RECORDS for appearing in the most films.) It's like asking how many pair of socks you've worn in your life. If you put on socks every day for 50 years, well that's a lot of socks. I've been in movies for more than 50 years, and that's a lot of pictures. I got along with all of them (the cowboy stars), with the exception of one (Maynard). I especially liked Wild Bill Elliott, and although a lot of people found 'Rocky' Lane too hard to work with because he was too much of a perfectionist, I enjoyed working with him on around 12 pictures, and respected that he tried to make his films stand out over the usual little western. One of my favorites was Sunset Carson. He encouraged me by giving me his sidekick role in some of his pictures. A star I owe lot to is Gene Autry. I made around 18 pictures with him and he was one of the nicest guys to work with. He always saw I got decent characters to play, and, in 'Riders In the Sky' ('49 Columbia), I got a great part playing a cowpoke in a big death scene. I've been told this was the best acting of my whole career. Later on, when I auditioned for some television work, I would bring along a 16mm print of that scene and show it on a casting agent's wall. Most of the time, I got the part."
Known affectionately by his showbiz friends as Ol' Tom, Max Terhune said, "He was a good actor, and could portray almost any character from villain to comic to lovable person. Off the screen he was a gentleman."
As for what others thought of London, it's best summed up by Jock Mahoney, "The most underrated actor in town. The most patient, most professional actor I've ever known, as well as a kind, giving man. He's one I feel lucky to be able to call a close friend."
London wound up his career in 1961 with a bit role in "Underworld U.S.A." and an episode of TV's "Miami Undercover".
According to his death certificate, he served with the armed forces during WWI, probably circa 1917-1918 when his film credits are quite sparse. The beloved Tom London, 74, passed away at his home at 4368 Camellia Ave. in North Hollywood on December 5, 1963.