"Roy Rogers"


by Boyd Magers
Roy Rogers was a sensation in the movies and on record, but unlike Gene Autry he didn't have a weekly radio show. That was all rectified beginning November 21, 1944 when "The Roy Rogers Show" began coast to coast Tuesday nights at 8:30pm on Mutual. "Goodyear, the greatest name in rubber invites you to meet America's greatest Western star, Roy Rogers." "Smiles Are Made Out of Sunshine" opened the show with the Sons of the Pioneers and the Perry Botkin Orchestra. Featured vocalist was Pat Friday. In addition there was also a dramatic or comedic skit often with character actor Porter Hall.
Roy left the Mutual airwaves on May 15, 1945 but returned on NBC from October 5, 1946 until March 29, 1947, sponsored by Miles Laboratories Saturday nights at 9. By this time Gabby Hayes served as the program's comedy relief and Dale Evans was along to help with a song.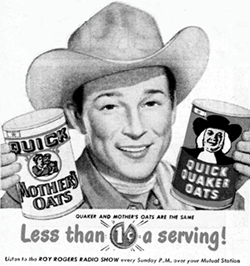 Roy was off air again until Mutual, once again, and Quaker Oats brought him back Sunday nights at 6 from August 29, 1948 through May 13, 1951. This time the variety show format was gone in favor of a half hour juvenile adventure show much like his TV program would become. Gabby and Dale were on hand to help round-up evil doers. Horace Murphy played a codger named Clackity during the final Quaker Oats shows. It always ended in a song with Foy Willing and the Riders of the Purple Sage joining in. By 1950 Roy's radio show was being heard on 561 Mutual stations.
In October '51 Roy and the gang rode back over to NBC for a Friday evening at 8 show now sponsored by Post Cereals. By December '51 Roy was riding high on both radio and his new half hour TV series. "It's Round-up Time on the Double-R-Bar" kicked off Roy's 30 minute adventures with Dale, Trigger and Roy's dog Bullet. For this series Roy's saddlepal was actor Forrest Lewis as trail scout Jonah Wilde. In the fall of 1952

Pat Brady joined the radio cast as Roy's comical sidekick, a part he was already playing with Roy on TV. As of August 28, 1952 NBC moved Roy and the gang from Friday to Thursday night at 8pm. Other notable changes in the cast lineup, The Whippoorwills were the musical backup group from '51, later replaced by The Mellowmen. "Happy Trails" was now the closing song as it was on TV, eventually moving up to the opening song as well. Roy and the gang rode and sang for Post on Thursdays until December 24, 1953; except for an odd, brief stint on Tuesdays in August and September '53.
Incidentally, "The Roy Rogers Show" was always transcribed to accommodate Roy's hectic movie and TV schedule.
Beginning January 28, 1954 Dodge began to sponsor "The Roy Rogers Show" for NBC, still Thursday at 8. For this incarnation the musical elements were held to a minimum and the stories began to take on a mystery tone, perhaps in an attempt to attract a more adult audience as there were many mystery shows on radio in those years. Roy said a sincere "Goodbye, Good Luck and May the Good Lord take a likin' to Ya" for the last time on July 21, 1955 and concentrated on his TV series which ran through 1957. (Roy and Dale artwork courtesy Bobb Lynes.)