"Adventures of Tom Mix and His Ralston Straight Shooters"
by Boyd Magers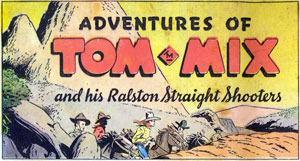 To the tune of "When It's Roundup Time in Texas and the Bloom is On the Sage" the Tom Mix Ralston Straight Shooters were on the air! For 17 years (1933-1950) "Tom Mix" on NBC then Mutual and "Jack Armstrong" on CBS/NBC/Mutual/ABC defined the world of juvenile adventure serials on radio.
The original creation and format of "Tom Mix" was devised by St. Louis adman Charles E. Claggett who was determined to get the Ralston account. In early 1933, taking an informal survey of local school children to determine their top hero, Tom Mix was the overwhelming choice. Claggett proposed a Western radio series using Mix's name, so he and Elmer Marshutz, president of Gardner Advertising, went to California and obtained Tom's signature on a contract which, according to Ralston history, was scribbled on the back of an envelope. William Danforth, president of Ralston, heartily accepted the idea and Tom Mix and his Ralston Straight Shooter friends began airing on NBC September 25, 1933, for 15 minutes three times a week at either 5, 5:15 or 5:30 until March 26, 1937.
Oklahoma born Artells Dickson (1898-?), a stage actor with experience on the Chatauqua Circuit, was cast as Tom. His elderly sidekick, the Old Wrangler, was portrayed by New Zealand born Percy Hemus (1878-1943) who began these early shows by exclaiming, "It's roundup time, so let's git-a-goin'!" The setting of the show was Tom's TM Ranch in the fictional town of Dobie, TX, but they spent little time there as they were constantly summoned away to solve baffling crimes and mysteries. Others in this early cast were Andy Donnelly as Jimmy and Winifred Toomey as Jane, both young wards of Mix. Tom's singing sidekick Pecos was played by Joe "Curley" Bradley with Tom's stereotyped colored cook Wash essayed by Vance McCune.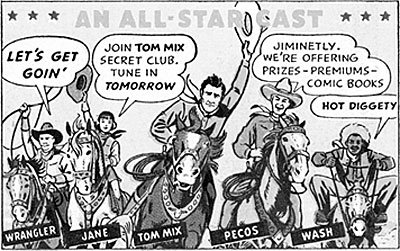 The production remained in NYC until September 27, 1937, when it moved to Chicago in order to get the program into the Central Time Zone which was more convenient for scheduling a juvenile adventure show heard coast to coast. The only actor moving to

Chicago was Hemus as the Old Wrangler. The new Tom Mix was Jack Holden, a popular announcer on the WLS "National Barn Dance", until 1939 when Russell Thorson (1906-1982) took over the role of

Tom. Jimmy was now played by George Gobel (1919-1991) and Jane was played by Chicago born Jane Webb (1925-2010) who went on to play roles on many other radio shows and later became a well-respected cartoon voice-over talent. "Tom Mix" now aired on the NBC Blue Network for 15 minutes at 5:45 weekdays until March 27, 1942, when Ralston abruptly decided to cancel its sponsorship.
After a two year absence the show was revived on Mutual starting in June 1944. Joe "Curley" Bradley (1910-1985), who had played Pecos in the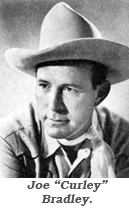 pre-WWII years, was elevated to the role of Tom. George Gobel's career was interrupted by the war where he served as a pilot instructor so Hugh Rowlands took over the role of Jimmy alongside Jane Webb as Jane. The role of Wash now went to character actor Forrest Lewis (1899-1977). After the death of Percy Hemus in '43 the Old Wrangler character was supplanted by Sheriff Mike Shaw, played by ex-vaudevillian Leo Curley (1878-1960). "Tom Mix" now aired from 6/5/44 until 6/24/49 on Mutual for 15 minutes five days a week at 5:45. On September 26, 1949, the show became a 5:30pm 30 minute three times a week program until June 23, 1950. You may remember the opening, Bradley's Tom came galloping in to an organ crescendo as his horse Tony neighed, Tom (Bradley) sang—

Shredded Ralston for your breakfast
Starts the day off shinin' bright;
Gives you lots of cowboy energy,
With a flavor that's just right.
It's delicious and nutritious,
Bite-size and ready to eat.
Take a tip from Tom,


And tell your Mom,
Shredded Ralston can't be beat!
In his baffling adventures over the years Tom faced an array of rustlers, spies, killers, ghosts, invisible men, even a Jap giant. The Woman in Gray used mental telepathy to bend victims to her will; the Scarlet Scarecrow covered up his kidnappings by using post-hyprotic suggestions on the witnesses; there was a vanishing village; an ancient spirit inhabiting a giant cactus called The Green Man; a mystery voice that appeared suddenly on commercial records and a villain called the Black Cat who could jump great distances between buildings.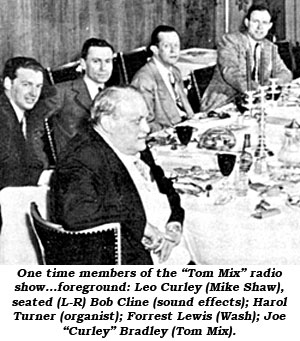 "Tom Mix" and Ralston offered dozens of premiums—rings, flashlights, magnifiers, whistles, sirens, spurs, telescopes, wooden guns, comic books, badges, buttons, lucky pieces, paper masks, bandannas—anything that could carry the familiar Ralston Checkerboard brand and/or Tom's TM brand.
In August 1950 the series underwent a drastic format change. The new show featured Curley Bradley under his own name as "The Singing Marshal". Leo Curley portrayed his sidekick Red Rivers. Still under the auspices of Ralston, the show was on Mutual from August 6, 1950, for 30 minutes Sunday night at 8. This version lasted until December 31, 1950, and was reworked beginning June 11, 1951, first as a three times a week 30 minute show at 5pm til September 7, then back to Sundays at 8 until December 16, 1951.
The name Tom Mix and the Ralston Purina Company formed a permanent bond…even into 1982, three decades after the show ended, Ralston offered Tom Mix cereal bowls, wrist watches, and a membership kit. (Three art spots by Bobb Lynes.)